Sir Paul McCartney and Peter Martins to collaborate on world premiere ballet for NYCB's 2011-2012 Season.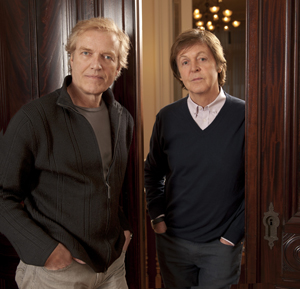 New York City Ballet has announced that Sir Paul McCartney and NYCB's Ballet Master in Chief Peter Martins will collaborate on a World Premiere ballet for the Company's 2011-2012 season. The new ballet, which will premiere at NYCB's Fall Gala performance on Thursday, September 22, 2011, will mark the first time that Sir Paul has written an original orchestral score for dance.
In making the announcement, Martins said that he and Sir Paul met at the School of American Ballet's Winter Gala in 2010 and shortly thereafter began discussing the possibility of working together on a ballet.
"Like the rest of my generation, I grew up being a huge fan of the Beatles so I was thrilled to meet him," said Martins. "After I got to know him a bit, and knowing of his great love of composing classical music, I asked if he might be interested in doing something for New York City Ballet, and I am ecstatic that he has agreed to write a score for us."
Sir Paul said, "I am always interested in new directions that I haven't worked in before. So I became very excited about the idea. When I got back to England after meeting Peter I started writing music and am now in the very final stages of the orchestral score." He continued, "What was interesting was writing music that meant something expressively rather than just writing a song. Trying to write something that expressed an emotion – so you have fear, love, anger, sadness to play with and I found that exciting and challenging."

The September 22 Fall Gala performance will also include George Balanchine's Union Jack, the extravagant tribute to Britain that features nearly all of NYCB's dancers. "We are so honored to have Paul working with us that I thought we would pay tribute to this extraordinary man by performing Union Jack on the same program." said Martins.
Following the World Premiere performance on September 22, NYCB will give additional performances of the new McCartney/Martins ballet during the course of the 2011-2012 season.