sjDANCEco reveals 2016-17 programming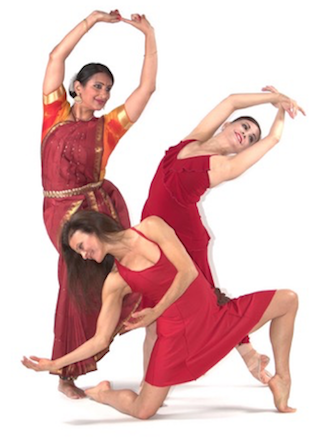 sjDANCEco is a year-round contemporary dance company based in San Jose, California that produces original works by its core and guest choreographers, and presents the very best of contemporary dance as well as masterpieces of the American modern dance repertory. In addition to a full season of dance concerts, sjDANCEco produces a free outdoor dance festival each spring at Santana Row in celebration of National Dance Week. Twice a year, sjDANCEco's ChoreoProject offers new and established choreographers in all dance styles a cost-free opportunity to present their work.
Opening the season, sjDANCEco will present Goddesses and… on October 14 and 15. The program will feature three world premieres, including Goddesses and…, a choreographic collaboration between sjDANCEco Artistic Director Maria Basile, longtime Ballet San Jose Principal Dancer Karen Gabay, and Artistic Associate Rasika Kumar of Abhinaya Dance Company of San Jose. Goddesses and… will be presented at The California Theater, located at 345 South First Street in downtown San Jose. Tickets range from $22 to $75.
The Fall ChoreoProject Awards will be November 11 and 12 while the Spring Awards are set for March 17 and 18, 2017. Now in its 12th year, sjDANCEco's ChoreoProject Awards Concert is a low-tech dance series for all dance disciplines (modern, ballet, hip-hop, jazz, ethnic dance, etc.) designed to provide emerging and professional choreographers a free way to debut their work. Choreographers audition their work and those selected perform in the concert for an opportunity to receive one of two awards presented – The sjDANCEco Award (selected by the artistic directors) and The Audience Choice Award (selected by an audience ballot vote.) Participants are selected about eight weeks prior to the performances.
Last year's ChoreoProject awardees included Lindsey McLevis (Fall sjDANCEco Award), Annie Parr (Fall Audience Choice Award), Nhan Ho (Spring sjDANCEco Award) and Amit Patel and Ishika Seth (Spring Audience Choice Award.)
The performances for the ChoreoProject Awards will take place on Friday and Saturday at 2:30 and 7 pm at SJSU Dance Theater, near 4th and San Carlos Streets in San Jose. Tickets range from $17 to $28.
For sjDANCEco's winter performance, On The Edge will be presented in collaboration with Diablo Ballet and other artists on February 10 and 11, 2017. More information will be announced as the show draws closer.
Closing the season is the free sjDANCEco Festival at Santana Row. Celebrating National Dance Week, this has become a cornerstone Bay Area Dance Week event. In 2017, it's set for Sunday, April 23 at 10 am at Santana Row Park. More than 60 Bay Area Dance Organizations (from young children to professional companies and everything in between) present many styles of dance on Santana Row's outdoor festival stage during a seven-hour window.
For more information on sjDANCEco and its 2016-17 Season, visit www.sjdanceco.org.
Photo: (Clockwise from top left) Rasika Kumar, Karen Gabay and Maria Basile, choreographers of Goddesses and…. Photo by Thomas Hassing.
---