Spoleto Festival announces dance lineup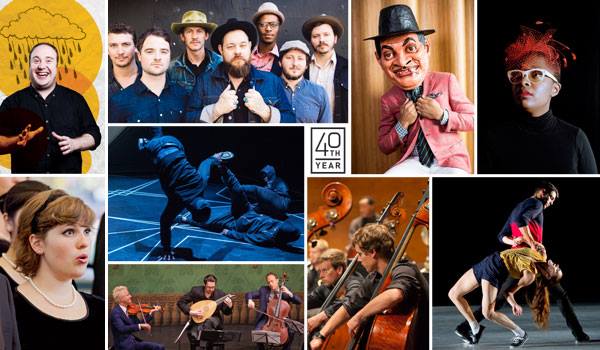 The Spoleto Festival has announced the programming for its 40th Season, taking place May 27 to June 12 in Charleston, South Carolina. In early January, Festival General Director Nigel Redden revealed that the 2016 Festival will feature more than 150 performances and events across 13 venues. This schedule includes a diverse dance lineup, including two contemporary American companies, a rising star of the U.K. dance scene, an innovative hip-hop collective and an internationally acclaimed Cuban show from London's Sadler's Wells Theatre.
"For Spoleto Festival USA's 40th year, we wanted to make the program extraordinary," says Redden. "Producing our first Porgy and Bess—a work based on Charleston-born DuBose Heyward's novel, set in Charleston, and about Charleston's people—was a celebratory choice. It is especially appropriate that this opera will be our first performance in the spectacular new Charleston Gaillard Center. A 1970 production of Porgy and Bess staged in the then-new Gaillard Auditorium is a long-remembered civic event representing unity, pride and artistic achievement that we hope to emulate. Beyond Porgy and Bess, there is a celebratory feeling throughout the entire program that features the signature Spoleto Festival USA blend of new works and young artists alongside established international visionaries encompassing opera, music, dance and theater. I hope people will find many reasons to be part of this landmark 40th year."
The dance performances encompass a "who's who" of contemporary choreography. On opening weekend, the Bill T. Jones/Arnie Zane Dance Company returns to the Festival with Play and Play: An Evening of Movement and Music, featuring an octet of musicians from the Spoleto Festival USA Orchestra performing live music by Mendelssohn, Mozart and Beethoven. The program features Jones's award-winning D-Man in the Waters, Spent Days Out Yonder and Continuous Replay, highlighting the exhilaration of musicians and dancers working together. These performances will be held in the College of Charleston Sottile Theatre.
Britain's Aakash Odedra Company makes its Spoleto Festival USA debut with Rising, a program of four solo works performed by Odedra, who is trained in the Indian dance styles of Kathak and Bharata Natyam. A testament to the esteem in which he is held, Rising features works choreographed especially for him by three of the world's finest choreographers—Sidi Larbi Cherkaoui, Akram Khan and Russell Maliphant—performed alongside a work of Odedra's own in the intimate Emmett Robinson Theater at the College of Charleston.
L.A. Dance Project also makes its Spoleto Festival USA debut this season. The in-demand company takes over the Charleston Gaillard Center with a program of three works. New York City Ballet Soloist and Resident Choreographer Justin Peck's Murder Ballades is based on the American folk tradition of songs about crime. Bright and athletic on the surface, dark undertones slowly creep through, augmented by a score by Bryce Dessner (The National) and visuals by artist Sterling Ruby. In Harbor Me by award-winning Belgian choreographer Sidi Larbi Cherkaoui, a trio of dancers explores the role of the harbor as a place of shelter, offering protection, but also as a border that can turn you away. Hearts & Arrows by L.A. Dance Project Founder, Paris Opera Ballet Director of Dance and former New York City Ballet Principal Benjamin Millepied is set to Philip Glass's "String Quartet no. 3" and sees eight dancers move through numerous patterns where "everything is unexpected, and everything feels serendipitously right" (The New York Times.)
Breakdancing, live beats and hip-hop collide in Opposing Forces created by Seattle-based choreographer, dancer and educator Amy O'Neal. Five world-class B-Boys—Alfredo "Free" Vergara Jr., Brysen "Just Be" Angeles, Fever One, Michael O'Neal Jr. and Mozes Lateef Saleem—use their distinctive physical language to examine the value systems of race and gender within the environments of battling, commercial dance, contemporary performance and rap culture performed to an original score by Waylon Dungan, also known as WD4D.
The dance series exuberantly concludes in the Charleston Gaillard Center with Havana Rakatan, which brings salsa, mambo, jazz, bolero, son, cha-cha-cha and rumba together for a dazzling display of Cuban passion. Exploring the country's rich history through dance, Cuban choreographer Nilda Guerra's whirlwind of movement is underpinned by the loose, syncopated rhythms of Cuba's well-known eight-piece son band Turquino performing live on stage. Havana Rakatan made its hugely successful debut in London, where Time Out London proclaimed it "rip-roaring entertainment." The show subsequently completed four successful West End runs and has toured the world as one of Sadler's Wells's most successful productions.
Master classes will be held during the Festival with Aakash Odedra, Amy O'Neal and Bill T. Jones/Arnie Zane Dance Company's Janet Wong.
Full details of the 2016 program and an event calendar can be found at https://spoletousa.org. Tickets are now on sale!
Image: Collage of 2016 Festival artists. Image courtesy of Spoleto Festival USA.