Spring master classes in Chicago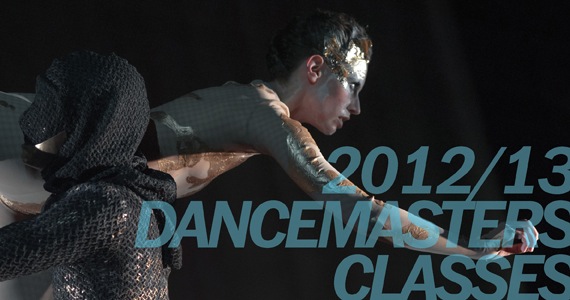 The Dance Center of Columbia College Chicago, continuing the first year of its partnership with DanceWorks Chicago, presents DanceMasters classes in conjunction with its 2012–13 season of performances.
DanceMasters, an ongoing series of movement classes, is open to professional and pre-professional dancers and dance students, offering a variety of dance techniques, perspectives and styles from internationally renowned choreographers.
DanceMasters for spring 2013 include working with choreographer Zoe Scofield, dance maker Stephen Petronio and a dancer from Delfos Danza Contemporaria.
Choreographer Zoe Scofield, half of the artistic collaboration zoe | juniper, will lead a class on Wednesday, Feb. 13 while in town presenting the company's latest full-evening work, A Crack in Everything, from Feb. 14–16 at The Dance Center.
Next, Stephen Petronio will lead a class on Wednesday, March 6. Widely regarded as one of the leading dance makers of his generation, Petronio returns to The Dance Center for the first time since 2000. His company will be performing his evening-length work Underland, with music by Nick Cave, March 7–9 at The Dance Center.
Lastly, on Wednesday, April 3, a dancer from Delfos Danza Contemporaria, one of Mexico's leading contemporary dance companies, will instruct a master class. Last seen at The Dance Center in 2009, the company will performs its 20th Anniversary program April 4–6 at The Dance Center.
Each DanceMasters class takes place from 10 to 11:30 a.m. at the Ruth Page Center for the Arts, located at 1016 N. Dearborn Parkway, Studio 2, in Chicago.
The cost is $15 for regular admission and $10 for students. Those interested can call 312-369-8330. Information about The Dance Center's 2012–13 season is available at colum.edu/dancecenter.
The Dance Center, named "Chicago's Best Dance Theatre" by Chicago magazine and "Best Dance Venue" by the Chicago Reader, is the city's leading presenter of contemporary dance, showcasing artists of regional, national and international significance.
DanceWorks Chicago, which was founded in May 2007, works at creating an environment conducive to nurturing experiences of significance for everyone from artists to audiences.