Spring to Dance Festival set for St. Louis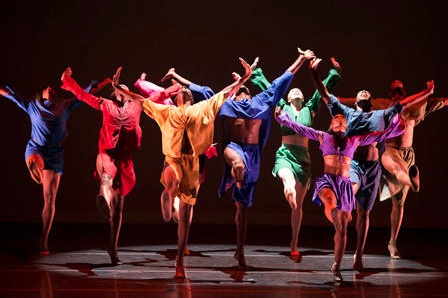 On Memorial Day Weekend 2015, 30 professional dance companies will perform across three unique nights at one of the hottest dance festivals in the country – the Emerson Spring to Dance Festival in St. Louis, Missouri. Now in its 8th year, the festival will offer something for everyone, from contemporary to classical to tap to tango. Running May 22-24, the festival presents a different program each night at the Touhill Performing Arts Center.
Each evening of the festival begins at 5:30 p.m. with interactive performances in the lobby by local dance organizations. The night continues with performances by professional dance companies in the intimate Lee Theater at 6 p.m., followed by more performances on the main stage in the Anheuser-Busch Performance Hall at 7:30 p.m.
It's a wonderful opportunity to see a wide range of nationally touring professional dance companies, all displaying a variety of styles and repertoires, in one place. See the line-up in the Lee Theater for only $10 per night, the main stage for $15 per night, or see all of the performances in both theaters for a package price of just $20 per night.
Kicking off the Friday night lineup is Festive Fun in the Lobby from 5:30-7:15 p.m., featuring Irish dancing by St. Louis Irish Arts, tap dancing by COCA (Center of Creative Arts), tribal and fusion belly dancing 
by Tribe Ayaka and hip-hop dancing by Hip Hop Foundation Fanatics. In the Lee Theater from 6-7 p.m., attendees can see Missouri Contemporary Ballet, local Common Thread Contemporary Dance Company, New York's
 Tango for All and Connecticut's
 Thomas/Ortiz Dance. Wrapping up the evening in the Anheuser-Busch Performance Hall from 7:30-9:30 p.m., Ohio's Dayton Contemporary Dance Company and
 Neos Dance Theatre will join local 
Saint Louis Ballet, Kansas City's 
Owen/Cox Dance Group, California's ODC/Dance and the
 Oklahoma City Ballet.
For Saturday, the festival starts with jazz dancing by COCA, Polynesian dancing by Hui Hula O Punahele Hula Halau, Latin/Caribbean dancing by Group Atlantico and African dancing by Afriky Lolo for Festive Fun in the Lobby from 5:30-7:15 p.m. From 6-7 p.m. in the Lee Theater, attendees will see Dance NOW! Miami from Miami Shores, Fukudance from New Hampshire, Chicago Dance Crash and local Leverage Dance Theater. The main stage from 7:30-9:30 p.m. presents local troupe MADCO and Grand Rapids Ballet, plus Chicago's DanceWorks and The Joffrey Ballet with New York's Buglisi Dance Theatre and Camille A. Brown & Dancers.
On the third night, Sunday, the festival opens with Spanish dancing by Los Flamencos, jazz/tap dancing by Krupinski Academy of Dance Ensemble, Haitian dancing by COCA and jazz funk/contemporary by Ashleyliane Dance Company. Then from 6-7 p.m. in the Lee Theater, attendees will see Common Thread Contemporary Dance Company, The Big Muddy Dance Company, DanceWorks and MADCO. The final program goes to its normal time, presenting TAKE Dance from New York, Amy Seiwert's Imagery from San Francisco, The Big Muddy Dance Company from St. Louis, Northwest Dance Project from Portland, Compania de Baile Flamenco de Marien Luevano from Mexico and the Nashville Ballet from Tennessee.
For more information on these three nights of nonstop, world-class dance for a bargain price, visit http://dancestlouis.org. Buy tickets to Spring to Dance at www.touhill.org.
Photo: Dayton Contemporary Dance Company in Shed by Keisha Lalama. Photo by Jeff Sabo.