Stagestep flooring the star at Starwest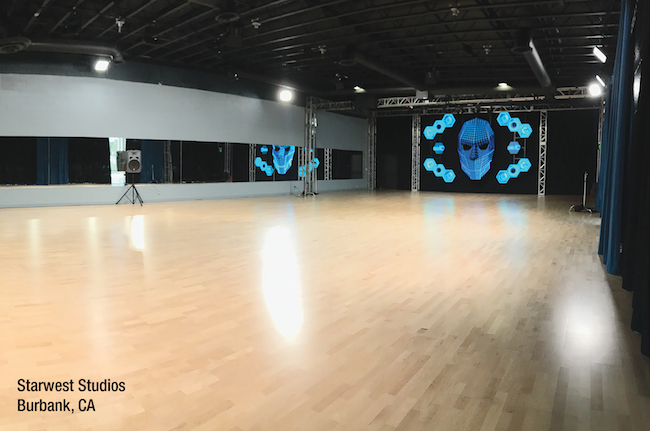 Leading dance flooring company Stagestep celebrates its partnership with Starwest Studios in Burbank, California. Stagestep, which has provided an expansive selection of wood and Marley flooring surfaces, subfloors and maintenance products for more than 45 years, says it's thrilled to be affiliated with a full-service broadcast production facility and dance center like Starwest Studios.
Stagestep CEO Randy Swartz said, "There are dance institutions that anchor activities and programs that make them a mecca for teachers, students and professionals. They provide facilities and services that few can offer. They are important dance hubs that contribute and elevate teaching methods, choreography dance training, videotaping and networking. Stagestep Flooring Solutions seeks opportunities to partner with these 'super dance centers' to offer the finest and safest environment to host numerous dance activities. Such a partnership exists with Starwest in Hollywood."
Starwest has two unique studios – Lot 1, a film production stage, and Lot 2, a high-tech music and broadcast dance studio.
Starwest Studios Creative Director Sammy Oriti commented, "When we built Starwest Studios in Hollywood, a state-of-the-art broadcast dance studio, before all the lights, cameras and action we had to lay the foundation. That is when we decided to install the best, a 3,800-square-foot Stagestep sprung wood dance floor. Our choreographers expect only the best! Starwest Studios has the largest sprung wood floor in Los Angeles, including a Marley sprung floor also from Stagestep with a white Cyc for filming dance."
Starwest hosts many major dance events and shoots, including the recent filming of former Pussycat Doll Carmit's "How Far" music video (produced, directed and choreographed by Brian Friedman), a Broadway Dance Center workshop, Dance Class Live sing and dance auditions, I Am Force (IAF) auditions and Ian Eastwood workshops.
To keep up with Starwest activities, head to www.starweststudios.com or follow the facility on Twitter.
For further details on Stagestep or to shop its acclaimed flooring solutions, visit www.stagestep.com.