staibdance and T. Lang Dance in concert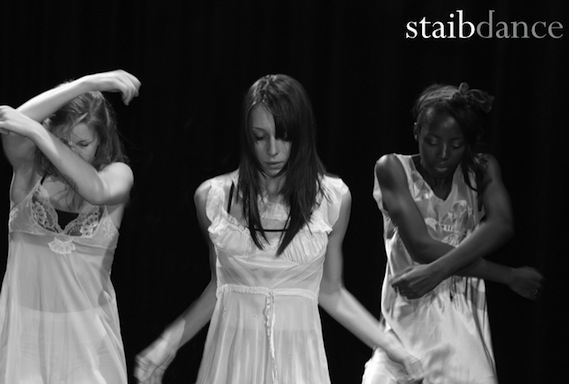 Atlanta dance companies staibdance and T. Lang Dance will present an evening of new work at Fabrefaction Theatre on Thursday-Saturday, November 14-16 at 8 p.m.
Six-year-old contemporary dance company staibdance will present its newest work s n a p as an investigation of the moment before personal or global history is made. The work will ask, "When do we decide enough is enough? How long can we live in the wanting of change before taking the first harrowing step?" Inspired by the collective unrest, curiosity and frustration of the French people during the reign of Louis XVI and moved by the decision to storm the Bastille, staibdance will explore these and other questions.
Artistic Director George Staib says, "Every revolution, whether personal or [in] society, is born of unrest. Anxiety, fear, excitement or doubt percolate until the center cannot hold, and we make the decision to act."
Staib, his 11-member company and three guest artists will present the first rendition of s n a p during these fall performances, with the full work to premiere in May 2014. For more information on staibdance and this work, visit staibdance.com.
Following staibdance, Atlanta-based choreographer T. Lang will return with her company to present excerpts from Post Up, a piece examining the longing for love as it tends towards self-destruction. T. Lang Dance will present this new work after last year's success in debuting T. Lang's full-length work Mother/Mutha.
Moving from entangled aggressive movements to staggeringly tender moments, T. Lang's Post Up, delves deeply into American history and its avoided complexities. Referring to newspaper "posts" by freed slaves in an attempt to find a loved one, Post Up relates to our strong need to belong, to ground oneself in a sense of community – which withstands all trials and the test of time.
The full, evening-length performance of T. Lang's Post Up will premiere at the Goat Farm Arts Center in June 2014. For more information, visit tlangdance.com.
Tickets to see staibdance and T. Lang Dance in concert are $20 for general admission and $12 for seniors and students with valid ID. Fabrefaction Theatre is located at 999 Brady Avenue NW in Atlanta, GA 30318.
Photo by Lori Teague, courtesy of staibdance.