Staibdance premiere – Name Day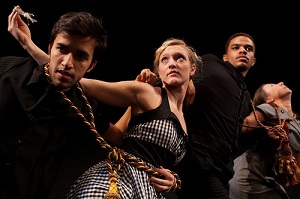 Drawing inspiration from the ancient, communal art of folk dance, critically-acclaimed contemporary dance company Staibdance presents Name Day, a new work premiering at Georgia's Emory University's Schwartz Center Dance Studio, February 2-4.
The evening promises a highly physical, theatrical and emotional voyage through time and geography. Artistic director George Staib – an Iranian-born, Armenian-American – says of his latest endeavor, "Multiple movement languages will be spoken, yet the common denominator remains the same: in an exclusive world, there is room for inclusivity."
Name Day was born from a visit to the ancient Armenian communities in Jerusalem and an intensive study of Israeli contemporary dance. An ambitious tribute to the old and new, this collection of dances and theatrical interludes seek to unearth a curious Middle Eastern artistic sensibility: the love of opulence is posed next to the threat of repression.
Tickets are $15 and are available through the Arts at Emory box office www.arts.emory.edu.