Starpower International

Starpower International has been the worldwide leader in the competition industry for the past 32 years and continues to grow and improve each year. Starpower offers a professional, exciting, energetic, and unique competitive setting for all dancers. Starpower is proud to award performers with hundreds of thousands of dollars in scholarships to Star Dance Alliance programs in America. Starpower offers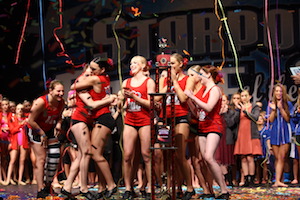 opportunities for performers around the world to compete with its diverse tour dates and locations in 12 countries across 4 continents.
Dancers can compete in all styles of dance; including jazz, modern, tap, contemporary, lyrical, musical theater, and many more for all ages! Starpower also offers three levels of competition for dancers. Starpower's judges have a variety of expertise in all areas of dances, with background as varied as Broadway, commercial dance, dance studio owners, and industrial professionals.


Starpower offers its participants a chance to win thousands in star dollars, scholarships for dancers to pursue a college education, scholarships to attend our dance workshops and other competitions in America, trophies, plaques, pins, banners, and much more!
Dates and Cities
London, England
October 13
Excel London
Miami Florida
January 17, 18, 19, 20
Navigator on The Seas
Competitions
Week 5
Monterrey, Mexico
March 6, 7, 8
Centro Convex Teatro De Las Bellas Artes
Week 8
Gatineau, Canada
March 27, 28, 29
Canadian Museum of History and Canadian War Museum
Week 8 Hamilton, Canada March 27, 28, 29 McIntyre Performing Arts Centre
Week 8
London, England (Early)
March 27, 28, 29
Queen Mary University of London
Week 10
London, England (Late)
April 17, 18, 19
Queen Mary University of London
Week 11
Ottawa, Canada
April 24, 25, 26
EY Centre
Week 12
Manchester, England
May 2
Manchester Central Convention Complex
Week 13
Toronto, Canada
May 8, 9, 10
John Bassett Theatre Toronto Convention Center
Week 14
San Jose, Costa Rica
May 15, 16
Teatro Auditorio Nacional – Centro Costarricense de Ciencia y Cultura
Nationals Las Vegas, NV June 23 – June 27 Westgate Las Vegas
Nationals
Atlantic City, NJ
June 29- July 3
Harrah's Resort & Casino
Nationals
Branson, MO
Julne 29 – July 3
Branson Convention Center
Nationals Orlando, FL July 4 – July 8 Disney World Dolphin Hotel
Nationals
Uncasville, CT
July 6 – July 10
Mohegan Sun Resort & Casino
Nationals
Wisconsin Dells
July 6 – July 10
Kalahari Resort Wisconsin Dells
Nationals
Myrtle Beach, SC
July 12 – July 15
Myrtle Beach Convention Center
Nationals
Ocean City, MD
July 19 – July 23
Roland E Powell Convention Center
Australia/New Zealand 2020
Melbourne, Australia
TBA
Darebin Arts & Entertainment Centre
Sydney, Australia
TBA
Bankstown Sports Club
Brisbane, Australia
TBA
St. John Anglican College
New Castle, Australia
TBA
Griffith Duncan Theatre at University of Newcastle
Perth, Australia
TBA
Joy Shepherd Performing Arts Centre at St. Hilda's
Canberra, Australia
TBA
Erindale Theatre
Auckland, New Zealand
TBA
Bruce Mason Center
Wollongong, Australia
TBA
Illawarra Performing Arts Centre