Steps hosts ADM21 for Classes and Talk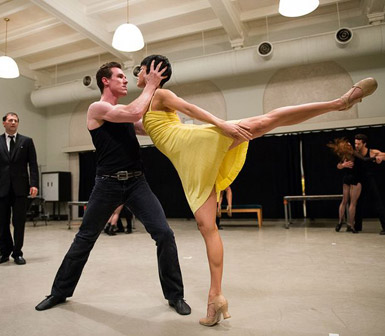 Beginning this week, the New York City premier studio Steps on Broadway is offering master classes led by artists from American Dance Machine for the 21st Century (ADM21.) In addition, the Steps Beyond Foundation's Artists Talk Series presents "Passing It On: A Conversation with American Dance Machine 21" this Sunday, March 22 at 7 p.m., featuring ADM21 Directors Nikki Feirt Atkins and Margo Sappington joined by Robert La Fosse, Tomé Cousin and Lars Rosager.
Atkins founded ADM21 in 2012 in order to continue the legacy of the late Lee Theodore and her American Dance Machine, which existed from 1976-1987. The troupe hopes to ensure musical theatre choreography and technique is preserved, studied and shared as we move further into the 21st century. [Read more about ADM21 in this article, which previewed the company's debut performance at The Joyce Theater last November.]
The Broadway Repertory Master Classes taught by ADM21 dancers and special guests started Monday, March 16 and run through Friday, March 27. Each class features an original ADM warm-up with Lynn Sterling and Cathy Lyn, plus live music with repertory.
Instructors include: original American Dance Machine dancer Lars Rosager (of the original Broadway cast of 42nd Street and the 1987 revival of Cabaret) teaching "Popularity" from George M! by Joe Layton; director and choreographer Tomé Cousin teaching "Simply Irresistible" from Contact by Susan Stroman; Rosie Lani Fiedelman (of Broadway's The Lion King and In the Heights and Off-Broadway's The Jack Cole Project) and Tommy Scrivens of Parsons Dance teaching "Beale Street Blues" by Jack Cole; Broadway veteran Lynn Sterling teaching "America" from West Side Story by Jerome Robbins; and living legend Robert La Fosse (former ABT, NYCB and Twyla Tharp dancer who was nominated for a Tony for Jerome Robbins Broadway) teaching "New York, New York" from On the Town by Jerome Robbins.
For more information on the ADM21 Master Classes at Steps, from 2:30 to 4:30 p.m. each session, visit www.stepsnyc.com.
The Artists Talk on Sunday will have the guest speakers share their vast knowledge and experience as veteran dancers and/or choreographers of dances for Broadway shows. They will start at the beginning, and discuss Lee Theodore, well known for her role as "Anybodys" in the original West Side Story and founder of the first American Dance Machine in 1975.
Atkins and Sappington will discuss their roles in keeping alive the legacy of the great Broadway choreographers. Robert La Fosse will speak about working with Jerome Robbins ("Mr. Monotony" and "Charleston"), and what it means to pass on the work and carry it forward.
The evening will include dance clips from the recent ADM21 season at The Joyce Theater, and company members Georgina Pazcoguin, Amar Ramasar and Lessica Lee Goldyn will join in the conversation.
For more information on Steps Beyond Foundation's Artists Talk Series, visit www.stepsnyc.com. Steps on Broadway is located at 2121 Broadway (between 74th & 75th Streets.) To make reservations to Sunday's talk, call 212-874-2410 x 127. Tickets are $10 each.
Photo: ADM21. Photo by Christopher Duggan.