Steps Repertory Ensemble in 'Celebrate Dance'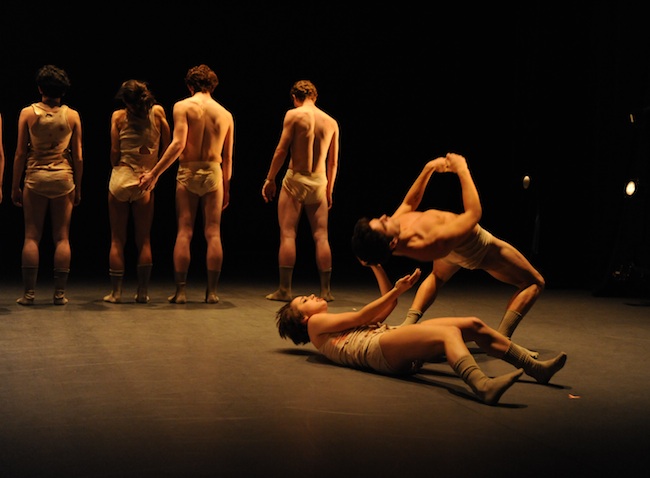 Steps Beyond will present the Steps Repertory Ensemble and guests in "Celebrate Dance," an evening of works by William Forsythe, Francesca Harper, Elisa Monte and company Artistic Director Bradley Shelver, on June 19 and 20 at the Ailey Citigroup Theater, located at 405 West 55 Street in NYC.
Special guests for the season are Sidra Bell, who will present a member of her Sidra Bell Dance NY in the solo New Demon, and a trio of dynamic dancers from Complexions Contemporary Ballet – Mark Caserta, Turk Waters and Philip Osano – will appear in Flight, a 2012 work by Jae Man Joo set to music by J.S. Bach.
Steps Repertory Ensemble is the resident contemporary dance company of Steps on Broadway, presenter of the season under the division Steps Beyond. Under the bold and forward-moving direction of Bradley Shelver, the company commissions internationally acclaimed choreographers, both established and emerging, to create new works and to restage repertory for the ensemble. Company members, selected by audition, number 10 dancers who hail from countries around the world.
Steps Repertory Ensemble dancers include: Eddie Corley, Landes Dixon, Lane Halperin, Malik Kitchen, Carley Marholin, Aurelien Pelilex, Criss Rodriguez, Gabriela Soto, Katherine Sprudzs and Joseph Wamp.
The ensemble will perform the excerpt Agon 1 from Limb's Theorem, created by renowned choreographer William Forsythe in 1990 for the Ballet Frankfurt to original music by Thom Willems. Currently in the repertory of the Lyon Opera Ballet, the work was presented at its recent season in Lyon and reviewed by Roslyn Sulcas for The New York Times, who called it "an elaboration of the most thrilling, theatrical kind, a testament to the choreographer's ability to use light, music and movement to create dreamlike worlds of fierce, inexorable logic and poetry."
Choreographer Francesca Harper's Apex will also be presented. It premiered in 2002 as part of Alvin Ailey American Dance Theater's 44th annual season held at City Center. Reviewing the premiere, Anna Kisselgoff noted that "at heart she (Harper) is a dramatist." Harper, former dancer with Dance Theatre of Harlem and Ballett Frankfurt, was inspired by "those who stand up for human dignity and freedom."
Furthermore, the ensemble will perform one of Elisa Monte's most popular works, Pigs and Fishes. This was the first major commission for the choreographer, being commissioned in 1982 by Alvin Ailey for his company. Tiffany Rea-Fisher has restaged the work, a powerful, driving piece focusing on the coming together of forces in the communal triumph of society and culture.
Bradley Shelver will present his works 3114 BCE and She and Him, Him and Her, He and I, Us and Them. A wild ride to Ravel's Bolero, 3114 BCE references the start of the 5000 year Mayan Calendar. It also represents the choreographer's commentary on the lack of human evolution, the idea that, deep down, we have remained the caveman, craving nothing but food, sex and self-preservation.
She and Him, Him and Her, He and I, Us and Them, originally performed in an excerpted form for the Inaugural Brooklyn Dance Festival in 2012, will be presented by the ensemble as well. Set to music by Beethoven, Bach, Scarlatti and Chopin, the work is divided into four duets, exploring the emotional, physical, spiritual and hopefully, the eternal, bond in relationships.
For more information on these performances, visit www.stepsnyc.com. Steps Repertory Ensemble and guests invite everyone to "Celebrate Dance."
Photo: Steps Repertory Ensemble performs Artistic Director Bradley Shelver's work to Ravel's Bolero, entitled 3114 BCE. Photo by Nan Melville.