Steps Repertory Ensemble in varied program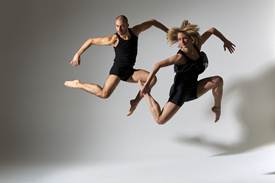 Steps Repertory Ensemble, directed by Claire Livingstone, former member of London's Royal Ballet, will perform a varied program of works, including two world premieres, by choreographers Shannon Gillen, Zvi Gotheiner, Ricky and Jeff Kuperman, Yesid Lopez, Nathan Trice and Manuel Vignoulle, on April 18-20 in New York City.
Shannon Gillen will show the world premiere of her On Certainty, set to music by Frank Bretschneider and Ryoji Ikeda. Gillen was selected by choreographer Christopher Wheeldon as part of the Ensemble's Emerging Choreographers Project.
Famed Israeli choreographer Zvi Gotheiner will present an excerpt from his Chairs, a fierce, visually stunning work for nine dancers and nine chairs, set to a collage of music that ranges from Rachmaninoff to Russian Orthodox liturgical to movie music.
Next, Ricky and Jeff Kuperman's Tit for Tat, set to music by Mark Korven, will treat viewers to "a resounding triumph of masculine aggressive energy, athletic prowess, and visual acumen," according to a 2012 review. Then Hooked, choreographed by Yesid Lopez, will present a duet set to Beethoven's Moonlight Sonata, which explores the connection between two people in any relationship.
Additionally, the ensemble will give an encore performance of Nathan Trice's popular Conversations. Set to music by Keith Jarrett, the work is inspired by a lively conversation a group of Trice's friends had over dinner on the always-fascinating subject of love.
Finally, French dancemaker Manuel Vignoulle will present the premiere of Le Moi Sauvage ("The Wild Side of Me"). The piece deals with the acknowledgement and celebration of the many emotions and aspects of a woman's personality. The sound score includes music by Lisa Gerrard and Marcel Dettmann.
As the resident contemporary dance company of Steps on Broadway, Steps Repertory Ensemble continues its mission of giving opportunities to dancers to work in a repertory-based company through commissioning emerging and established American and international choreographers. The ensemble has performed in concerts in New York and South Africa and will be appearing this summer in Southampton and as part of the Inside/Out Series at Jacob's Pillow Dance Festival.
Steps Repertory Ensemble's upcoming program will be performed Thursday, Friday and Saturday, April 18, 19 and 20 at 7:30 p.m. at Ailey Citigroup Theater, located at 405 West 55 Street (corner Ninth Avenue). Tickets are $25 for general admission and $20 for students and seniors. To make reservations, call 212-874-2410 or visit www.stepsnyc.com. Steps on Broadway is located at 2121 Broadway at 74th Street.
Photo: Dancers of Steps Repertory Ensemble. Photo by J Medlock