STREB Announces 2021 Action Maverick Award Honorees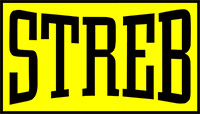 STREB, the company known for its choreographed feats of physicality, scientifically planned chaos, strength, risk, grace, and elegance, founded by MacArthur Fellow Elizabeth Streb, will honor education advocates Cynthia Nixon and Christine Marinoni at the organization's 2021 Action Maverick Award Benefit. The event will take place virtually over Zoom, on Monday, May 17, 2021 at 7 pm, and will be hosted by citizen comic Kate Clinton.
The event will feature remarks from artistic director Elizabeth Streb as well as the evening's Co-Chairs, award-winning author Jacqueline Woodson, STREB student-alum Toshi Widoff-Woodson, and Manhattan Theatre Club's artistic director Lynne Meadow, along with a performance by the STREB Extreme Action Company, and other interactive elements. Though attendance will be virtual, guests will enjoy food and drink via a boxed delivery from HelloFresh and Curious Elixirs, two of the event's sponsors.
The Action Maverick Award Benefit celebrates individuals who inspire STREB, and serves as the organization's signature fundraising event to support the work of the STREB Extreme Action Company's performances, which typically take place at the company's home in Brooklyn and around the world; its educational partnerships and community engagement programs that inspire and empower the Action Heroes and leaders of tomorrow; and the scholarship and ticket subsidy programs which support the organization's access to all. The evening will include an art auction featuring works from Laurie Anderson, Jasper Johns, John Kelly, Pat Steir, and Tom Otterness, among others.
Event sponsorships and individual tickets are available on STREB's website at www.streb.org/benefit