Submissions due for Inside/Out at The Pillow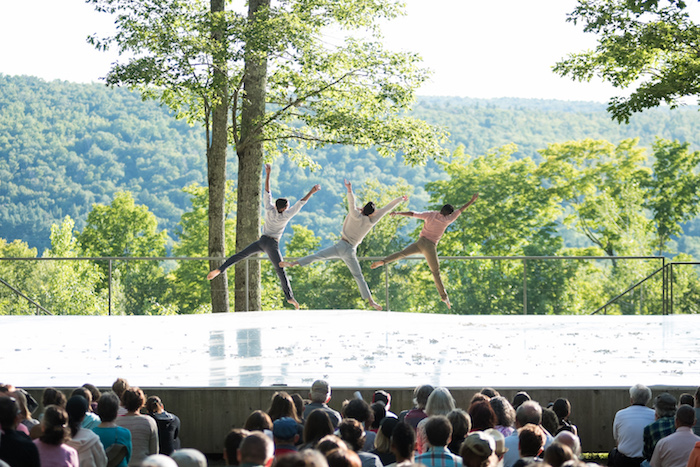 Jacob's Pillow Dance is a treasured 220-acre National Historic Landmark located in Western Massachusetts. A recipient of the prestigious National Medal of Arts, it's home to America's longest-running international dance festival that brings thousands of people from across the U.S. and around the globe to experience more than 50 dance companies and 200 free performances, talks, and events every summer. Students come to train at The School at Jacob's Pillow, one of the most prestigious professional dance training centers in the U.S. Meanwhile, other dance aficionados come to explore the Pillow's rare and extensive dance archives or to take part in numerous community programs.
The Inside/Out Performance Series at Jacob's Pillow Dance Festival takes place from late June to late August every year. Specifically, the 2018 festival will run June 20-August 26 and the Inside/Out performances will occur every Wednesday, Thursday, Friday and Saturday evening on the outdoor stage. They are followed by a brief Q&A with the audience.
Dance artists and companies can apply to perform at the 2018 Inside/Out Performance Series through October 31. Jacob's Pillow is interested in presenting all dance forms and genres, including culturally-specific dance forms and dance-theater in addition to classical and contemporary choreography. Artist submissions that contain an audience engagement element, work-in progress proposal or educational component are also welcome.
Artists only appear as a part of the Inside/Out Series by invitation. Artists may apply to perform in the series by submitting an application and video of their work.
The selected artists will receive an invitation to perform by February 15. The series will be announced publically in April.
For more information, visit www.jacobspillow.org.
Photo: Dark Circles Contemporary Dance performs as part of the Inside/Out Performance Series at Jacob's Pillow Dance Festival. Photo by Cherylynn Tsushima.