'Sweet Tap Chicago' coming to City Winery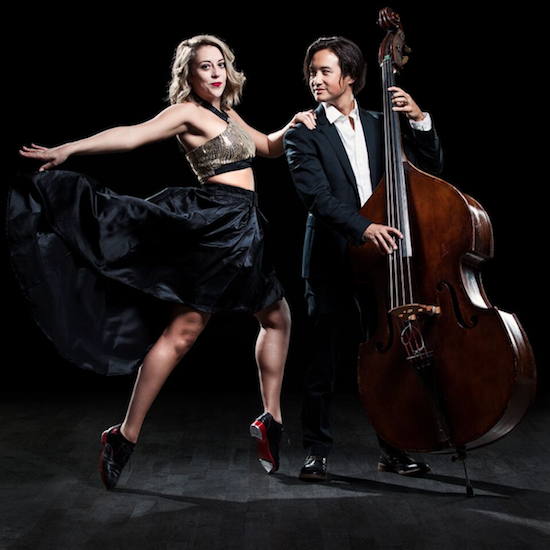 Chicago Tap Theatre (CTT) presents Sweet Tap Chicago on Sunday, March 11 at 3 and 7 p.m. at The City Winery. Sweet Tap Chicago is a celebration of Chicago musicians and music, with all new arrangements by Kurt Schweitz, a live jazz quintet featuring rapper/singer/host Taylor Mallory and JC Brooks, and tap dancing. Musicians and bands to be covered include Common, Smashing Pumpkins, Muddy Waters, Ministry and more.
"This is a special one-of-a-kind dance concert that brings us full-circle as a company," said CTT Artistic Director Mark Yonally. "I grew up tap dancing in the jazz clubs of Kansas City, KS and the connection between live music and tap dance has always been the root of my love affair with tap. When I started CTT, part of the mission was to take tap out of the jazz club and put it on the concert stage and in that process embrace tap as a theatrical art form. After 14 seasons, we continue to push the boundaries of tap and its capabilities to tell stories, explore emotions and deal with concepts and ideas not typically associated with percussive dance."
He continued, "What is exciting about Sweet Tap Chicago is the opportunity to show our audience the other side of tap dance. This is good old-fashioned rhythm tap, focusing on tap as a musical form, functioning as a cross between secondary percussion and lead instrument. There will be unexpected music choices with thoughtful arrangements and tap dance designed to complement, comment on and expand the sonic range of the songs."
In addition to the Sweet Tap Chicago music, Brooks will share a sneak peak performance of the June CTT engagement, giving the audience a taste of the company's Tapped for the Very First Time – a celebration of the music of Madonna coming June 23 and 29 to the Athenaeum Theatre.
While CTT has worked extensively with all kinds of instruments, including harp and Berimbau, this will be the first show that features a rapper.
"We almost always work with vocalists, but it was important to us to be able to present the breadth and width of Chicago music history, and the only way to do that was to have a rapper. We can't wait to see what artistic avenues this opens up," Yonally explained.
Sweet Tap Chicago will feature choreography by Mark Yonally, Kirsten Uttich and Rich Ashworth. Dancers include Mark Yonally, Jennifer Yonally, Kirsten Uttich, Isaac Stauffer, Aimee Chase, Sara Anderson, Emily Broeker, Bailey Caves, Anabel Watson and Chris Matthews.
Doors will open one hour prior to start time and the running time of the performance is one hour and 10 minutes with no intermission. Tickets are $40 and may be purchased by calling 800-440-8539 or by visiting www.citywinery.com/chicago. Group discounts are also available for groups of 10 or more.
Photo by Kristie Kahns.