SYTYCD: And the Winners Are…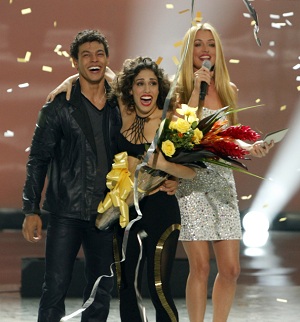 By Stephanie Wolf
One guy and one girl, it's a new precedent for Season 9 of So You Think You Can Dance. In the past, the reality competition has only selected one dancer to be "America's Favorite Dancer," but this season both a guy and a girl will receive the coveted title. Who will it be? All is revealed in a star-studded, jam-packed season finale.
"We're going to blow the roof off this place," chimes in Cat Deeley at the top of the finale. The episode promises to recap the best of Season 9 as well as highlight special guest performers, stirring up a wealth of emotions. All six judges/choreographers who picked this season's Top 20—Lil'C, Adam Shankman, Debbie Allen, Tyce Diorio, Mary Murphy, and Nigel Lythgoe—are present to help America crown its Season 9 winners.
In the finale, we get to relive some of the judges' favorite routines from Season 9, including Nigel's pick of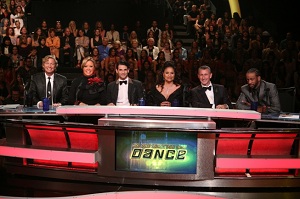 Audrey Case and Matthew Kazmierczak in Travis Wall's "Titanic" routine, Lil' C's pick of Witney Carson and all-star Stephen "tWitch" Boss in a hip hop routine to "My Homies Still," Debbie's pick of Sonya Tayeh's "Turing Page" piece featuring Tiffany Maher and George Lawrence II, Adam's pick of Jason Gilkinson's dark pase doble between Cole Horibe and Lindsay Arnold, Tyce's pick of Amelia Lowe and Will Thomas in NappyTab's "Love Cats" routine, and Mary's pick of Tyce Diorio's gut-wrenching "Suitcase" routine with Chehon Wespi-Tschopp and all-star Kathryn McCormick.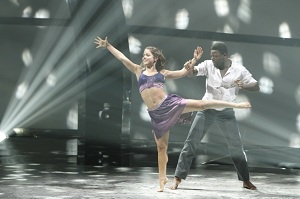 Each finalist also gets to pick his or her favorite routine from the season: Eliana Girard, Nigel's "favorite dancer," choices her sensational Stacey Tookey, "Bang, Bang," featuring all-star Alex Wong; Chehon Wespi-Tschopp's favorite routine is the Argentine tango with all-star Anya Garnis; petite and powerful Tiffany Maher chooses to perform with all-star Ade Obayomi again in Mandy Moore's unforgettable routine to Celine Dion's mighty "The Power of Love"; and Cyrus "Glitch" Spencer chooses to dance his hard-hitting, imaginative Christopher Scott routine with all-star tWitch.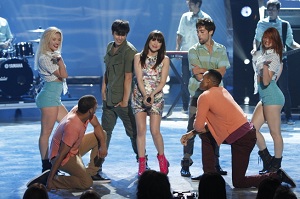 Throughout the show, we witness a spattering of memorable routines from the season, showcasing a variety of the show's dance genres as well as a range of emotional content. But, in addition to the Top 20 and all-stars, we are also treated to several guest performers like pop star Carly Rae Jepsen who appears for a performance of her new release, "The Kiss," and the street dancing troupe Dragon House.
The evening's group routines are a plenty and feed the crowd's growing frenzy. All 20 dancers return for a dramatic piece filled with interesting partnering, theatrical costumes and one serious wind machine, from dynamic choreographers Sonya Tayeh and Christopher Scott—who make a good choreographic team.
"One of the most spectacular routines of the year" features Season 9's Top 10 and ten of the Season's favorite all-stars in a Lion King-inspired, Afro jazz-infused, and animalistic group routine, and choreographer Christopher Scott even jumps onstage for a killer hip-hop/animation routine with Cyrus, tWitch, and Comfort Fedoke.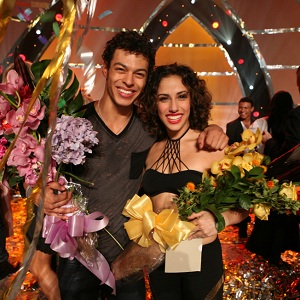 Additionally, we look at the five best moments of the audition tour—it's a reminder of the stories that touched us, the dancers that inspired us, and the individuals who amazed us.
Finally, after two hours of rehashing the season and a lot of fanfare, we find out the results. And the Season 9 winners of SYTYCD are…Eliana and Chehon! Congrats to two very deserving dancers! All four are stars in their own right, but this is the first time in the show's history that ballet dancers have won. It's a big moment for the series and for classical dancers in this country. Kudos!
Now for the next big SYTYCD question on many of our minds. Despite the enormous influx of talent and high audition turnout, rates for the series have been on the downslide. It doesn't appear that America is loosing interest in dance, but will there be a Season 10?
Photos: ©2012 FOX Broadcasting Co. Cr: Adam Rose