SYTYCD announces new judges for Season 12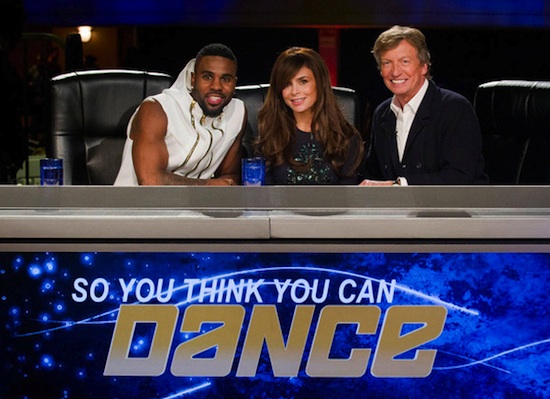 World-renowned choreographer, performer, singer and songwriter Paula Abdul and global superstar, singer/songwriter/dancer Jason Derulo will join Executive Producer and Judge Nigel Lythgoe at the judges' table, alongside returning host Cat Deeley, for the 12th season of So You Think You Can Dance. The upcoming season will feature a new twist in the competition: stage dancers vs. street dancers.
"With the new and exciting format comes a new and exciting panel of judges," Lythgoe said. "I'm delighted that Paula Abdul and Jason Derulo will be joining me at the judges' table this season on So You Think You Can Dance. Paula is an incredible artist and she brings the perfect combination of expertise and heart to the panel. Jason's insight, humor and creativity will add a new perspective to the panel that we haven't had before."
Abdul said, "I have dedicated a large part of my career as a choreographer to discovering and mentoring some of the most iconic artists and performers from all over the world. So You Think You Can Dance has a long-standing history of launching brilliant careers for young choreographers and dancers in the industry. It's going to be a true honor and pleasure joining this panel with Jason and Nigel, and I'm looking forward to an exciting new season!"
Derulo added, "I am truly excited, and eagerly look forward to joining the cast of So You Think You Can Dance. It is one of the most respected and longest-tenured shows on network television, and I hope to be a part of new growth and continued success."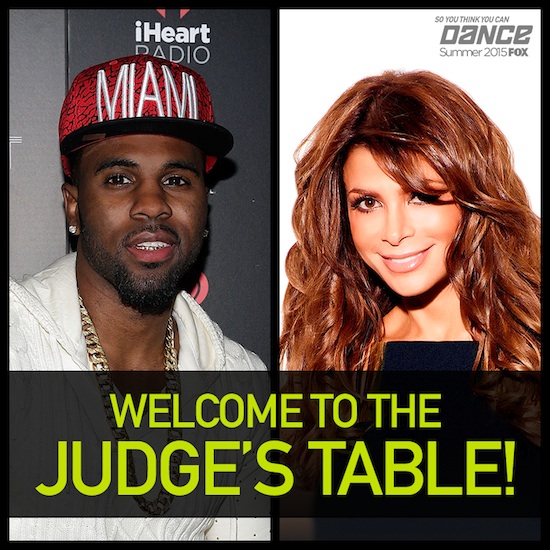 So You Think You Can Dance returns this summer on Fox. Auditions for the new season started in New York on Saturday, January 24. The next auditions are in: Dallas, Texas (Saturday, February 14); Detroit, Michigan (Sunday, February 22); Memphis, Tennessee (Sunday, March 8); and Los Angeles, California (Sunday, March 15).
Auditioners traveling to cities for the open calls should make arrangements to stay for at least two days following their initial audition (three days for Memphis) in the event of a callback.
Dancers either must be U.S. citizens, legal permanent residents of the U.S. or possess current legal Employment Authorization Cards enabling them to seek employment freely in the U.S. (i.e., without restrictions as to employer) by the date specified in the eligibility rules. Dancers must be no younger than 18 or older than 30 years of age on the first day they register for auditions. Check www.fox.com/dance for full eligibility rules.
Throughout the auditions, the dancers who advance will be placed into two teams – the Stage dancers (featuring those trained in styles such as contemporary, ballet, jazz or tap) and the Street dancers (hopefuls skilled in styles such as hip-hop, animation or breaking.) As the auditions continue, the judges, along with each team's All-Star Mentor, will eliminate dancers until only the Top 20 – 10 Street Dancers and 10 Stage Dancers – remain. When the competition goes "live," the Top 20 will be challenged weekly to perform a variety of styles, working with world-renowned choreographers. One dancer from each genre will be eliminated each week leading up to the Season Finale.
For more information on the new season and the new judges (Paula Abdul and Jason Derulo), visit fox.com/dance. "Like" So You Think You Can Dance on Facebook at facebook.com/SoYouThinkYouCanDance. Follow the series on Twitter @DANCEonFOX and join the discussion using #sytycd and #stagevsstreet. Follow host Cat Deeley at @catdeeley, and follow the judges Nigel Lythgoe @dizzyfeet, Paula Abdul @PaulaAbdul and Jason Derulo @JasonDerulo.
Photo (top): New So You Think You Can Dance judges Jason Derulo and Paula Abdul with veteran Nigel Lythgoe at the judges' table. Photo by Jeffrey Neira, courtesy of Fox. Image (left): Derulo and Abdul. Image courtesy of Fox.