SYTYCD: Benjamin Millepied to Guest Judge in Week 5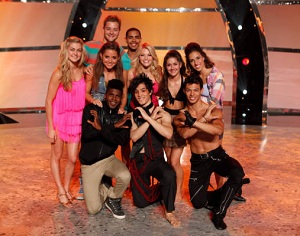 By Stephanie Wolf.
After a Mia-Michaels-focused SYTYCD extravaganza, the competition continues with another week of new routines, new partnerships, guest judges, and special performances. The Top 10 dancers perform in Week 5 of the competition and the pressure is on to win the favor of the viewers.
Joining Mary Murphy and Nigel Lythgoe on the judges' panel this week is choreographer and former New York City Ballet principal dancer Benjamin Millepied who is known in the pop culture realm for his work as a choreographer and dancer in the Darren Aronofsky's film Black Swan alongside his now wife, actress Natalie Portman.
Millepied will also be bringing along his L.A. Dance Project for a special performance. Created in association with the Los Angeles Music Center, the recently formed L.A. Dance Project serves as a vehicle for Millepied's choreography and artistic collaboration with visionaries like musician and composer Nico Muhlly and visual artist Christopher Wool.
We're also guaranteed to see plenty of Travis Wall choreography this week. Recently, he tweeted, "Just completed my second duet today on SYTYCD! It's hard to do 2 In 1 week! I'm mentally and physically exhausted! But they're special ones!" He is one of the most promising choreographers on the show. We look forward to seeing both of these "special" pieces this week.
SYTYCD also announced that the Season 9 Tour hits the road on October 23, 2012 in San Diego, CA. The Top 10 dancers visit cities like Los Angeles, Miami, Atlanta, Providence, Atlantic City, Pittsburgh, and more, finishing off the tour on December 5 in Hollywood, CA. Tickets are available for sale on August 24.
Tune in on Wednesday, 8:00 EST/7:00 CST to see which two dancers will be leaving the competition next.
Photo: ©2012 FOX Broadcasting Co. Cr: Adam Rose