SYTYCD: Down to the Top 6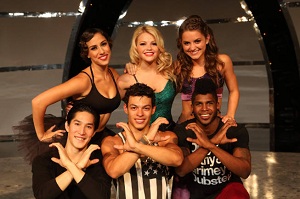 By Stephanie Wolf
We're only a few weeks away from finding out which guy and which girl will be named "America's Favorite Dancers" in Season 9 of So You Think You Can Dance. At this point in the competition, the results are completely in the hands of the viewers, making it crucial for each contestant to bring 200% every time he or she steps onto the stage.
Here's what's on tap for this Wednesday's episode.
The lovely and talented, self-proclaimed über-fan Christina Applegate returns as a guest judge. Along with resident judges Mary Murphy and Nigel Lythgoe, Christina understands how difficult it will be to critique the final six dancers, who are all 'stars' in their own right. Over the weekend, she expressed her excitement and trepidation over the responsibility of being a judge on the show, "Speaking of dance. I will be a guest judge once again on SYTYCD next Wednesday. Down to the final 6. They are all too good. Can't judge that."
Wednesday's episode also features a special performance by California's AXIS Dance Company, which gave a stunning performance of innovative San Fran choreographer Alex Ketley's to color me different on last season. The company performs an excerpt from Sebastian Grubb's The Narrowing. Also to be featured in this week's episode is Season 5 street dancer Phillip Chbeeb. It's unclear if he'll appear as an all-star or as an assistant to choreographer Chris Scott. But the other day, he tweeted, "On my way to early morning rehearsal for SYTYCD! Collabing ideas with Chris Scott for an upcoming duet!"
In other SYTYCD news, Nigel is already moving on from Season 9 and A Chance to Dance to his new dance-a-licious production. Recently, the TV juggernaut signed a deal to produce a series based on the 1980s movie-turned-television-series classic, Fame. Debbie Allen, who starred in both the film and television series, has given Nigel her full blessing. While there is no confirmation as to whether or not Debbie will be involved in the revamped version, she tells TV Guide Magazine, "It's a great idea. Nigel talked to me about it about six months ago…He's been trying to get these rights for a while... He's great, such an incredible advocate for the dance world…I think it's terrific."
Photo: ©2012 FOX Broadcasting Co. Cr: Mike Yarish
---