SYTYCD Judgment Day: Season 9's Top 20 are Revealed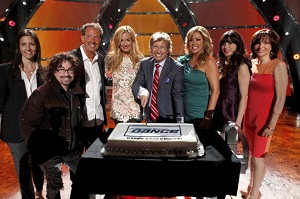 By Stephanie Wolf
Last night's episode of Fox's So You Think You Can Dance was monumental for two reasons: the series celebrated its 200th episode and revealed Season 9's Top 20 dancers. As always, the emotions were high. For many, the news was heartbreaking. But, for ten guys and ten girls, this was just the beginning of their journey.
Here's the final verdict.
Top 10 Girls:
Alexa Anderson
Contemporary
The judges put Alexa through the ringer during Vegas Week, but the stealthy dancer was determined to prove she has what it takes. "You showed some great fight in Vegas," Tyce Diorio told her right before he delivered the good news.
Amber Jackson
Contemporary
Amber is a SYTYCD veteran. After making it to the green mile in Season 6 and getting cut in Vegas on Season 7, she was ready to throw in the towel on her SYTYCD dreams. "It took everything inside me to drop that pride…but you can't grow with that extra baggage," she told the cameras. Despite the number of strong contemporary dancers this season, Amber makes it into the Top 20, proving perseverance pays off.
Witney Carson
Ballroom
Playing up the theatrics, ballroom dynamo Witney Carson strutted down the green mile with her best bud Lindsay Arnold at her side. The Salt Lake City duo, self-titled "Team Ballroom", slammed through every round in Vegas Week and Whitney, despite her young age, oozed sensuality and precise technical abilities.
Lindsay Arnold
Ballroom
"We are only looking for one ballroom lady," Mary told the close friends. Lindsay showed poise and looked genuinely thrilled when she heard Whitney was in. But, in true SYTYCD fashion, the judges were simply holding out and, shortly after, told Lindsay she was part of the Top 20 as well. "Two of the hottest tamales we've ever had on the show," Mary said beaming.
Eliana Girard
Ballet, Pole Dance & Aerial
With stunning lines and grace, it would have been a shocker if Eliana wasn't a part of this season's Top 20. Mary called her a "ballet warrior" and said excitedly, "Ballet is going to have a huge voice this season."
Amelia Lowe
Contemporary
Despite struggling through many of the choreographing rounds in Vegas, Amelia possessed a look and presence that the judges couldn't ignore. She brought the judges to tears with her expressive solos. It will be interesting to see how she holds up in the weeks to come, when she'll have to learn and prepare several routines from a variety of choreographers in a short amount of time.
Tiffany Maher
Jazz
Tiny, but a dynamo on the dance floor.
Audrey Case
Jazz
Audrey wasn't sure if she would make it into the Top 20 when she heard the good news for Tiffany. The two have a similar look and similar style, but the judges couldn't envision a Top 20 without Audrey in the mix.
Janelle Issis
Belly Dancing
Janelle is the first belly dancer to ever make it into the Top 20. But don't be fooled by her genre. This little lady is trained in many other styles of dance. We think she's going to do very well throughout the season. Unfortunately, due to an illness, she was not able to perform with her fellow Top 20-ers on Wednesday night's episode.
Janaya French
Contemporary
Bubbly contemporary dancer Janaya, who is learning all about what it takes to make it in this crazy industry after moving to LA from a small town, flew under the radar for most of the auditions and Vegas week. But Nigel was a fan from day one and happily welcomed her into the Top 20.
Top 10 Boys:
Will Thomas
Contemporary
Tall and strong, Will grabbed the judges' attention quickly. Because of the show's emphasis on partnering, he'll likely do well this season. He's always there for his partner and appears at ease on stage.
George Lawrence II
Contemporary
"There are people who are born to dance…you are one of them," Debbie Allen told George Lawrence II in Vegas. Everything about George Lawrence screams star; so much so that Nigel said, "If every light in this studio went out, you, sir, would still shine."
Nick Bloxsom-Carter
Ballroom
Daniel Baker
Ballet
This Australian born dancer put his ballet career on hold and took a risk in auditioning for SYTYCD. Nigel was thrilled to see company dancers on the show and is looking forward to a season full of strong ballet dancers.
Chehon Wespi-Tschopp
Ballet
Gravity-defying Chehon wasn't consistent in Vegas, but he left a huge impression with his final solo. Let's hope he has more than just a bag of tricks and can handle the other dance genres.
Cyrus "Glitch" Spencer
Hip Hop, Popping
Cyrus has no formal training, but he's gracious and a hard worker. We always love seeing the street dancers grow as the season progresses. Cyrus has the potential to do very well.
Cole Haribe
Martial Arts
Another SYTYCD Top 20 first is Cole Haribe, a martial artist. There's no doubt that he can do some amazing feats, but we didn't see much of him in Vegas. It will be interesting to see how he fares in the various dance styles. The judges are completely enthralled with him; they must see star quality in the "karate kid".
Matthew Kazmierczak
Contemporary
Noted for his Ryan Gosling-esque good looks, Matthew did well for himself in Vegas. He proved he is more than just a pretty face in a captivating Stacey Tookey routine with his fellow Top 20-ers Amelia, Janaya, and Dareian.
Dareian Kujawa
Contemporary
Dareian was unsure if the "blocks at the end of his legs" would mean the end of the road for his SYTYCD journey. But the judges saw much more in the contemporary dancer and, while Nigel stressed he continue to work on his feet, they seemed confident in his ability to succeed in the competition.
Brandon Mitchell
Stepper
SYTYCD stepped it up this season by adding its first Stepper to the Top 20.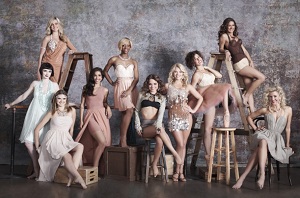 Season 9 has several firsts. The most notable is the change in format. There is no longer an elimination show, meaning dancers will perform and be eliminated in one evening. This modification ups the stakes, adding an additional element of excitement. Additionally, it prompts another change—there will be two winners of Season 9: a boy and a girl.
For the first time, we got to see Season 9's Top 20 dance together. Nigel was joined by Mary and special celebrity guest judge, Zoey Deschanel—while Zoey is "adorkable," this was clearly a ploy by Fox to promote her show New Girl because the singer-actress was at a loss of words when it came to critique.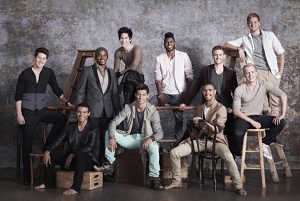 A heck of a start to the season, the dancers and choreographers gave it everything they had. Some of the highlights included a Ballet routine with a contemporary edge, choreographed by ballet icons Desmond Richardson and Dwight Rhoden and performed exceptionally well by Eliana, Chehon, and Daniel; the hot tamale train pulled up to "Sizzle Station" with a spicy Cha Cha number by Jason Gilkison, featuring the ladies of ballroom, Lindsay and Whiney, partnered by Nick—who was outshined a bit by the ladies' fringe and fire; Sonya Tayeh created a powerful Jazz routine that highlighted the lines and strength of the show's tiniest dancers, Audrey and Tiffany; Christopher Scott brought out the best of Brandon, Cyrus, and Cole in a multi-style, baseball-themed routine; Travis Wall created a stunning Top 10 girls routine, which made the ladies look like dancing golden goddesses; and Mia Michaels finished out the evening, as only she can do, with the entire Top 20 onstage in an edgy routine that sets the mood for the weeks to come.
"As far as I'm concerned, all of our Top 20 are superstars," Nigel said excitedly after the first group dance. Even though they say it every season, it does appear that this season's roster of dancers is the most diverse and strongest to date. Yet, it's still early on in the process. The true test will be how the dancers handle the pressure of week one in the competition. At this point, it's anyone's game. But, in the end, only two dancers can be named "America's Favorite Dancers."
Photos:
©2012 FOX Broadcasting Co. Cr: Adam Rose
©2012 Fox Broadcasting Co. CR: Mathieu Young/FOX