SYTYCD Season 13: Top 10 perform; 1 leaves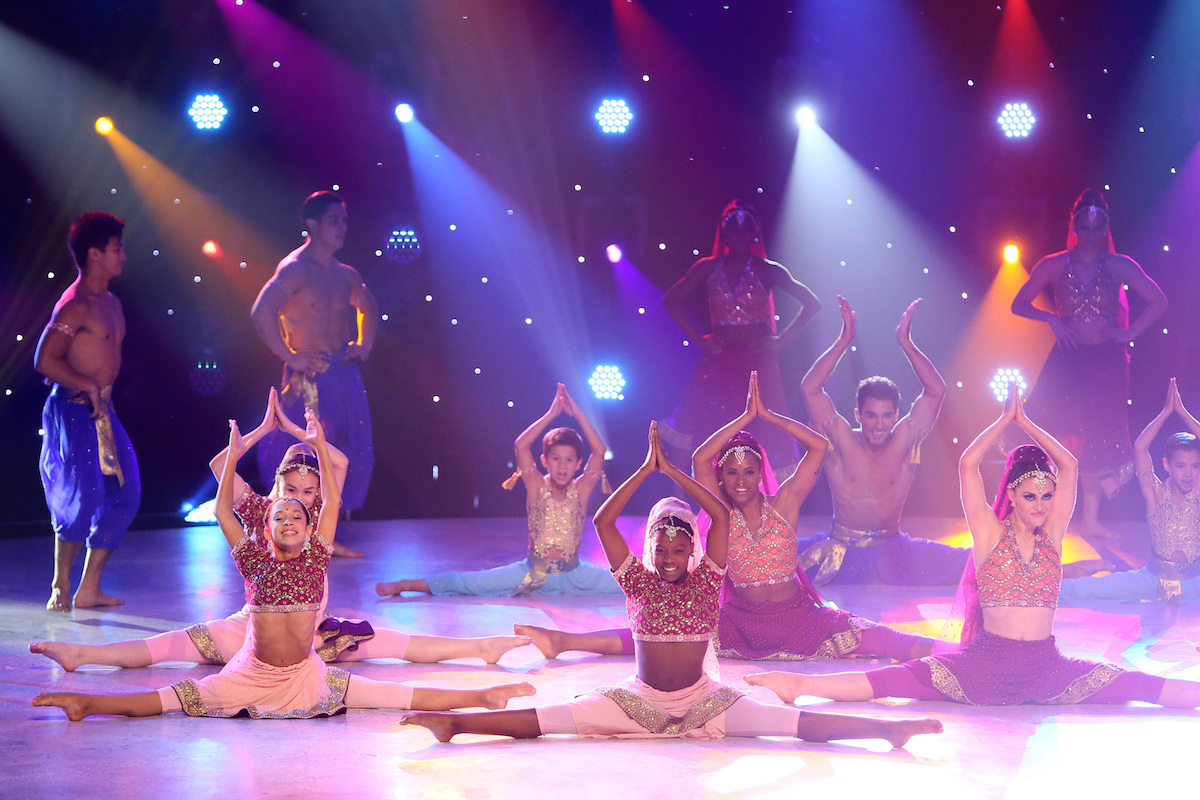 The seventh episode of So You Think You Can Dance Season 13 was a two-hour event and premiered live on Monday, July 18, 2016, on Fox. The episode featured the Top 10 Next Generation dancers paired up, performing a style previously chosen out of a hat.
The episode opened with a Bollywood-inspired group number choreographed by Nakul Dev Mahajan and performed by the 10 contestants and their All-Star mentors. The choreography featured precise arms and technical unison work, including an impressive series of à la seconde turns for one portion of the group. It was an exciting way to start the show.
Host Cat Deely entered and introduced the evening's judges: Nigel Lythgoe, Paula Abdul, Maddie Ziegler and Stephen "tWitch" Boss, stepping in for a traveling Jason Derulo.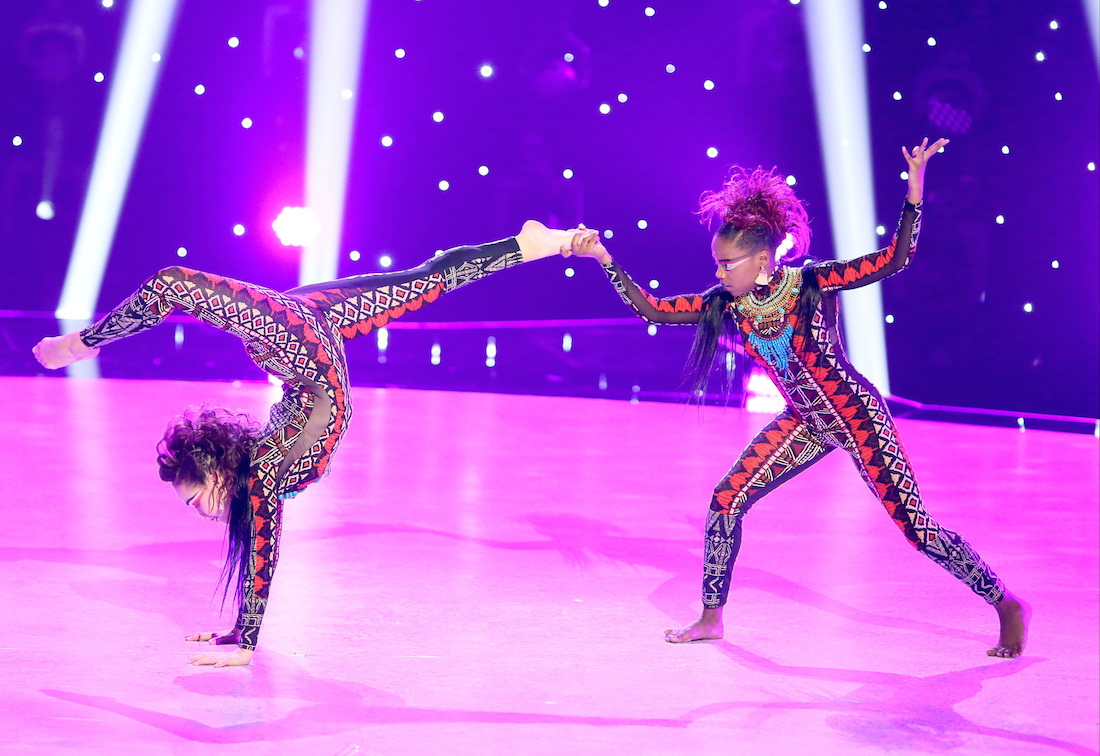 We got into the duet performances right away, with a video clip of rehearsal footage with dancers Ruby and Jordan. They would be tackling an African jazz routine choreographed by Sean Cheesman. The pair appeared on stage in tribal-looking costumes and makeup and performed the high-energy, fast-paced routine with partnering work. The judges complimented the girls' stamina, and tWitch called them "amazing." Nigel noted that Jordan's personality was starting to come out.
Next, we saw footage of J.T. and Emma in rehearsal with choreographers Napoleon and Tabitha, who were going hard on them but all in tough love. The duet was rhythmic and adorable, concluding when J.T. "made it rain" mini balloons from the ceiling. Paula called the performance "larger than life", but Nigel said J.T. needed to work on his hip-hop.
Choreographer Bonnie Story's inspiring and well-received contemporary number about the issue of bullying came next. We learned that young dancer Jake used to get bullied for being a dancer, so this hit home for him. He danced alongside Tahani, a hip-hop dancer who showed clean technique and a mature performance quality. The dancers received a standing ovation from the judges and even got teary-eyed as they listened to the judges' positive feedback.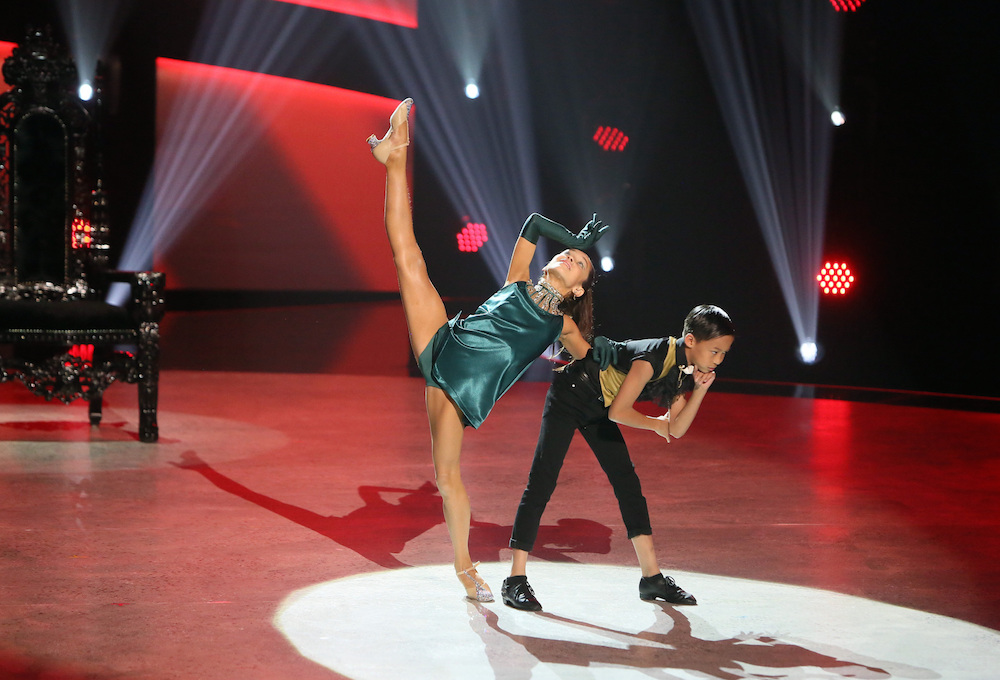 Duo Daniela and Sheaden were up next in a ballroom routine choreographed by Umario Diallo. In the footage, we saw that Daniela experienced frustration during the rehearsal process, even though the dance was in her style. Their performance was adorable, as they exchanged a sweet rapport in their Grease-like costumes. The number highlighted Daniela's footwork and Sheaden's finesse. Paula reminded them to have "fun", which she later called "the word of the night."
Napoleon and Tabitha choreographed the next dance for Next Gen dancers Tate and Kida. The behind-the-scenes footage showed us that, as choreographers, "NappyTabs" are fun to work with. In the hip-hop routine, Tate and Kida rode in on tractors, dressed as farmers. They performed a theatrical routine in which they worked well together. Nigel called them "two of the best dancers on the show", and Paula expressed that there was no choreography that a choreographer could give them that they couldn't do.
Before each duo's next round of routines, we were treated to the All-Stars in a Romeo and Juliet-themed performance, choreographed by Nick Florez and RJ Durrell. The dancers, dressed in period costumes, demonstrated why they're the pros – expressive, technical and emotive. The dance told the classic love story of the two loves pulled apart and ended tragically as Romeo and Juliet does.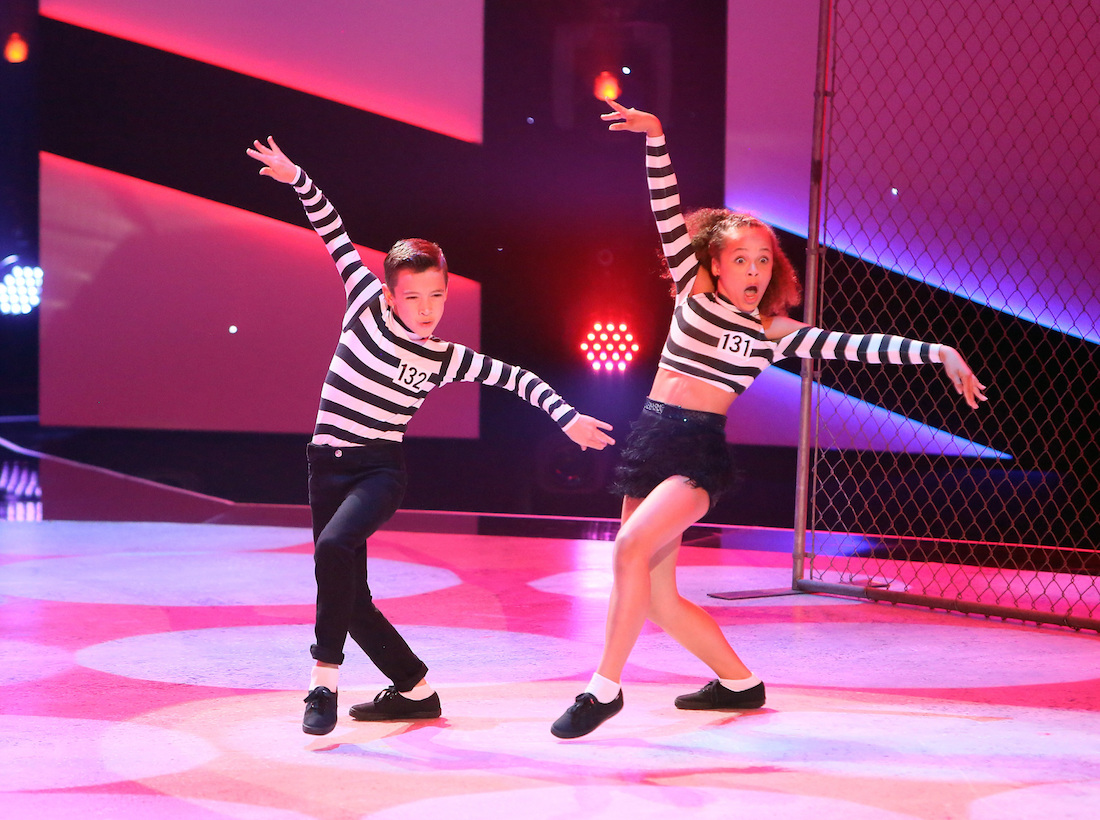 J.T. and Emma were up first for their second duet. A video showed them rehearsing a West Side Story-inspired dance, choreographed by Spencer Liff. The choreography was very Broadway in style, with many kicks and jumps and an energetic quality, which the dancers performed well. tWitch said the couple "killed it" and gave them a standing ovation.
Next up was a Dee Caspary number for Ruby and Jordan. We got a sneak peek at the intricacy and difficulty of the choreography – the dancers were asked to dance and slide with their feet on various clothing items in a bedroom setting. The dancers performed the contemporary routine beautifully and with maturity and full commitment. tWitch praised the two for their consistency, and Nigel called the girls "brilliant."
We then saw footage of Tate and Kida in rehearsal with choreographers Nick and RJ for a jazz routine. The piece was technical and high-energy, and the two dancers complemented each other well. tWitch commented that Kida should work on his arms in some of the more balletic shapes, but Nigel did note that not that many hip-hop dancers could execute that choreography as well as Kida.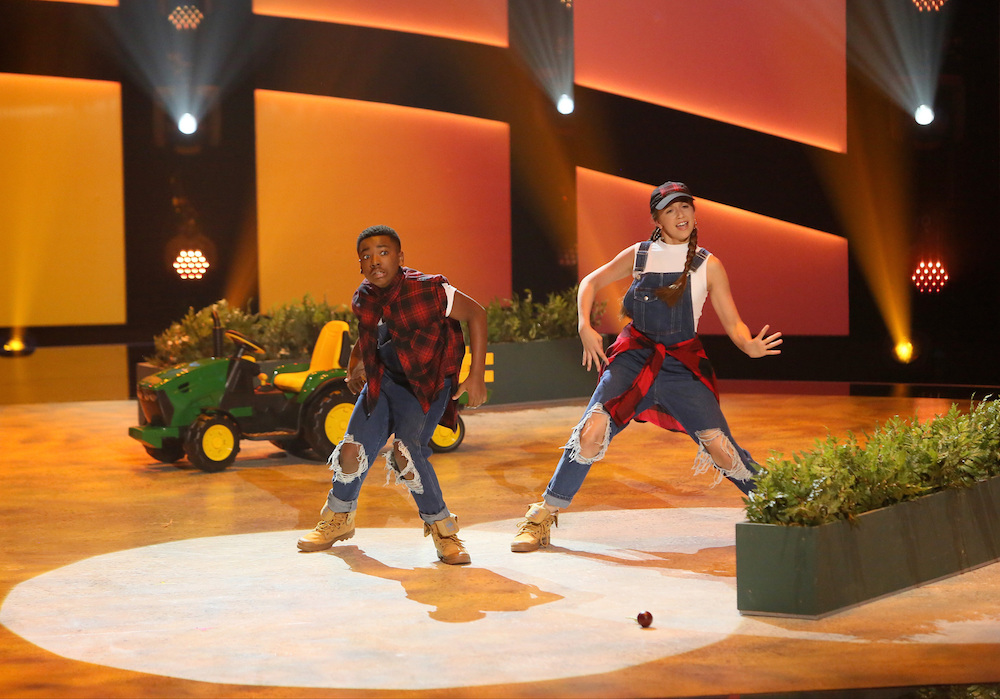 Next up was a Broadway number for Daniela and Sheaden, choreographed by Spencer Liff. We learned that the piece tells the story of a prince and princess who never get to go out and play. It was very Fosse in style, with precise hands and feet and acting as a crucial element. It was a fun number and one well done. Afterward, tWitch joked that Sheaden was "cooler than a polar bear's toenails" and Paula said the duo did an "excellent" job.
Lastly, we saw Tahani and Jake in a ballroom number by Dancing with the Stars' Sasha Farber and Emma Slater. The jive routine, performed excellently by the Next Gen duo, involved speed and trust, with fast footwork and intricate partnering. The performance received a standing ovation from the judges, all of whom agreed the dancers delivered with so much personality.
At the end of the show, all contestants and their All-Stars joined Cat on stage, as she announced the bottom two dancers after last week's votes: Daniela and Sheaden. Following a commercial break, Nigel announced that Daniela would be the first Next Gen dancer to be sent home. She, of course, looked devastated, but her All-Star mentor Jonathan congratulated her efforts and ability, and we were left with highlights of Daniela's time on the show.
Continue to vote for your favorite dancer! Go to fox.com/dance, or use the Fox Now app.
To read the last SYTYCD recap about the sixth episode, click here.
By Laura Di Orio of Dance Informa.
Photo (top): The Top 10 contestants and All-Stars perform a group dance routine to "Let's Nacho" choreographed by Nakul Dev Mahajan. Photo (left): Top 10 contestants Ruby and Jordan perform an African jazz routine to "Breath Connect Us All" choreographed by Sean Cheesman. Photo (right): Top 10 contestants Daniela and Sheaden perform a Broadway routine to "Rich Man's Frug" choreographed by Spencer Liff. Photo (left): Top 10 contestants Jake and Tahani perform a jive routine to "Jailhouse Rock" choreographed by Emma Slater and Sasha Farber. Photo (right): Top 10 contestants Kida and Tate perform a hip-hop routine to "Manolo" choreographed by Tabitha & Napoleon. Photos by Patrick Wymore, courtesy of Fox Broadcasting Co.