SYTYCD Season 13: Top 10 Perform Live in 2-Hour Special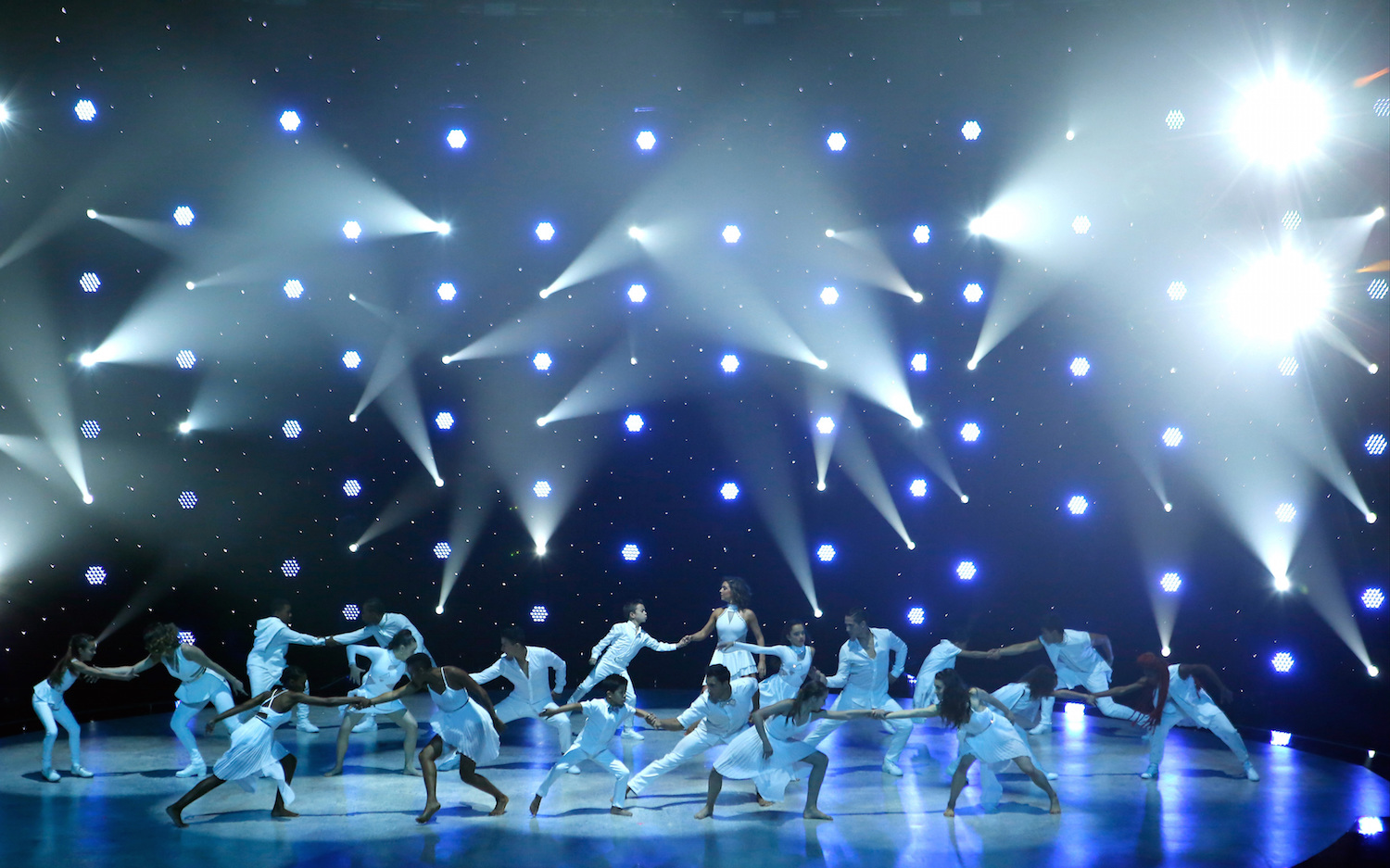 The sixth episode of So You Think You Can Dance was a two-hour event and premiered live on Monday, July 11, 2016 on Fox. This episode was our first time seeing the Top 10 Next Generation dancers performing duets with their All-Star mentors, the Top 10 dancing solos, and the first we heard from new judge Maddie Ziegler.
The episode began with a performance from the 10 dancers and their All-Star counterparts in an intense and beautiful routine choreographed by Christopher Scott. All of the dancers were able to showcase their specific styles, and all of the Top 10 looked like professionals.
Cat Deely made her entrance and briefly explained (with her voice a bit rough) this new season's format. We also learned that SYTYCD Alum Marko replaced Joshua, without much explanation. Next, Cat introduced judges Nigel, Paula, Jason and new "Next Gen" judge Maddie!
Kida, 14, was the first dancer on stage for a brief interview-like talk with Cat. Then, we watched Fik-Shun and Kida in rehearsal with the choreographer of their duet, Christopher Scott. Their dance was full of animation and awesome isolations while sporting some sweet and funky suits. The judges thought Kida was "fly" and had incredible rhythm. Nigel thought Kida could stand to smile and perform a bit more, but overall, he received positive feedback.
Next, we saw "Next Gen" dancer Emma in a brief 30-second clip with her All-Star partner Gaby discussing ice cream and zodiac signs; then, Emma performed her solid one-minute tap solo.
When back from the commercial break, Tate took the stage for her short interview with Cat, and we then watched her and Kathryn's rehearsal with choreographer Tyce Diorio. Tate was a butterfly and had very contracted movement, and their performance was absolutely breathtaking. Nigel said, "Tate, I am humbled by your talent…you are extraordinary today. Imagine what tomorrow is going to bring." Paula said, "Everything about you is brilliant." Needless to say, Tate received all marvelous feedback from the judges.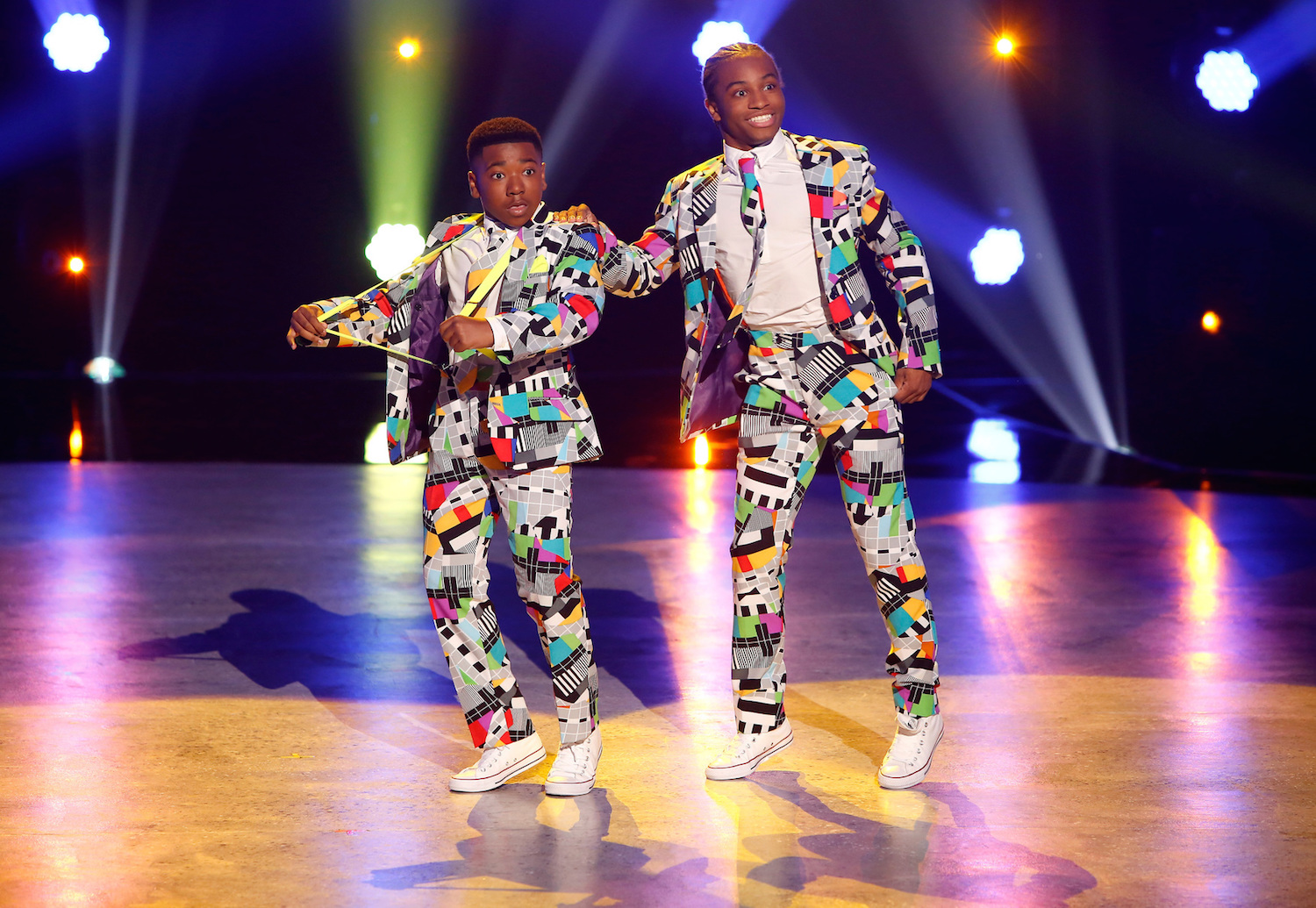 We then saw Tahani and Comfort's 30-second "get to know each other" clip, followed by Tahani's first hip-hop solo, which I must say was one of my favorite solos of the episode. (She #shreddedit!)
Twelve-year-old Jake took the stage next. We saw him in rehearsal with All-Star counterpart Jenna and choreographer Jean Marc Genereux. Their performance was on fire and so fun! Even with the height difference, their partnering was smooth and great to watch. The judges were so impressed with Jake's energy and personality, and also had a lot of fun watching the pair.
Next up for his solo was cutie J.T. After watching his 30-second clip with Robert, we saw his fantastic solo full of turns and adorableness.
After the break, Sheaden was up next for his mini onstage interview with Cat. We watched his rehearsal with choreographers Pharside and Phoenix, and with his new All-Star partner Marko. With a "boogeyman" theme, Marko and Sheaden had some difficult tricks but definitely pulled them off well. The judges thought Sheaden stayed in character well but thought he needed to punctuate his movement a bit more.
Cue a 30-second clip with Ruby and Paul, followed by a beautiful solo that was a little bit jazz and a little bit ballroom.
The next Top 10 dancer we see perform a duet with her All-Star partner was 14-year-old Jordan. We saw her and Sasha in rehearsal with choreographer Brian Friedman. The story behind their dance was that Sasha needed Jordan's support for strength. Wow, the duet's performance was captivating, strong and emotional. Jason said, "That was such a perfect blend of technique, emotion, performance. And, more importantly, I think it's just a perfect time for such a piece…when you're down, you kind of need to lean on somebody…I feel our country needs this right now." (100% #yes!)
We then saw Daniela's 30-second clip with Jonathan, and then watched her dance her fierce solo to "Proud Mary", which was full of high battements, some acro and, of course, fast ballroom feet.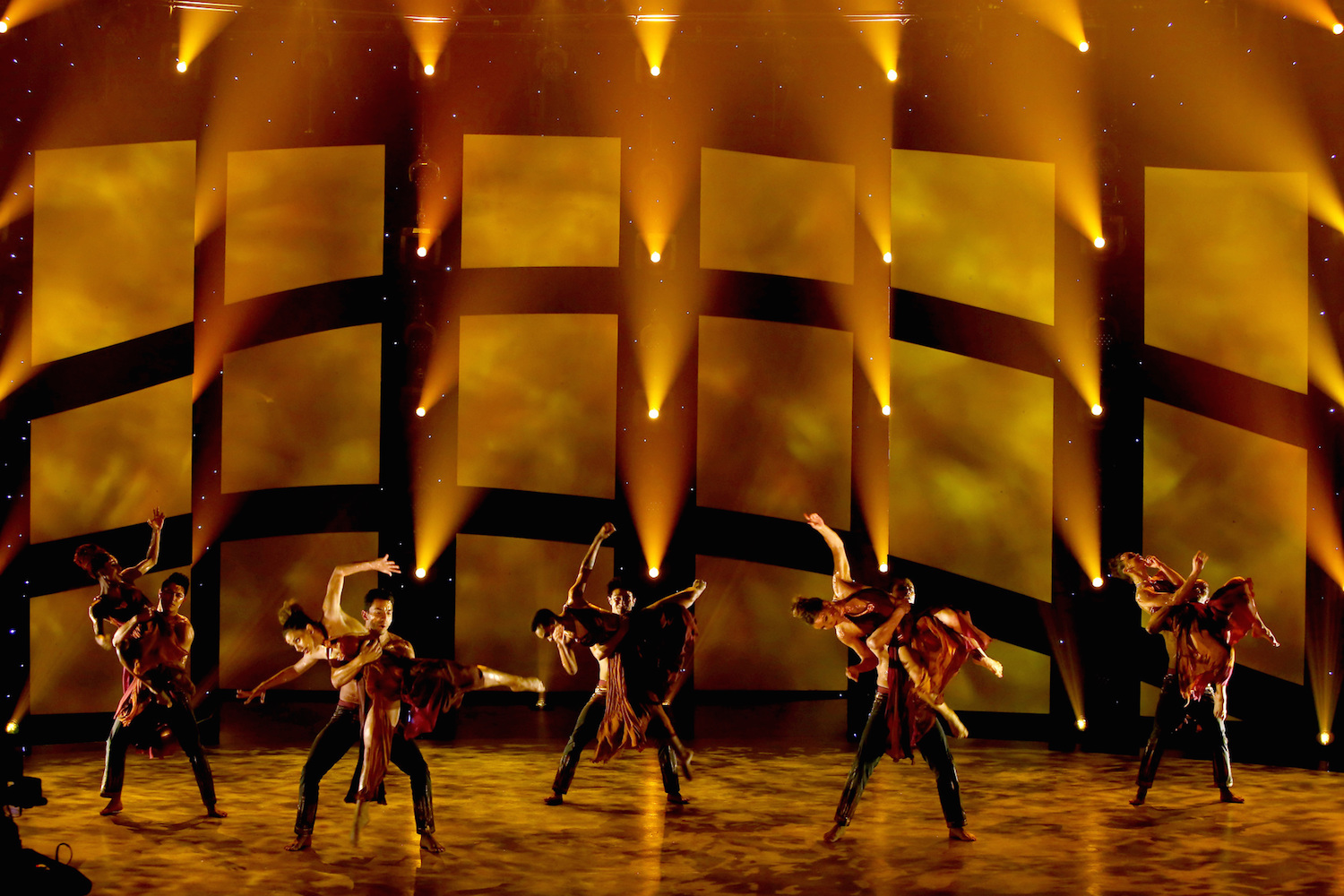 The All-Stars by themselves danced the most beautiful routine, choreographed by Mandy Moore, to "Unsteady" by the X-Ambassadors. WOW! There is a reason these 10 dancers are considered All-Stars. Quite appropriately for the song, when one dancer would falter, the others were there to lift each other up. It was such a beautiful and poignant piece.
The only tap duo in the competition was up next. We watched Emma and partner Gaby in rehearsal with choreographer Anthony Morigerato. Even though Gaby's tap mic came off and she had to hold it most of the performance, they were on point and made great sounds. The judges thought Emma "sat in the pocket" really well and had lots of energy.
After a brief "National Dance Day" promo, we watched Top 10 dancer Kida speak with Fik-Shun for 30 seconds, and he then performed a sick solo, full of accenting and insane isolations.
Miami-native Ruby and partner Paul were next to take the stage with a cha-cha duet, also choreographed by Jean Marc. Their partnership is one to compete with! The two share great chemistry on stage and wowed the audience with killer lines and fun lifts. The judges agreed. Paula said, "Ruby, you are exquisite." Jason said, "You set the floor ablaze."
Jordan and Sasha's 30 seconds were up next. Jordan performed an incredible contemporary solo that involved some beautiful technique and even more emotion. You can see Jordan's maturity growing and growing already.
After the commercial break, we saw "Next Gen" dancer Tahani with All-Star mentor Comfort in rehearsal with choreographer Luther Brown for their hip-hop routine. The routine was full of amazing dynamics from both Comfort and Tahani, and they seriously impressed. Maddie said, "[The choreography] showcased you guys so well, and you're such a perfect match for each other. I really think when you did Academy week, you had more cuteness, but once you were paired with Comfort, a whole different level came out." Nigel said, "Comfort is one of the best hip-hop dancers we've ever had on this show, and all I could do was watch you because of your personality."
After an adorable 30 seconds of Kathryn and Tate discussing the letter "Z", we saw Tate perform an immaculate contemporary solo. Gosh…those legs and emotion!
Twelve-year-old Daniela joined Cat on stage briefly before she was shown in rehearsal with partner Jonathan and his wife, their choreographer, Oksana Platero. With tons of trust involved, their routine had so many high-flying lifts and fun energy. The judges loved her performance and thought the camera loved her.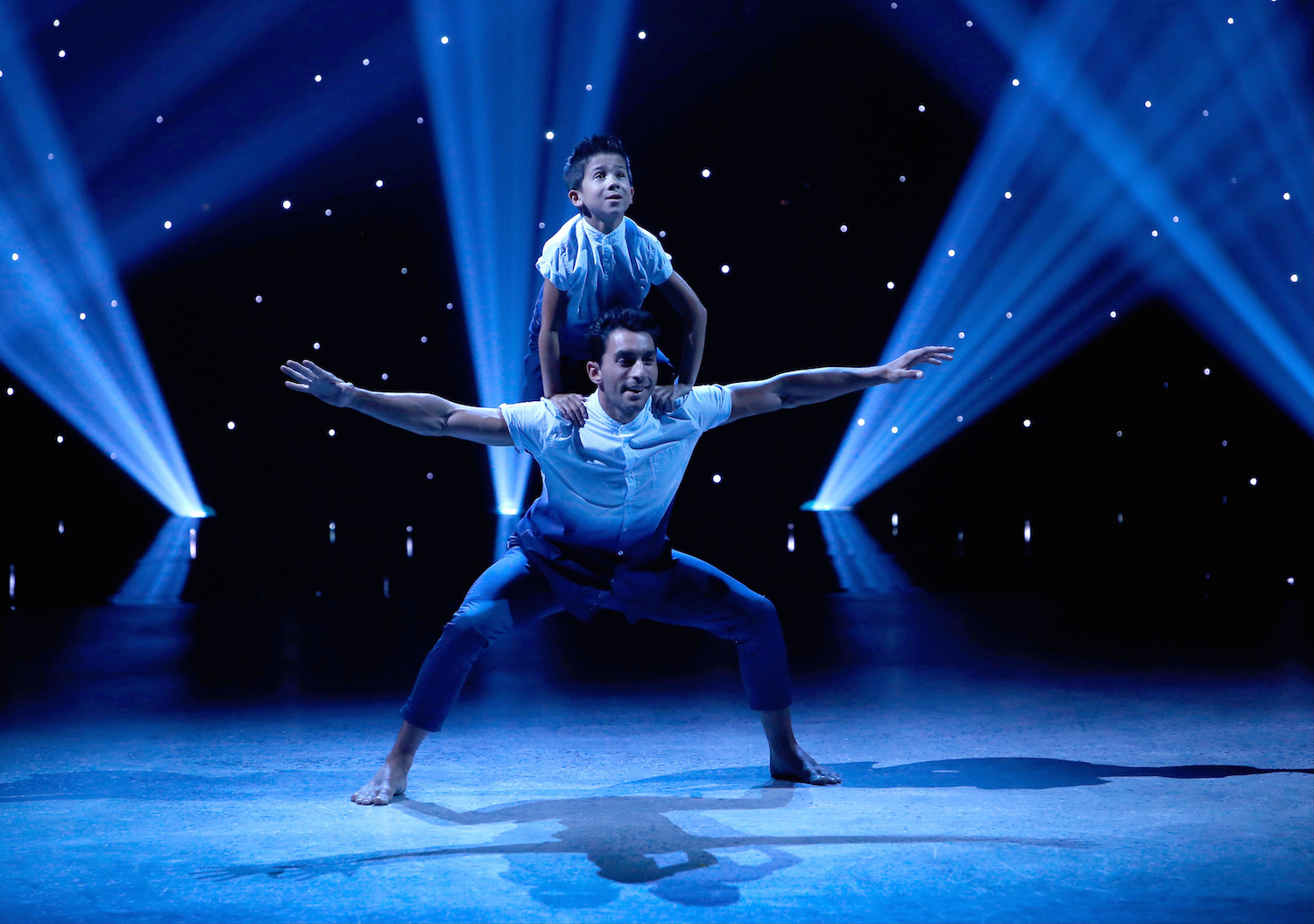 Sheaden's dope hip-hop solo to Busta Rhymes was up next, after a brief 30-second clip with partner Marko. He had well-timed acro, cool isolations and had tons of personality and great performance quality.
The final duo to take the stage was the youngest contestant, J.T., and All-Star mentor Robert. We watched their rehearsal process with choreographer Mandy Moore and then saw them perform a beautiful contemporary routine about letting go. I'm not going to lie, I cried watching this performance. I can see why Robert picked J.T. I feel he might see a younger version of himself in J.T…. at least in this routine. The judges agreed with me and thought the performance was emotional and saw the connection between the two of them. Robert tried to hold it together, but tears came to both J.T. and Robert, along with most of the judges. Jason said, "It felt like life being reenacted on stage."
The final contender to take the stage for a solo was ballroom dancer Jake, who showed off his fast feet but also very technically proficient pirouettes and battements.
After a brief recap of the night's performances, the show concluded with a killer hip-hop routine, choreographed by WilldaBeast and Janelle, from the Top 10 Next Generation dancers.
There are tons of ways to vote for your favorite dancer! Go to fox.com/dance or use the Fox Now app. You can vote up to 20 times per format. The next episode of So You Think You Can Dance is July 18 at 8 pm EST on Fox.
To read the last SYTYCD recap about the fifth episode, click here.
By Allison Gupton of Dance Informa.
Photo (top): The Top 10 contestants and All-Stars perform a group dance routine to "Prodigy" choreographed by Christopher Scott. Photo (left): Top 10 contestant Kida Burns and All-Star Fik-Shun perform a hip-hop routine to "Winning" choreographed by Christopher Scott. Photo (right): The All-Stars perform a group dance routine to "Unsteady (Erich Lee Gravity Remix)" choreographed by Mandy Moore. Photo (left): Top 10 contestant J.T. Church and All-Star Robert Roldan perform a jazz routine to "Stand In The Light" choreographed by Mandy Moore. Photos by Adam Rose, courtesy of Fox Broadcasting Co.