SYTYCD Season 13: Top 8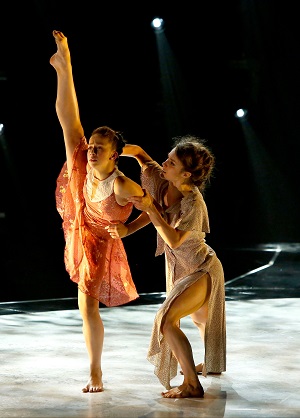 The latest episode of So You Think You Can Dance Season 13 was a two-hour event (and the last before a two-week summer break) that premiered live on Monday, August 1, 2016, on Fox. The episode featured performances of the final eight Next Generation dancers with their All-Star and also paired up.
The episode opened with a hip hop "toy shop" number choreographed by Pharside and Phoenix. The Next Gen dancers and All-Stars were dressed as dolls coming to life – rag dolls, clowns, soldiers, ballerinas – and they performed a colorful, lively, almost creepy routine.
After host Cat Deely introduced the evening's judges – Nigel Lythgoe, Paula Abdul, Maddie Ziegler and Jason Derulo – the evening's duets started right away.
First up was Emma and her All-Star Gaby in a technical tap number choreographed by Anthony Morigerato. The two dancers, who share much chemistry on stage, performed in and out of spotlights for solo phrases and then culminated in a fast-paced, witty and impressive unison section.
The pair received a standing ovation from the judges. Nigel said Emma and Gaby were "made in heaven for each other", and Paula praised Emma for her ability and personality.
Next, we saw behind-the-scenes footage with Tahani and her All-Star Comfort in their rehearsal with choreographers Napoleon and Tabitha. The piece told a story of a father who had just walked out on them, and the choreography is set in a mirroring effect, with a "wall" between the dancers. The dancers performed with emotion and dynamics, and the end result was an interesting concept. Although Tahani and Comfort couldn't see each other for the first portion, they were impressively in sync.
The audience and judges gave the two a standing ovation, and Paula noted that they were "doppelgangers" and that she could really feel their pain. Maddie admitted that this piece was very personal to her, and that she was impressed by Tahani's commitment.
Ruby and All-Star Paul were shown rehearsing a bossa nova routine choreographed by Jean Marc Genereux. Their performance was intense and aggressive, unique for ballroom. Maddie said that Ruby "bounced back from the bottom two" after last week, and Jason said the number was "beautiful line after beautiful line…visually stunning". Nigel pointed out that it seems the All-Stars are learning from their Next Gen dancers as well, noting that Paul had to keep up with Ruby at times.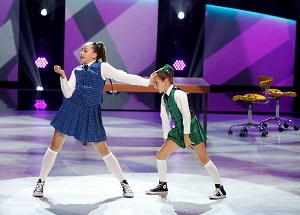 Next Gen dancers Jordan and Jake paired up in a hip hop routine choreographed by Pharside and Phoenix. Dressed like marching band members, both tried hard and shone, even though it seemed to be a bit difficult for Jake to get into the hip hop style.
Nigel commented that Jake did need to "get down" a little more, and that he didn't have to smile all the time. He also complimented Jordan, saying her personality was coming out.
Next up were contestants Tahani and J.T. in a cha-cha number choreographed by Emma Slater and Sascha Farber. Their performance was colorful and fun, but Nigel and the other judges criticized the dancers' lack of training in this style.
Jordan and All-Star Sasha were shown rehearsing with choreographer Sean Cheesman in an emotional contemporary piece inspired by his father. In rehearsal, Jordan had trouble focusing on the seriousness of the subject, but it seemed to come together in their performance, which was passionate and full of intricate partnering. Jason commented that it "felt like it was one being" for the two dancers.
Next, Jake and All-Star Jenna performed a jive number choreographed by Jean Marc Genereux. The piece had lots of partnering, in which Jake played an athlete and Jenna the coach. It was adorable and fun, with great footwork and even a partnered cartwheel.
Jason said that every week, Jake brings something exciting, and Nigel explained that this sort of uplifting routine is where Jake shines.
Contestants Emma and Tate were up next in a Broadway routine choreographed by Sean Cheesman. The rehearsal footage was fun and showed the two goofing off and also working hard. The dance was jazzy and cute, and both dancers showed a lot of personality. Nigel said their performance was very musical, but Jason said it was not their best number.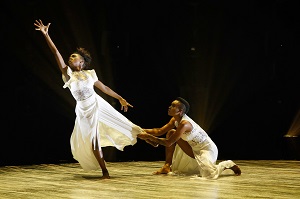 Next up were Next Gen dancers Ruby and Kida in a contemporary routine choreographed by Mandy Moore. Both dancers were out of their comfort zone but worked hard in rehearsal. The performance was beautiful and inspiring, and the dancers connected emotionally and in their partnering.
The two received a standing ovation, and Nigel said it was "beautifully done" and that it's great watching Kida grow and emote throughout this competition, although he should use his breath more. Paula noted that it was the first routine of two contestants that made her see them as two dancers, not kids.
As a break between the competing routines, the All-Stars performed a mystical and magical contemporary dance choreographed by Tyce Diorio.
J.T. and All-Star Robert were up next in a jazz number choreographed by Mandy Moore. We saw them in rehearsal, where J.T. looked frustrated during the process, and Robert had to tell him to stop using the word "can't". But their performance was adorable, lively and light-hearted. They received a standing ovation from the judges, and Paula said it was "Broadway-worthy".
Next, Kida and All-Star Fik-Shun performed a hip hop routine choreographed by Misha Gabriel, which showcased them as bees in a hive. Their performance was crisp, sharp and energetic. Nigel joked that it was "unbee-lievable" and great fun.
Lastly, we saw Tate and All-Star Kathryn in a contemporary number choreographed by Travis Wall. The dance told the story of a girl meeting her birth mother who gave her up, and the dancers delivered a passionate, emotional performance. Tate moved with grace and maturity, and of course showed off her incredible extensions.
The judges gave them a standing ovation. Nigel told Tate that she has all the technique but can now learn about acting from her mentor, Kathryn. Paula praised Travis for the depth of his storytelling in his choreography.
After a commercial break, Nigel announced the bottom two Next Gen contestants, who would be going home: Jordan and Jake. The episode concluded with a cheery look on their time during the competition.
Continue to vote for your favorite dancer! Go to fox.com/so-you-think-you-can-dance, or use the Fox Now app.
By Laura Di Orio of Dance Informa.
Photos: ©2016 FOX Broadcasting Co. Cr: Adam Rose.