SYTYCD: The Top 18 Becomes the Top 17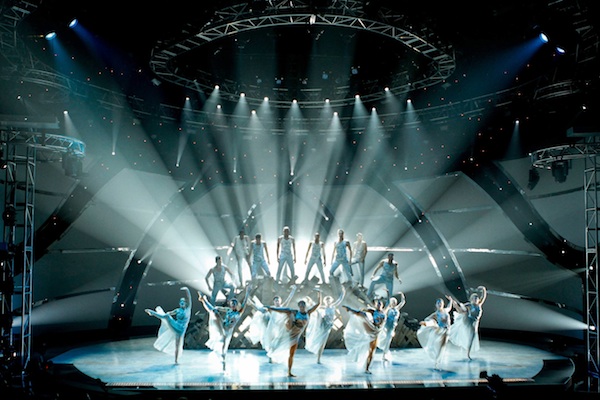 By Stephanie Wolf.
This week's So You Think You Can Dance Season 10 episode opened with a captivating contemporary group routine collaboratively choreographed by Sonya Tayeh and Christopher Scott. Clad in flowing costumes of varying cool-toned hues, the ensemble of dancers moved in and out of synchronized movement that was interesting and expressive. Upstage and center was a large, irregular structure from which dancers alternatingly catapulted themselves off of.
Two thumbs up – it was a great start to this week of the competition and showcased how well these dancers perform together.
However, the Top 18 didn't grace the stage in the opening number this week. Rather, it was the Top 17 performing for America. Animator Jade Zuberi had to withdraw from the competition due to a meniscus tear. It was a sad loss for the series, yet the show must go on…
At the top of the show, the bottom six dancers were announced. But Cat Deeley had an additional announcement. After the previous week, they have decided to change the format again—the judges will deliberate their eliminations at the end of the show, a structure that will likely have better morale built into it.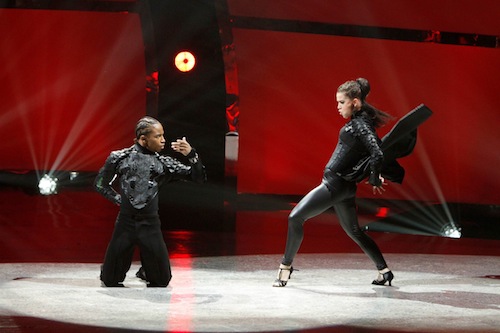 Back to the competition…
This week's bottom six dancers were Jasmine Mason, Jenna Johnson, Alexis Juliano, BluPrint, Curtis Holland and Jade. Because of Jade's injury, the remaining two boys were safe. But all three ladies were asked to dance for their lives and, according to resident judge Nigel Lythgoe, "show America what genre they are good at."
Nigel was flocked by ladies of dance this week on the judges' panel: Mary Murphy, Erin Andrews, and Paula Abdul. They would decide which dancers would be going home at the end of the night.
Alexis and Jenna pulled out great solos—Jenna came out fighting with fringe a flying. But, Jasmine, who is a fantastic dancer, didn't give a memorable performance.
Amy Yakima and Du-Shaunt "Fik-Shun" Stegar teamed up for a Jean-Marc Généreux paso doble – a "paso war" per say. It was dramatic; it was bold; it was filled with power; and it was everything we've come to expect from this power couple. Though Fik-Shun should watch his shoulders, which tended to creep up on him in his hold.
Mary said, "Fik-Shun, you're blowing my mind right now," and called Amy a "warrior princess." She was VERY enthusiastic. Erin complimented them on their chemistry and said, "You are the ones to beat." High praise from Paula as well, who said she would want Amy front and center for her choreography.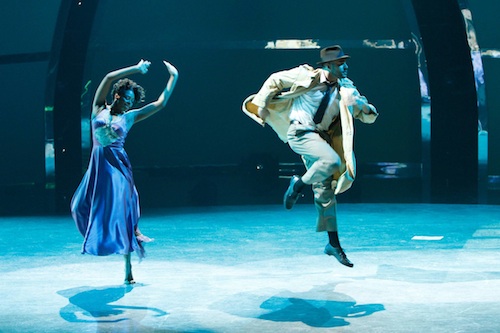 Jasmine Harper and Aaron Turner tried their hands, or rather their feet, at a Spencer Liff Broadway routine. It was a murder mystery number that had the two stepping back in time to the era of old Hollywood glam. Aaron caught some great airtime as he leaped and bounded about the stage—is this guy really just a tap dancer?
The judges continued to harp on Miss Harper's legs, but Aaron really stole the show. "You are a throwback to those old MGM contract dancers," Paula told him, thinking of American icons like Gene Kelly and Donald O'Connor. She then said Jasmine reminded her of Cyd Charisse. Meanwhile, Nigel felt both of them could hold their own on today's Broadway stage.
Mackenzie Dustman and Paul Karmiryan had the chance to welcome SYTYCD newbie choreographer Lindsay Nelko with an emotionally driven contemporary routine. They were asked to let go of their technique and embrace the emotions of the piece. Solid partners and technicians, they successfully found the balance between the athleticism and artistry of the moment. And Lindsay brought a new, strong choreographic voice to the season—with a great song choice too.
Paula said, "I believed what you were doing!" Nigel felt the emotional depth as well, and he commended Lindsay as a "true asset to this show."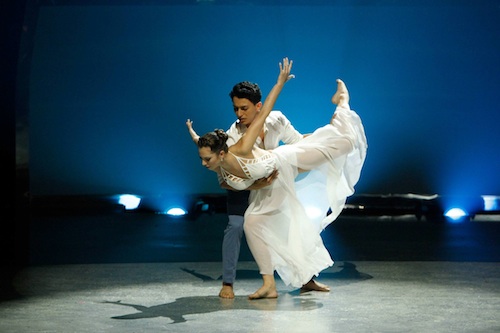 Next up, Jasmine and Alan Bersten danced a Sean Cheesman jazz number that had the couple conducting themselves as royalty. Filled with quirks and punctuated movements, the routine was original both choreographically and conceptually. But was it enough to capture the hearts of America?
Nigel felt they could both "have more fun with routines like this." Alan received a lot of praise for his partnering skills, but some of the overall feedback was lukewarm. Mary wanted them to "let it go" more.
Jenna, in the word of Cat, tried to "dance her way out of danger" with Tucker Knox in a hip-hop routine—another scenario where Tucker is trying to get the girl. Another great addition to the show's roster of choreographers, choreographic team Keone and Mari Madrid created a throwback, yet modern and sleek number that had the two looking smooth and cool.
Mary found it a bit jazzy—Nigel called it "hip jazz"—and went on to praise the both of them. "There's nothing you can't do. You're ballroom gone bad, gone dangerous," Erin told Jenna. Paula complimented them on their energy and chemistry. It didn't appear that Jenna would be going anywhere.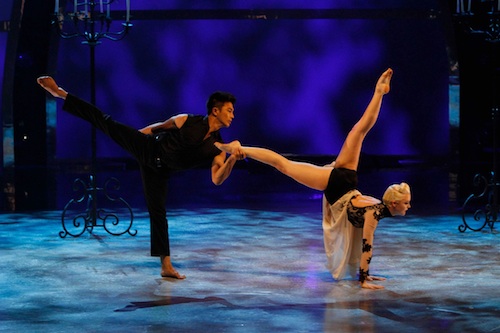 Malece Miller performed a Sonya Tayeh contemporary routine with Marco Germar, who stepped in for Jade. This week pushed Malace to her limits. She looked much more confident in performance than she did in rehearsal—that may have had something to do with her all-star partner.
The judges were touched my Malace's growing maturity. Paula said it was her favorite routine thus far.
Haley Erbert and Curtis came together for a Jean-Marc Généreux samba piece. It was another sexy routine with lots of hip action for this couple. Haley looked confident and, well, sexy. Curtis partnered her well, but had room for improvement in his arms and hip gyrations. Prediction: Haley could be the dark horse of this competition.
"You bring fire and ferocity," Paula said to Haley. But she had some constructive criticism for Curtis. Nigel hoped for more improvement from Curtis as well. "You have got to step up now," Nigel told him, and suggested he bring more maturity next week.
Performing a Spencer Liff jazz dance, Alexis hypnotized Nico Greetham to Nina Simone's "I Put a Spell on You." Alexis has shown improvement, stretching her lines and feet much more this week. Having already established how great of a technician he is, Nico didn't disappoint. Though, it was disappointing that, once again, a SYTYCD routine ended in a kiss.
Nigel was happy. He thought it was danced well and showed great synchronicity between the pair of them. Mary was hypnotized by their dancing. According to Erin, it was a better run then dress rehearsal—you know what they say, bad rehearsal good performance.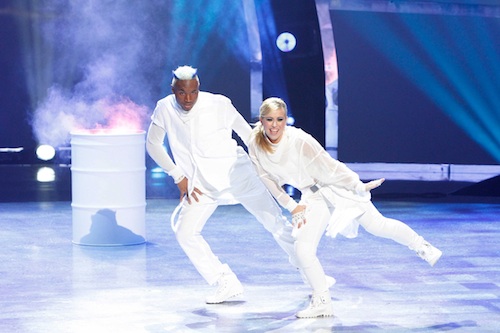 Was "BluPrint" able to, in the words of Mary, "dig deeper" this week with his new partner Mariah Spears? The new partnership performed a hip-hop routine choreographed by Luther Brown. With an animator and krumper in the mix, the expectations were high. Did they deliver? Mmmmm….let's hear what the judges had to say.
Mary felt BluPrint did well with all the choreography thrown at him, but still wanted more from his performance. Mariah received great comments from Erin, but she also wanted more from BluPrint. Paula told BluPrint, "You're still holding back." Nigel pulled out his soapbox to talk about personality. He had a point, bringing up past seasons in which it came down to personality between the final two. Will BluPrint's lack of personality onstage put him in danger for next week?
In the end, Jasmine M. was sent home. Tune in next week to see more booty-shaking, high-flying, uber-dramatic emoting, fast-moving SYTYCD action.
Photos: ©2013 FOX Broadcasting Co. Cr: Adam Rose.