SYTYCD Week 2: Dentists, Ballroom, and Bathtubs
By Stephanie Wolf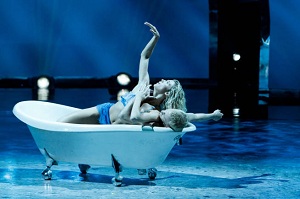 "Another spectacular night of dancing and drama," host Cat Deeley announces shortly after Season 9's Top 20 performs an odd group routine to Marilyn Manson's The Beautiful People. It's a bizarre way to start the evening, but, thankfully, not much time is wasted and the competition gets underway quickly.
Overseen by a panel of judges that include resident judges Nigel Lythgoe and Mary Murphy as well as guest judge Adam Shankman—who goes to lengths to plug his newest movie, Step Up Revolution, throughout the entire show—the evening starts with ballroom dancer Lindsay Arnold and martial artist Cole Horibe in a Christopher Scott hip hop routine. Cole plays a nerdy kid going to see the dentist. This isn't exactly what one would except from a routine dental checkup. Lindsay is a saucy dentist, who strips off her white coat to revel a tight-fitted black dress and gives Cole more than a teeth cleaning. Cole continues to blow the judges away, not just with his unexpected multi-genre dance abilities, but also with his commitment to playing a character. "You were the nerd of all nerds tonight," Mary tells him. "Cole, you're freaking me out," Adam says, as Cole stays in character no matter what. However, Lindsay dose not receive as much praise, even though she did show strong hip hop skills for a ballroom dancer. "It felt a little immature," Nigel tells her. It is not the most memorable of numbers.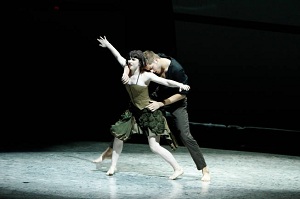 Contemporary dancers Amelia Lowe and Will Thomas are a great match and excel in this week's Sonya Tayeh routine. Sonya describes the piece as "two souls carrying the weight of the world on their shoulders, searching for the light at the end of the tunnel". This partnership seems to be developing nicely and Sonya knows just how to show off Amelia's long extensions and Will's strong presence. The routine gains a scream from Mary and a standing ovation from Adam. "You were completely lost in the piece and took me on the journey with you," Adam tells Amelia. "That was brilliant!" Nigel is in awe of them and their partnership and commends Sonya for her choreographic growth.

Amber Jackson and Nick Bloxsom-Carter tackle the season's first tango. The Miriam Larici and Leonardo Barrionuevo choreography is sensational and incredibly demanding, showing the true fire and passion behind the art of tango. Ultimately, it's an unlikely pairing. But Nick is a strong partner and is there for Amber at every pivot and dip. Yet, it is Amber who has the judges' attention. "You fully inhabited that character," Adam coos. Nigel calls her "a tiger ready to pounce." Nicks deserves more than a mere, "you partnered her so well."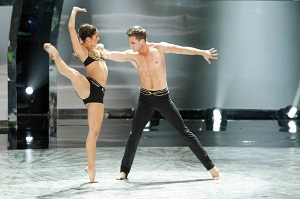 Power couple Audrey Case and Matthew Kazmierczak take on a Sonya Tayeh piece that embodies a struggle between genders. This male versus female dance battle shows off the duo's onstage chemistry and Audrey's flexibility—though she sometimes doesn't stretch the back of her knees in her impressively high extensions. Nigel is enthralled by both the choreography and dancing. "I love this darker style," Nigel says in regards to Sonya's choreography. He continues to express that Audrey and Matthew are "probably one of America's favorite couples." Mary adds, "[Audrey] you maximize everything." Adam has equal faith in Matthew and tells him, "If you keep it up like that, it's yours to lose." Is this the couple to beat?
With a theme of young love, Janelle Issis and Dareian Kujawa's Christopher Scott's hip hop routine is supposed to leave the audience feeling warm and fuzzy inside. Yet, the routine is, according to Nigel, "a little uninspiring." Despite ending in a steamy kiss—a gimmicky ploy to win viewers' approval that we see all too often on the show—the characterization and technical execution is lacking and feels juvenile. The judges are the harshest on Janelle. Adams advises, "Live and breathe the music…that is as much a part of being a dancer." "They are both better dancers than this," says Nigel. He's concerned they'll be in trouble after this "okay" number.
Janaya French and Brandon Mitchell dance a Broadway routine by Sean Cheesman. The routine's success is most reliant on character, as Janaya plays a young lady who wants to love on Brandon after reading a steamy novel. There are some moments, such as a crazy lift in which Janaya hooks her foot on Brandon's shoulder and flips herself through, but it's uncertain if, as a couple, the two will stand out. Adam enjoys it.
He says, "Super fun…another one of those character pieces, but that was really successful." And Mary commends Brandon for improving on his performance. "The stepper stepped it up tonight…you're an actor," she roars. But is it enough for these two to succeed in the competition overall?
Eliana Girard and Cyrus Spencer dance a jive, choreographed by Tony Meredith and Melanie LaPantin. Drawing something as difficult and high-energy as a jive could have been disastrous for the animator/hip hop dancer. Cyrus does crumble in parts of it—losing his form and sometimes relying too much on his partner to pull him through—but he's endearing and America will likely continue to vote him through. Eliana looks right at home in the routine, nailing the fast footwork and looking cool, calm, and collected throughout. Mary sites the rough elements for Cyrus, but gushes over Eliana. "I admire you so much. You are cookin.'" Nigel agrees. "You gotta connect the dots," he tells Cyrus. As the weeks go on, it will be about more than simply getting through the routine.
With strong technique and lots of experience, Daniel Baker and Alexa Anderson seem like the pair to watch; choreographer Dee Caspary takes full advantage of their skills in an incredibly difficult and inventive contemporary routine, which incorporate a porcelain tub. They execute the challenging choreography and intricate partnering well, yet there is something missing. Daniel has beautiful lines and is an attentive, compassionate partner, yet he is continuously underutilized. Alexa, who has dealt with strong critique from the judges throughout the course of her SYTYCD journey, is strong, but doesn't always find the full stretch of her lines. As a couple, the two lack chemistry. "It was really beautiful, but a little chilly to me," remarks Adam. All three judges agree.
Tiffany Maher and George Lawrence II are completely outside their element when they draw a foxtrot. Luckily, they have foxtrot experts Tony Meredith and Melanie LaPantin helping them out in the studio. Melanie expresses the difficulty of the routine and says they are cramming in "years' worth of knowledge in a very short amount of time." This is the "do or die" aspect of the competition. Every week, most of the dancers are pushed outside of their comfort zones, tackling dances they've never experienced before. In rehearsal, it seems like Tiffany and George Lawrence might struggle with the posture and essence of a smooth, cool foxtrot. Ultimately, they pull it off. They both look dapper in their Hollywood glam-inspired costumes and win praise from all three judges. "I was madly in love with that," Adam squeals. But many of the ladies are a little awkward when the ballroom heels come on. Tiffany is no exception; she doesn't stretch fully through her legs and feet once she's elevated several inches by heels.
The night's competition concludes with a joyous Bollywood routine danced by Witney Carson and Chehon Wespi-Tschopp. This number has no storyline, but choreographer Nakul Dev Mahajan says it is all about speed and precision. Witney has already proven she's a force to be reckoned with onstage, but Chehon struggled last week to not get lost in the shadows of her blonde curls and fringe. This week, Mary is screeching a different note. "You were on fire," she tells him breathlessly. Adam agrees. "Chehon that was the first time I saw joy." He continues, "That routine was so much fun and the perfect way to end the show." Nigel is equally pleased with both dancers. He's been rooting for them, but had doubts after last week's lackluster samba routine. This week's routine brings out more personality in each dancer, but we still have yet to experience what they are capable of technically.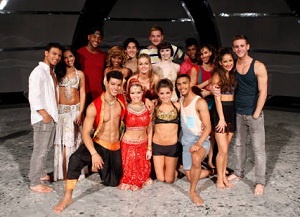 Now, comes the hard part. America's votes are in and it's time to announce the bottom six dancers. They are Alexa, Janaya, Witney, Daniel, Nick, and Chehon. As we wait for the results, Nigel explains that dancers are not voted off of the show. Rather, viewers vote to keep their favorite dancers on. After scouring the country and seeing thousands of young hopefuls, he feels proud of the Top 20 dancers chosen for Season 9. However, the elimination process is simply part of the competition and, every week, we must say goodbye to more talented dancers. After consulting with the choreographers, they would not need to see any more dancing; their minds were made up. "It's really important we stay unemotional about this," Nigel tells Cat. The final verdict: Witney and Chehon will continue on in the competition and dance another week, while Alexa, Janaya, Daniel, and Nick are sent home.
Tune in next Wednesday for another week of dancing, as the Top 16 compete for your votes. Be sure to keep your favorites on because you never know who will be in the bottom 6,
Photos: ©2012 FOX Broadcasting Co. Cr: Adam Rose