SYTYCD Week 4: A Spotlight on Mia Michaels Choreography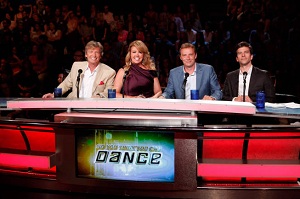 By Stephanie Wolf.
After a two-week hiatus, So You Think You Can Dance returns to Wednesday nights with a special evening devoted entirely to the choreographic work of three-time Emmy Award-winner Mia Michaels, showcasing her best routines from the past eight seasons. The Top 14 perform; four will go home and the remaining ten will go on to tour in the fall after the show's completion.
This may be the most relevant episode to date. When or if any of these contestants go on to dance with professional companies, they will be required to not only be a part of the creative process with new choreography, but they will also be expected to learn work that already exists in the company's repertoire. These dances have been created on other dancers and possibly already have been performed dozens of times. Therefore, part of being a professional dancer is learning how to bring a piece of oneself to a restaged piece—maintaining the essence of the choreography, but breathing new creative energy and vigor into it. Additionally, guest judges Michael Nunn and Billy Trevitt, the BalletBoyz, brought a completely new perspective to the show. Having never seen the series before, the former Royal Ballet dancers have the freedom to give unbiased and constructive criticism on the contestants' technique and performance quality—something the show sometimes lacks.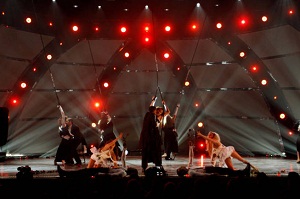 After a dark and twisted Mia Michaels group routine to Active Child's "Hanging On"—in which the title of the song was taken literally with the dancers hanging and intertwining their bodies around suspended ropes—the competition begins with Eilana Girard and Cyrus Spencer taking on Mia's bold "Mercy" routine. Originally performed by Season 4 finalists Katee Shean and Stephen "tWitch" Boss, this Season 9 couple are a great partnership to bring the number back to the SYTYCD stage. Once again, Eliana, whose winged eyeliner and beehive give her an Amy Winehouse-inspired edge, outshines Cyrus. William and Billy agree and tell the ballet dancer, "You would have me begging for mercy [after that routine]." However, Cyrus finds some moments to make his own as well, including a "ticking ripple action" as he gyrates against the door.
Next in the lineup: George Lawrence II and Tiffany Mahler perform another Season 4 routine to Adele's "Hometown Glory." Danced first by Katee Shean and Joshua Allen, the routine is famous for a breathtaking assisted run that catapults across the stage. George has some breakthroughs, but, overall, the routine is over-performed. In the beginning, both dancers don't take enough time to build the emotional context; this artistic restraint would have resonated stronger. Tiffany is overzealous in her performance, which is admirable but detracting. In the much-anticipated assisted run, she splits her legs wide and doesn't allow George to help her—making the movement look like a series of jetés rather than runs. Michael commends her "fantastic energy," but agrees she could "pull it back a little bit." He also points out how distracting her hair is, something SYTYCD stylists should take note of. The long locks can be overpowering and hide the dancer's face, taking away from the emotional depth and possibilities. Please, more up-dos!
Amelia Lowe and Will Thomas take the stage next in Mia's Season 5 "Booty" routine, performed originally by Evan Kasprzak and Randy Evans. Amelia expresses anxiety about her booty being the focus of the piece and, considering how memorable Randy's rear end was to Nigel (he comments on it in his critique), her woes aren't without good reason. The two contemporary dancers have great chemistry, but this is not the best routine for them. Will makes Evan's character too big and Amelia struggles to find her inner coquette. "This for me is probably one of the toughest routines to critique" Nigel says. They have big dancing shoes to fill and Nigel is disappointed. Billy has nothing to compare it to, but craves more subtly—something all of this season's contestants could take heed of.
Janelle Issis and Dareian Kujawa are given the big task of recreating the iconic "Bed" routine, performed by Season 4's Kherington Payne and t'Witch to John Mayer's "Dreaming with a Broken Heart." Mia decides to "tailor" the dance to them. Dareian shows some great moments of athleticism—including a few high propelling moves—but, ultimately, the routine falls flat on the mattress. The two continue to lack chemistry, a perfect example of how unfortunate it is to not switch up the partnerships. Michael likes the choreography and concepts, but is concerned about Dareian's lines. Attention is again given to the sloppiness of the hairstyles. Nigel tells Janelle, "You didn't really stand out tonight." Overall, it is a weak performance, but it's nice to see Dareian get to dance more.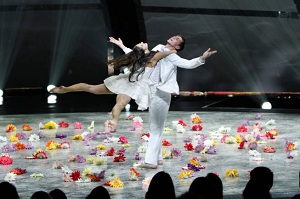 Audrey Case and Matthew Kazmierczak perform the "Time" routine, created in the memory of Mia's father. In Season 3, Lacey Schwimmer and Neil Haskell portrayed Mia and her father as the two were reunited in heaven. Technically, this is the strongest Audrey has been. At the beginning of the piece, she suspends a stunning arabesque turn and her lines seem more stretched throughout. Mary tells her she's a "shining star," but the critique is harsher for Matthew. She feels he didn't emote enough. Billy also has some issues with Matthew's performance, saying he falls out of his character each time a difficult moment comes up. Nigel encourages both dancers to dig deeper into their characters. "It seemed to focus on the dance steps," he says.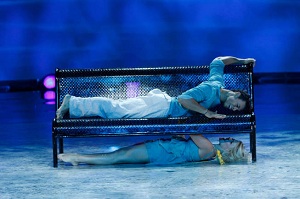 Witney Carson and Chehon Wespi-Tschopp tackle perhaps one of Mia's most recognized routines, Season 2's "Bench" routine. Heidi Groskreutz and Travis Wall are the routine's original dancers, making it all too fitting that another ballroom dancer and contemporary/ballet dancer should dance it again. Chehon has more breath and suspension in his movement than he's had in past numbers, finding the perfect balance between artist and technician. He wins the praise of Billy and Michael easily; Michael tells him he can have a job with BalletBoyz at any time. Yet, Witney should not get overlooked. This ballroom dynamo has excelled multiple times this season in the contemporary genre. She could be a serious contender for the title.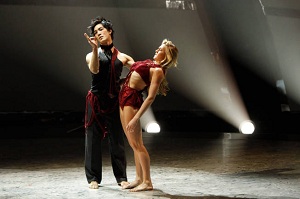 The evening concludes with Lindsay Arnold and Cole Horibe in Season 5's evocative "Addiction" routine, originally performed by Kayla Randomski and Kupono Aweau. Cole is dark and sinister, bringing a new dimension to it and highlighting what Nigel has been preaching the entire show—make the dance your own. This is also a great moment for Lindsay, as she dances the best she has since the competition started. Billy is "very impressed" with the performance and confesses he can't decipher each dancer's specialty. They are Nigel's favorite couple of the evening and he tells Cole, "You scared the (bleep) out of me…you were destructive…and it was chilling." Cole is one of the most versatile dancers in the competition.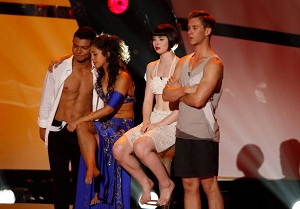 The votes are in and the bottom six dancers are George, Amelia, Janelle, Dareian, Matthew, and Lindsay. After all six contestants dance solos, the judges decide to save Lindsay and George, which means it's the end of the road for contemporary dancers Amelia, Dareian, and Matthew as well as belly dancer Janelle.
Tune in next Wednesday for more dancing!
Photos: ©2012 FOX Broadcasting Co. Cr: Adam Rose