SYTYCD: What's on tap for Week 4 of the competition?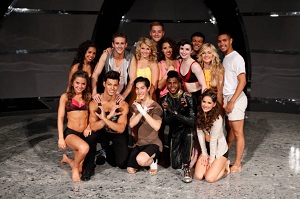 By Stephanie Wolf.
We're sad that the London 2012 Olympics are over. The two weeks of sportsmanship and amazing displays of the human body's capabilities kept us glued to our televisions around the clock. Yet, there's a silver lining to the conclusion of the summer games; after a two-week hiatus, So You Think You Can Dance returns to its regularly scheduled time with new routines, new partnerships, new guest judges, and—keeping in the spirit of the Olympics—plenty more displays of athleticism.
On Wednesday, the competition resumes with the Top 14 contestants. This week highlights the extraordinary work of contemporary choreographer and SYTYCD regular Mia Michaels. The Top 14 will perform some of Mia's best routines as each couple dances a fan-favorite-Mia-Michaels routine from past seasons.
Joining executive producer Nigel Lythgoe and ballroom expert Mary Murphy at the judges' panel will be former Royal Ballet dancers and Ballet Boyz Artistic Directors Michael Nunn and Billy Trevitt, whose own reality series—A Chance to Dance—airs later in the week on Friday, August 17 on Ovation TV. Father-and-son team, Nigel and Simon Lythgoe, produced the new documentary style series, which follows Trevitt and Nunn as they set out to create a new American dance company. Dance Informa will also be following A Chance to Dance, continuing to explore the benefits and ramifications of dance on TV.
In other SYTYCD news, Stacey Tookey is starting her own dance company. A few weeks ago, she tweeted, "Happy to announce I am starting my own contemporary company. First company show will be this fall!! Stay tuned for audition details!!" She has yet to release any information on the company or auditions, but her website is currently under construction and sited as "the future home of something quite cool." Our guess is that we'll see plenty of SYTYCD faces from seasons past in her company roster.
Photo: So You Think You Can Dance Season 9 Top 14 dancers. FOX. ©2012 FOX Broadcasting Co. Cr: Adam Rose