Take class from Cat Cogliandro & Chelsea Thedinga at Celebrity this fall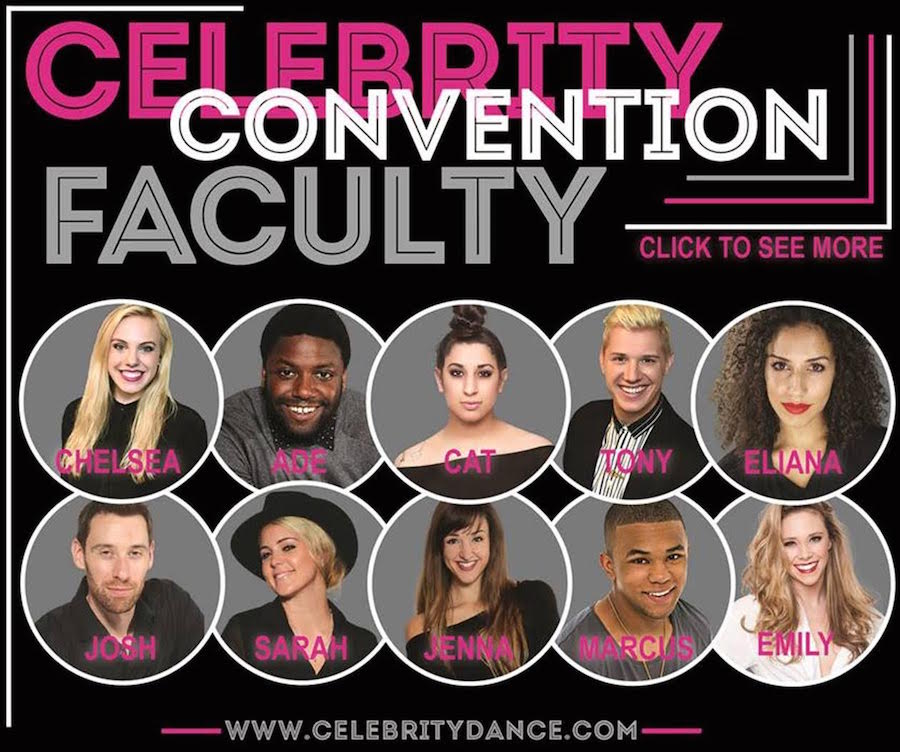 Celebrity Dance Conventions has recently announced that Cat Cogliandro will join the convention faculty this fall – plus Chelsea Thedinga will be back after touring with Shaping Sound last season!
Get to Know Cat Cogliandro
Born and raised in Houston, Texas, Cat Cogliandro received her Bachelor of Fine Arts in Dance from State University of New York at Purchase. Since then, she has worked with esteemed choreographers such as Cherice Barton, Al Blackstone, Tyce Diorio, Mike Esperanza, Jason Gorman, Juliette Irons, Sonya Tayeh, Teddy Tedholm, Jaci Royal and Andrew Winghart. You can also find her dancing in the movie Supporting Characters, directed by Daniel Schechter, as well as the newest The Neighbourhood music video, "R.I.P. 2 My Youth," directed by Hype Williams and supervising choreographer Ian Eastwood.
Cogliandro was also one of 10 choreographers chosen to compete in Nigel Lythgoe's new competitive choreography show Every Single Step. She is currently on faculty at both The Edge as well as The Movement Lifestyle in Los Angeles, and guest teaches at studios such as Broadway Dance Center, Millennium Dance Complex and Peridance Capezio Center.
Cogliandro travels between Los Angeles and New York, as she continues to teach nationally and internationally. She is also the creator of her own dance company, catastrophe!, and placed 2nd Runner Up at the 2015 Capezio A.C.E. Awards!
"I am so excited to join Celebrity this year and meet all of you hungry little movers!" Cogliandro said. "Let's celebrate dance and become better…together!"
Get to Know Chelsea Thedinga
Chelsea Thedinga grew up in Las Vegas, Nevada and began the base of her dance training at the Las Vegas Academy of Performing Arts and International Studies high school. At LVA she majored in dance and studied Graham, Horton, Limon, ballet, improvisation and composition. Outside of high school she furthered her training at Inspire Dance Company under the artistic direction of Robert Contreras with focuses in ballet, contemporary and Pilates. With Inspire, she received performance and training opportunities with choreographers such as Sonya Tayeh, Peter Chu, Jason Parsons, Stacey Tookey, Billy Bell and Travis Wall.
After high school, Thedinga moved to Los Angeles to further her training with Sonya Tayeh's dance company Tayeh Dance. Under Tayeh's direction, she performed in "The Endurance To Move," "Favorites," and "Jeff Buckley's Tribute Show," as well as assisting her on FOX's hit show So You Think You Can Dance and tours for Miley Cyrus and Madonna. Through assisting on SYTYCD, she received a contract to perform with Stacey Tookey's company Still Motion, where she has been able to perform in L.A., New York and at the Jacobs Pillow Inside Out Theater.
In Los Angeles, Thedinga had the opportunity to perform in many contemporary commercial dance outlets, such as The Emmys, The Academy Awards, The American Music Awards, The MTV Video Music Awards, Secret Life of the American Teenager, Glee, America's Got Talent and music videos for The Killers, Carrie Underwood and Christina Perri. She's also had the exciting opportunity to be a part of Oxygen's reality show All the Right Moves, where she was cast to be a member of Travis Wall's Shaping Sound Dance Company. With Shaping Sound, Thedinga has completed three national tours and has been featured in performances on Ellen and Dancing with the Stars.
Thedinga recently relocated to New York after finishing with the most recent Shaping Sound tour and is preparing for a new show for Al Blackstone and a residency for Sonya Tayeh at New York Live Arts.
"I am so thrilled to be returning as a contemporary teacher for Celebrity Conventions this fall!" she shared. "It's been wonderful to watch the convention grow in the past few years and the result of this evolution has produced an incredible, motivational and passionate dance outlet for young artists across the U.S. The faculty is really focused on connecting with the students so they don't feel like one of the masses and pushing them to grow, learn and absorb the training they receive throughout the weekend."
She continued, "I really can't wait to share my classes with the dancers attending this fall. This year has been an incredible one for me filled with growth, change and inspiration and I feel like my classes will be a reflection of that! I want the students to leave feeling encouraged and supported. I'm passionate about helping nurture the next generation of artists!"
Meet the entire 2016 Faculty for Celebrity Dance Conventions below!