Tapper Andrew J. Nemr at The Cutting Room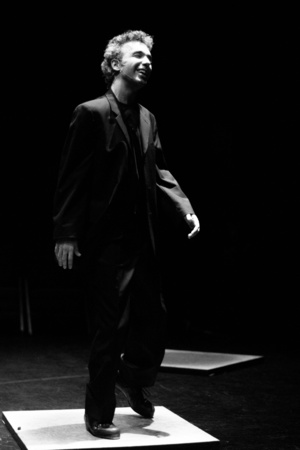 Andrew J. Nemr, protégé of Gregory Hines and a leader in the tap dance world, brings his one-man show to The Cutting Room in New York City this Thursday, April 18. Dubbed as "one of the hardest working tap dancers today" by The New Yorker, Nemr has worked with such luminaries as Les Paul and Savion Glover, and may be found on David Eggar's Grammy-nominated recording "Itsbynne Reel."
In the show Andrew J. Nemr and Friends, Nemr tells stories of love and life through dance and music as he shares the stage with some of his incredibly talented friends that he's met along the way. Featured friends include Gordon Webster, Gregory Jones, Daria Musk, Sean Nowell and Grammy nominees Dave Eggar and Nat Adderley, Jr. Nemr's entire dance company, Cats Paying Dues/CPD PLUS, will also be there.
Produced in association with Daryl Sledge, Andrew J. Nemr and Friends will be presented for one night only on April 18 at The Cutting Room, located at 44 E. 32nd Street in New York City, NY. Doors open at 6:30 p.m. and the show begins at 8 p.m. Tickets are $20 pre-show and $25 at the door. For more information, visit www.thecuttingroomnyc.com or call 212-691-1900.
A 2012 TEDGlobal Fellow, Nemr is considered one of the most hardworking and diverse tap dance artists today. He performs regularly with Nat Adderley Jr., Max ZT and House of Waters, as one half of the 1to1 Project with Sean Hagerty, and with his own band, the Andrew J. Nemr Quartet. Additionally, Nemr is the artistic director of his own tap dance company, Cats Paying Dues/CPD PLUS, and co-founder of the Tap Legacy Foundation, Inc., along with Gregory Hines.
The artist in residence for the Quarterly Arts Soiree (QAS) at Webster Hall, Nemr is also the recipient of a National Endowment for the Arts "Masterpieces: Dance Initiative Grant" for the reconstruction of signature works of classic tap dance soloists, garnering critical and popular acclaim upon their presentation in Echoes In Time (2009-2011). As an international teacher and performer, Nemr has garnered a reputation for impeccable musicianship and sensitivity in performance. For more information on Nemr and his career, visit www.andrewnemr.com.
Photo: Andrew J. Nemr in performance. Photo courtesy of The Cutting Room.