Terra Firma Dance Theater premieres 'Stagioni'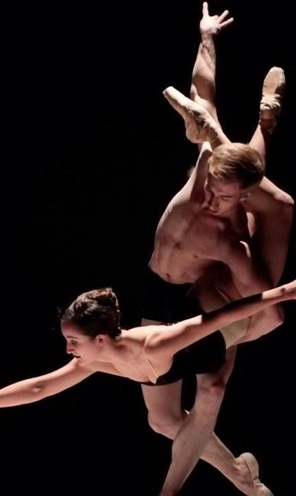 Stuart Loungway's Terra Firma Dance Theater will premiere Stagioni at Middlesex County Performing Arts Conservatory featuring newly promoted New York City Ballet Soloist Lauren King on Friday, April 26 at 8 p.m. A playfully romantic neo-classical dance deconstruction, the work is set to the recent compositional reworking by Max Richter of Vivaldi's Four Seasons.
Showcasing high-octane physicality with an ardent flair, this evening-length re-emergence of Loungway's contemporary ballet company employs classical and contemporary vocabulary as a springboard for international dance innovation. Broad in its range, this evening will tender the world premiere of Stagioni, literal translation to "seasons" in an original and evocative deconstruction of Vivaldi's masterpiece, Four Seasons. Featuring King and nine other rising artists, Loungway creates an eclectic account of a new universe painted with texture, intricacy and the recent compositional reworking of Richter.
The program will also feature a previously performed duet by Loungway entitled Chamber, set to the music of Marin Marais. A choreographic love poem, this work resulted in Loungway receiving the Individual Choreographic Fellowship from the New Jersey State Council for the Arts, a branch of the National Endowment of the Arts. In Chamber, Loungway's aesthetic explodes, twists and deconstructs the parameters of the physical and spatial possibilities of movement and perception.
Joined on the bill by Loungway, guest choreographer and artist Loni Landon will bring her dynamic solo piece, Welcome The Sting, danced by Lavinia Vago with music by Richard Skelton and Hildur Guadnottir. Investigating themes of loss and recovery, this solo was created as a response to Hurricane Sandy in New York, and focuses on the emotional and physical collapse associated with loss. Landon is a fresh-voice in the world of contemporary dance and joins Terra Firma Dance Theater off the heels of her recent Joyce performance, which was received with critical acclaim.
Additionally, the program is rounded out by a duet, titled Shifting Shadow, choreographed by Manuel Vignoulle. Inspired by a picture of a man scared by his own refection and shadow, this piece explores the truth behind the illusion of the self and its multi-dimensional shadows that project both on the self and others. This piece will be danced by Isaies Santamaria Perez and Manuel Vignoulle.
This one-night-only performance will take place on April 26 at the Middlesex County Performing Arts Conservatory Theater, located at 112 Rues Lane, in East Brunswick, New Jersey. Individual tickets are priced at $12 for students and seniors, and $20 for adults. Tickets are available online at tfdt.brownpapertickets.com.
Terra Firma Dance Theater is comprised of 10 high-caliber dancers, including guest artist Lauren King. Izabela Szylinska (former soloist of Polish National Ballet), Erin Arbuckle (former soloist of Ballet Next), Lester Badenoch (former dancer with Atlanta Ballet, American Repertory Ballet and North Carolina Dance Theatre), Tiffany Mangulabaum (current soloist of Ballet Next and former principal of National Ballet of Phillipines), Rebecca Walden (NYC freelance dancer), Gabby Grywalski (Pittsburgh Ballet) and recent SUNY Purchase graduate, Jessica Miller.
Photo: Terra Firma Dance Theater in performance. Photo by Ted Kivitt.