Texas's Dance Gallery Festival enters 5th year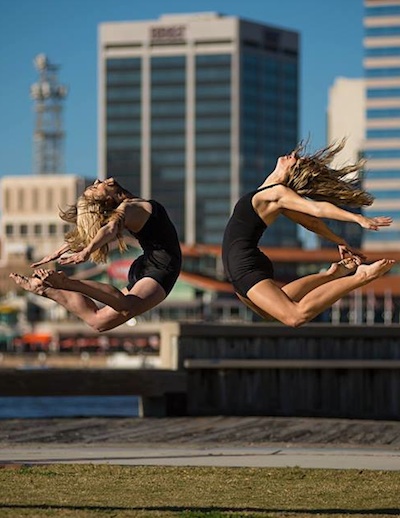 VON USSAR danceworks, a contemporary dance company based in New York City, will once again present The Dance Gallery Festival: Texas Experience, featuring original works from emerging and renowned choreographers in the Houston area and around the world on October 17 and 18 at 8 p.m. at Sam Houston State University Performing Arts Center.
Entering its fifth season, the Texas festival followed the success of its New York sister event, which will be offered again on October 24-26. It has preselected choreographers and companies to present work, including: Abarukas, Adriane Fang and Colleen Thomas, Amy Diane Morrow, Dark Circles Contemporary Dance, Erin Cardinal, Jacksonville Dance Theatre, Mike Esperanza, NobleMotion Dance, Revolve Dance Company and Robert J. Priore. Plus, Astrid von Ussar, the founder and artistic director of VON USSAR danceworks, will present choreography.
Nationally recognized arts critic Nancy Wozny wrote that the Texas festival performances were composed of "fine dancing", adding that the choreography "made one memorable night."
The festival will continue it's partnership with Sam Houston State University, with the school providing the venue and the event providing university students the unique opportunity to cultivate relationships with visiting professionals. It will offer all festival participants the chance to enjoy beautiful state-of-the art facilities and a master class series, plus paid residencies for special guest artists in conjunction with the festival's performances. These one to two week residencies include choreographing a new work on Sam Houston's upper-level students to be performed in their fall concert, as well as teaching technique and choreography classes. A juried panel comprised of Sam Houston faculty and area artists will select the resident artists.
Sam Houston State University Performing Arts Center is located at 815 17th Street in Huntsville, Texas. Festival performance tickets are $15 and are available at www.dancegalleryfestival.com or by phone at 936-294-2339.
Photo: Dancers of Jacksonville Dance Theatre, who will perform in Texas and New York at this fall's Dance Gallery Festivals. Photo by Trib La Prade.