The 15th Annual Dance Parade – Dance Brings Us Together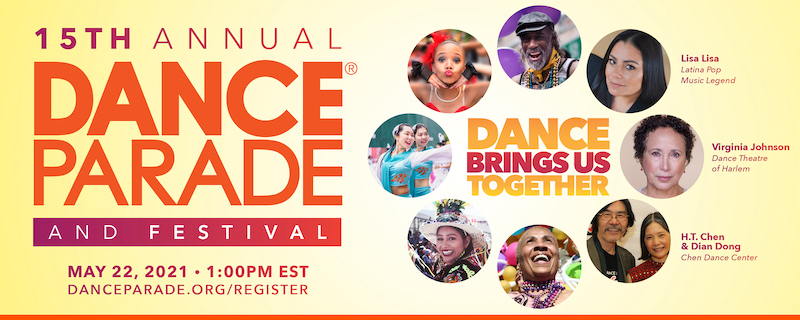 The 15th Annual Dance Parade has been scheduled to take place online, Saturday, May 22, starting at 1 PM under the theme, "Dance Brings Us Together".
Heading the event will be Grand Marshals LISA LISA; the Latina Pop Music Legend, Dance Theatre of Harlem founding member and current Artistic Director VIRGINIA JOHNSON; and H.T. CHEN & DIAN DONG, founding directors of Chen Dance Center.
"Each of this year's Grand Marshals embodies positive persistence in the face not only of the pandemic but a persistent history of marginalization," noted Dance Parade's Grand Marshal Committee Chair DJ McDonald. "Their presence as heralds of hope and love brings a special significance to the 15th annual Parade's celebration of the re-emergence of dance as an activity and pursuit that brings us together. Alongside these artistic and hopeful heroes, we embrace a creative approach of awareness, sensitivity, inclusion and social justice in the nascent post-pandemic moment."
Dance Parade New York is the world's only street parade to exclusively celebrate and showcase the diversity of dance. This annual celebration of eclectic dance styles from around the world, features over ten thousand dancers, and presents more than 80 unique styles of dance.
A $20 donation is suggested, and viewing is free for artists and low income viewers. Visit www.danceparade.org