The 32nd Annual Downtown Dance Festival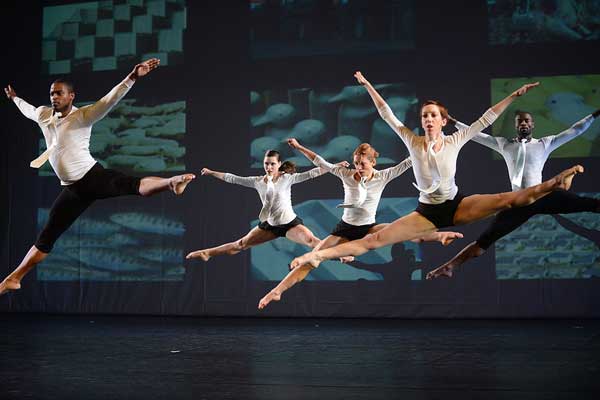 Founded in the Financial District by Jonathan Hollander in 1976, Battery Dance Company gave its first performances in parks, plazas and piers downtown. Five years later, the company launched the Downtown Dance Festival, which has now become New York City's longest–running free public dance festival. The 32nd annual edition of the festival kicks off Sunday, August 11th with an afternoon performance at Battery Park, followed by weekday afternoon performances through Thursday, August 15th at several locations in New York City.
Through a partnership with its downtown neighbor The National Museum of the American Indian, Battery Dance Company is presenting Dancing Earth, a Native American company whose work embraces tradition as well as innovation. The Dance WE Made, a project of British dancer Tim Cassin, will incorporate movement derived from that of pedestrians encountered during his visit to New York into choreography and further into a film documentary.
José Limón Dance Company, a legendary American modern dance troupe, will perform its iconic The Moor's Pavane and other works at the Downtown Dance Festival. La Intrusa Danza, a duo of professional dance artists from Catalonia, Spain, utilizes site-specific settings and will expand the reach of the festival to new locations.
France's Compagnie Vendetta Mathea will present a work employing a traditional modern dance approach while exploring the animalistic nature of humanity. SLK Ballet, a Tribeca-based ballet academy, will present gifted apprentices performing in classical repertoire. Battery Dance Company, returning from a State Department tour of Europe and Asia, will showcase a new work by Polish choreographer Jacek Luminski, Artistic Director of Silesian Dance Theatre.
Festival audiences will witness the launch of a Greek company, Chapter Two, a collective that coalesced after each of the five individual dancer/choreographers had trained with Battery Dance Company in the frame of its Dancing to Connect program in Athens, Greece. Chapter Two will also offer a creative movement workshop for non-dancers on August 7–9 from 6–9 p.m.
The sixth edition of the Erasing Borders Festival of Indian Dance has been curated by the Indo-American Arts Council (IAAC) and will be presented on Thursday, August 15th, India's Independence Day. The program will include performances by Vijayalakshmi, exponent of the Mohiniyattam South Indian style; Rani Khanam, exponent of North Indian Kathak; Rahul Acharya, representing the Odissi style from Eastern India; and Rama Vaidyanathan, one of India's top young exponents of Bharata Natyam.
For more information on the festival, visit www.batterydance.org. The full festival schedule, including dates, times and locations, is now available. Tickets are now on sale.
Photo: Battery Dance Company. Photo by Benot Dorchies.