The Capezio A.C.E. Award Winners Festival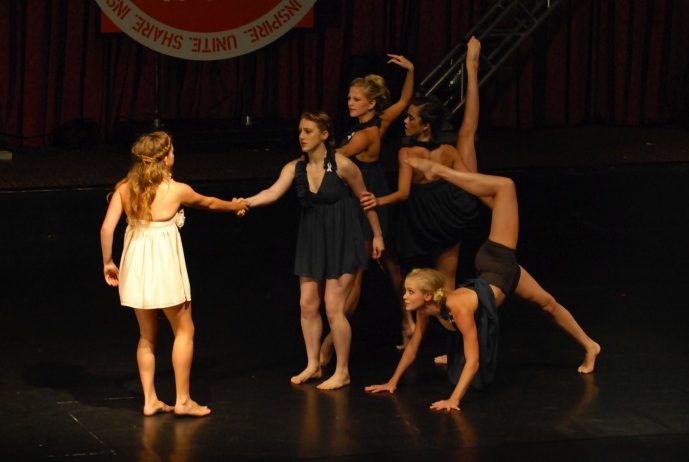 The Capezio A.C.E. Awards, a competition dedicated to introducing the next generation of emerging and influential choreographers, has announced its lineup for the winners performance festival, running August 5-8 at Ailey Citigroup Theater.
For the first time in the competitions history, all three top prizes for choreographic excellence (A.C.E.) were awarded to women in 2012. The 2012 festival winners include Melinda Sullivan (So You Think You Can Dance season 7 finalist), first runner-up Dana Foglia (Beyonce dancer and choreographer) and second runner-up Bree Hafen (Artistic Director of Positive Space), who each received a grant and one year to produce their work. The winners conducted additional self-funding via Kickstarter campaigns and each have two evenings dedicated to their work.
Now in its fifth season, the Capezio A.C.E. Award competition has between 150 to 250 applicants submit work every year, representing all styles of dance from tap, jazz, ballet, modern to musical theatre. The top 15 are selected to come to New York and present their work at The Dance Teacher Summit. A panel of representatives from Capezio, Dance Teacher Summit, Dance Spirit Magazine, Dance Teacher Magazine and the dance industry deliberate to select three pieces to be expanded into a full-length show.
"The Dance Teacher Summit is committed to featuring emerging choreographers who foster the art of dance," said Katy Malone, Director of Dance Teacher Summit. "To further this goal, the Summit is proud to partner with Capezio to host the annual A.C.E. Award competition to introduce these talented dancers to the concert and theatrical world. For most young dancers, teachers and choreographers, it is too expensive to self-produce their work. We are thankful for the generous contributions Capezio makes to help artists begin their careers and look forward to sharing these groundbreaking new works with dance and new audiences."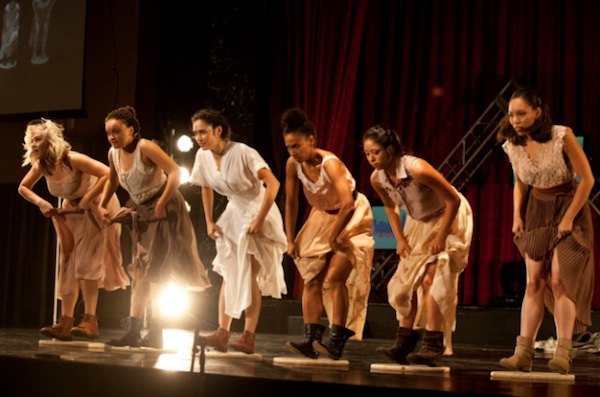 The four evenings of dance will be divided between the 2012 award winners. The performances on Monday, August 5 and Tuesday, August 6 will feature The Melinda Sullivan Dance Project. The performances on Wednesday, August 7 and Thursday, August 8 will feature the Dana Foglia Dance Company and Bree Hafen's Positive Space. Each evening will present two performances, scheduled for 5:30 and 8:30 p.m.
Opening the program on Monday and Tuesday, will be Melinda Sullivan, founder of the Los Angeles-based company The Melinda Sullivan Dance Project and the first tap dancer to win a Capezio A.C.E. Award. Sullivan will present, Gone: A Sound & Theatre Project, that paints a narrative through tap, sanding and contemporary movement. With an original score by award–winning composer Nikos Syropoulos, the work offers a modern, cinematic fusion of chamber music and jazz articulated through Sullivan's choreography. Theater veteran J.T. Horenstein directs.
Continuing the program on Wednesday and Thursday, Dania Foglia Company, founded by choreographer Dana Foglia, will present I am…We Are…. Foglia has performed and taught dance nationally and internationally, from studying at the Ailey School to touring the world with Beyonce. Under Foglia's artistic direction, the company has performed throughout New York at Symphony Space, Peridance Capezio Center and most notably VATIC, at Manhattan Movement and Arts Center.
Bree Hafen, Artistic Director and Founder of Positive Space, will close the program on Wednesday and Thursday with her piece, Positive Space. Hafen's piece explores the themes of humanity, home and healing through movement. Hafen has performed professionally, touring the United States and Europe with Odyssey Dance Theater before pausing her professional career to become a mother, a journey that was recently highlighted on season 9 of So You Think You Can Dance.
Past Capezio A.C.E. Award winners have included Travis Wall in 2009 with It's Gonna Be A Long Walk, Peter Chu in 2010 with This Thought and Al Blackstone in 2011 with Brown Eyed Girl. Wall, best known as contestant turned Emmy-nominated choreographer on So You Think You Can Dance, can currently be seen touring his contemporary commercial dance company, Shaping Sound. Julliard alum Chu, has since launched his own company, Chuthis, and choreographs for various dance companies across the country. Blackstone, the first musical theatre choreographer to be recognized in the competition, premiered the dance narrative Happy We'll Be and continues to choreograph for Broadway, national tours and is a faculty member at Broadway Dance Center.
The Capeizo A.C.E. Award Winners Festival is produced by Dance Teacher Summit and Break the Floor Productions, LLC. Tickets are $25 and are currently on sale at www.danceteachersummit.com/aceawards. Performances will be presented at The Ailey Citigroup Theater, located at 405 West 55th Street at 9th Avenue in New York City.
Photo (top): Bree Hafen's Positive Space is performed. Photo (below): The Melinda Sullivan Dance Project presents Gone: A Sound & Theater Project. Photos courtesy of Dance Teacher Summit.