'The Colonial Nutcracker' one night only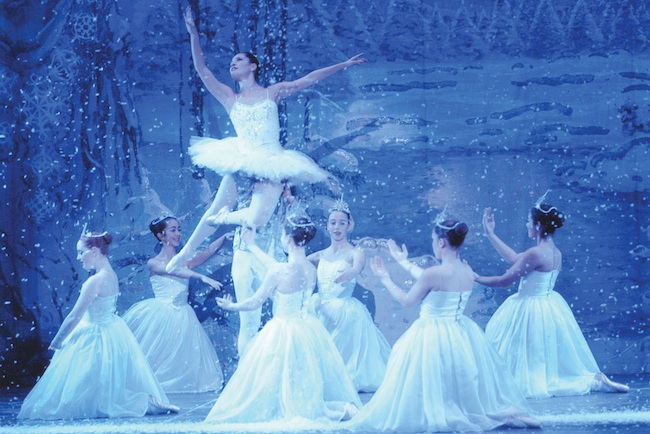 Brooklyn Center for the Performing Arts at Brooklyn College continues its 2012-2013 season with its annual holiday performance of Dance Theatre in Westchester's The Colonial Nutcracker on Sunday, Dec. 16 at 2 p.m.
Created especially for families with children ages four to ten, The Colonial Nutcracker sets Tchaikovsky's classic ballet in wintry colonial Yorktown during the Revolutionary War.
The production features classics such as "Dance of the Sugar Plum Fairy" and "Waltz of the Snowflakes," a red-coated mouse army, an enchanted nutcracker prince and compelling narration that will enhance young viewers' understanding and enjoyment of this timeless story. Artistic Director Rose Menes' delightful staging and choreography, coupled with colorful costumes and Tchaikovsky's enduring score, will captivate audiences of all ages.
Dance Theatre in Westchester, a professional company founded in 1979 by Menes, boasts a classic, timeless repertoire that includes Sleeping Beauty, Peter and the Wolf and Cinderella. For it's ballets the company engages both professional dancers from around the world as well as talented students from throughout the tri-state area.
In addition to creating all of the staging and choreography for her company, Menes has also choreographed several operas including The Merry Widow, Faust, and Orfeo ed Eurydice at theaters ranging from the Williams Center for the Performing Arts in New Jersey to the Anchorage Opera in Alaska.
The Colonial Nutcracker will run approximately 2 hours plus intermission. Tickets are $10 each, and can be purchased by phone at 718-951-4500 or online at www.BrooklynCenterOnline.org.
In addition to Dance Theatre in Westchester's The Colonial Nutcracker, Brooklyn Center will present other family-friendly shows including the magical Christmas tale The Snow Maiden (Saturday, Dec. 22 at 6 p.m.), Bash the Trash's Tales of Anansi (Saturday, April 13, 2013 at 2 p.m.) and a sing-along screening of the Julie Andrews classic film The Sound of Music (Sunday, May 19, 2013 at 1 p.m.)
Brooklyn Center will also partner with The School of American Ballet to present a free family dance event, The Beauty of Ballet (Sunday, March 17, 2013 at 2 p.m.) Family programming ticket prices range from free to $30, with a 50 percent discount available to children 12 and under for select performances.
This season, Brooklyn Center is also introducing the new Target Storybook Series featuring performances based on classic and contemporary children's literature. This series includes How I Became a Pirate, The Little Prince and American Family Theater's Sleeping Beauty. The series aims to encourage the development of strong reading skills at home in children ages four to eight. Each show's Parents' Guide, containing literacy-based activity sheets, reading tips, and discussion topics, gives parents the opportunity to engage their children both before and after seeing each show. All seats for the Target Storybook Series are $7.
Founded in 1954, the mission of Brooklyn Center is to present outstanding performing arts and arts education programs, reflective of Brooklyn's diverse communities, at affordable prices.
Photo: Dance Theatre in Westchester's The Colonial Nutcracker. Photo by Rob Reynolds.