The Dance Auditions Continue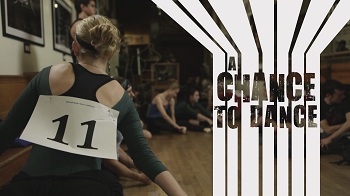 By Stephanie Wolf.
In Episode 2 of Ovation TV's new reality series A Chance to Dance, Michael Nunn and Billy Trevitt, known as the BalletBoyz, head to Washington D.C. and Austin, TX for their final rounds of auditions. Their mission: to find the nation's best, according to Nigel Lythgoe, "undiscovered talent" and form a new American dance troupe. The new company will perform at the Dizzy Feet Foundation Gala and tour with So You Think You Can Dance. Promoted as a "documentary-style series," we had high hopes for the program, but so far much of the show is gimmicking and seems like a SYTYCD spin off.
The D.C. Audition
Unlike Salt Lake City where SYTYCD finalist Allison Holker accompanied Billy and Michael to the local dance schools, the two are on their own to scope out the city. They hope to find eight D.C. dancers to take to New York for a ballet boot camp. Their search takes them to several local dance facilities including a pole-dancing studio—the pole dancing is a cheesy segment and irrelevant to the context of the series.
The turnout for the audition is disappointing as only 15 dancers show up. Michael starts the audition with a pep talk and Michael gets the dancers moving with a ballet class. Some dancers stand out in the standard ballet class including number 108, Chase, who has to leave the audition early for an appointment with his cardiologist. The young, talented dancer had heart surgery only a few weeks prior to the audition. He displays a great facility and technical abilities. Despite Michael's concerns about his lack of personality, they give him a golden ticket to New York. He explains, "We need 60% technique, 40% personality."
Other dancers, like hip-hopper Eric, struggle with the movement and choreography. For them, the news is not as good, but Michael and Billy do find some nice movers including Patrick from Maryland and Kaitlin from Virginia. We also meet a young ballet dancer from Philly named Laura, who gets a lot of camera time. In the end, they meet their quota of eight dancers to bring to New York.
The Austin Audition
Michael and Billy head to Austin, TX for the final leg of the audition tour. They go to several local dance facilities to recruit dancers to audition including the University of Texas dance department and a random school in a strip mall. At this second school, they find an exceptional hip-hop dancer by the name of Shepard, who is greeted with a golden ticket to New You when he arrives at the open audition.
Billy starts off the Austin audition with a ballet combination. A cut is made, after which the surviving dancers are put to the test with double tours for the men and a turning combination for the ladies. Another cut is made and the atmosphere is getting intense as each cut sends heartbroken dancers home.
Again and again, they stress that they are looking for "comradery…after all we are creating a company not a group of soloists." And to see how well the remaining dancers work together, they break them up into two groups and ask each group to choreograph a short piece. Only one group will go onto New York.
Next Week
Now, Michael, Billy, and the 24 selected dancers head to New York for "boot camp." There, the 24 hopeful dancers will be whittled down to a troupe of 12. The previews assure plenty of bruises, tears, and emotions. Let's just hope the drama will be accompanied by some dancing.