The Dance Center Brings Dance World To Chicago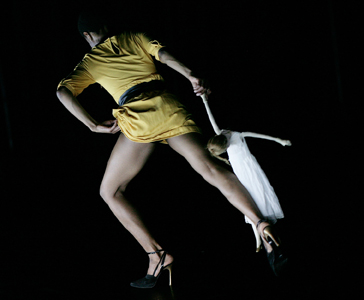 In a season melding choreography from countries worldwide, as well as several artistic disciplines–dance, theatre, visual art, video and more–The Dance Center of Columbia College Chicago is set to present a 2012-13 season featuring Stephen Petronio, Kota Yamazaki, Delfos Danza Contemporanea, African Choreographers Program, Gallim Dance, Double Edge Theatre, zoe | juniper and more.
Opening the season are two programs featuring independent African female choreographers, under the banner Voices of Strength; a new work by Kota Yamazaki; Andrea Miller's Gallim Dance; and Chicago's The Seldoms. The season continues with Double Edge Theatre, co-presented with the Columbia College Chicago Theatre Department; zoe | juniper, a multimedia husband-and-wife team; Stephen Petronio Company; Nana Shineflug's The Chicago Moving Company; and Mexico's Delfos Danza Contemporanea.
Tickets go on sale July 9 at The Dance Center and online at colum.edu/dancecenter.
Photo: Nelisiwe Xaba in Correspondances, Voices of Strength. Photo by Eric Boudet