The Dance History Project of Southern California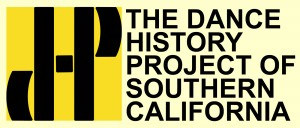 New website!
The Dance History Project's goal is to observe and preserve the history of dance making and performing in Southern California. You are invited to visit and contribute to the site. If you have been a participant in dance in Southern California you can contribute your bio, photos, or other items of interest.
The focus is on those events and artists, past and present, whose work has been important to the field of live professional dance in Southern California. It includes the contributions of dancers, companies, educators, presenters, artistic collaborators, historians, and critics.