The debut of Alex Little's Escape Artists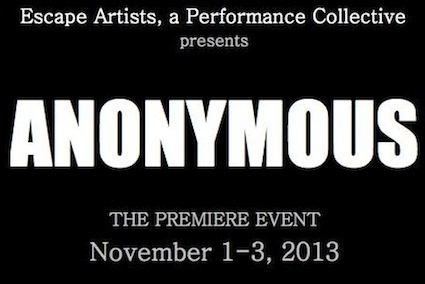 The new dance company Escape Artists: A Performance Collective will present its official debut on November 1-3 at El Portal Forum Theatre in North Hollywood, CA.
Founder and Artistic Director Alex Little held auditions for dancers at Liv'Art Dance Studio on Wednesday, September 18. Since then, the chosen dancers have been rehearsing for the new production entitled Anonymous. Little explains that the production is "more of an experience than a show."
"I have been working with my company over the last few weeks to develop an evening through which the audience can not only be a witness to extraordinary dancing, but also can add to the intimacy of the story being told," she says.
Anonymous will ask audiences the question: "If you were in a room full of strangers and were confident that your story would remain anonymous, what personal story would you share?" The production engages that dynamic between the self and the community, between vulnerable transparency and the world's critique. Through the language of dance, Escape Artists will explore the individual's predominately solitary journey toward freedom, love and creation of community.
Choreographed and led by Little, the production of Anonymous will premiere Friday, November 1 at 8 p.m., with the red carpet beginning at 7 p.m. Two more shows will be presented Saturday, November 2 at 2 p.m. and 8 p.m., with the closing on Sunday, November 3 at 7 p.m. For more information on Escape Artists, visit http://escapeartistsla.com. To purchase tickets to Anonymous, visit www.elportaltheatre.com.
Little, a native of Seattle, is a 2012 Capezio A.C.E. Awards Finalist for her multi-media choreographic work Remembering Back, as well as a nominee for a 2011 World Dance Award. She has choreographed live shows for Nike, Audi, Genentech, Thunderhead.com and Tarbell Realtors. She has also coached for Dancing With The Stars, and currently teaches at the Edge Performing Arts Center in Hollywood, as well as various colleges and workshops worldwide. Visit www.alexlittledance.com to find out more.