The Hamburg Ballet performs 'Nijinsky' in U.S.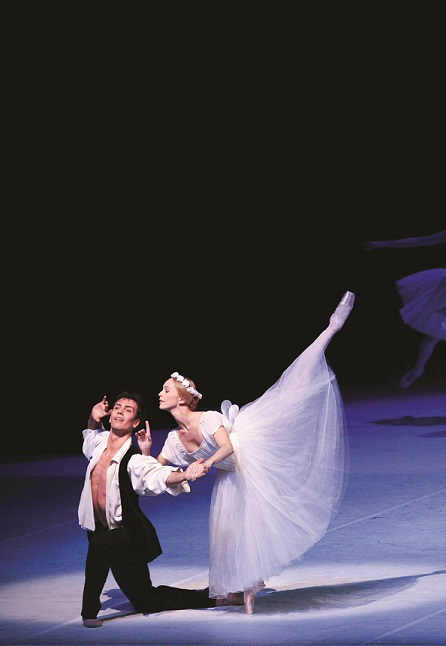 The San Francisco Ballet recently welcomed The Hamburg Ballet to the Opera House stage for special U.S. performances of Nijinsky, John Neumeier's dance theater epic based on the tumultuous life of historic dancer Vaslav Nijinsky. The second program of San Francisco Ballet's 2013 season, Nijinsky will be performed by The Hamburg Ballet and runs now through Tuesday, February 19.
Nijinsky has captivated dance lovers worldwide since its debut in 2000. Hailed as "darkly triumphant" by the Los Angeles Times, Nijinsky features scenery, lighting and costumes by Neumeier, whose work also includes the San Francisco Ballet sensation The Little Mermaid, which made its national broadcast debut on PBS Great Performances in 2011.
Performed by the Germany-based Hamburg Ballet, for whom Neumeier has served as Artistic Director since 1973, Nijinsky tells the story of the iconic dancer-choreographer's descent into madness, from his magical beginnings with Les Ballets Russes to his final breakdown in St. Moritz, Switzerland during World War I. The ballet is set to a score by Frédéric Chopin, Robert Schumann, Nikolai Rimsky-Korsakov, and Dmitri Shostakovich – including music made famous by some of Nijinsky's greatest performances, including Michel Fokine's Carnaval and Sheherazade.
"San Francisco Ballet is thrilled to present the Bay Area premiere of Neumeier's highly acclaimed and dramatic Nijinsky," said San Francisco Ballet Artistic Director and Principal Choreographer Helgi Tomasson. "We are also thrilled to partner with and welcome The Hamburg Ballet to our home here in San Francisco in what we consider an important international artistic exchange."
Single tickets are available. To purchase tickets, call (415) 865-2000. Performances run through Tuesday, February 19.
 All performances are at the War Memorial Opera House, located at 301 Van Ness Avenue, San Francisco. For more information, visit www.sfballet.org.
Photo: The Hamburg Ballet performs John Neumeier's dance theater epic Nijinsky. Photo courtesy of The Hamburg Ballet and San Francisco Ballet.