The Jared Grimes Feel for one night only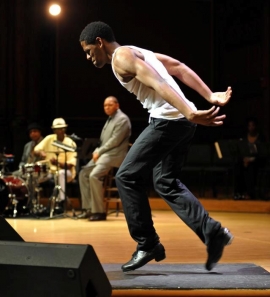 The Jared Grimes Feel is debuting a 75-minute nonstop rush of music and dance by world-renowned tap dancer and protégé of Wynton Marsalis, Jared Grimes. For one night only on Tuesday, February 19, this performance, presented by CEG, will feature a live band made up of DeWitt Fleming on drums, Robert Cookman on piano, Tony Lustig on sax, Freddie Simpson on bass and Michah Burgess on guitar.
Dancer Jared Grimes, proclaimed "an excellent tapper" by Variety, is a breath of fresh air in the world of the arts where he is heavily making his mark in tap and hip-hop. On numerous occasions, he has danced alongside legends such as Wynton Marsalis, Gregory Hines, Ben Vereen, Jerry Lewis and Fayard Nicholas. Plus, he has even performed for President Barack Obama and Ted Kennedy at the Kennedy Center.
Grimes, who has toured with musical legend Mariah Carey under the choreography of Marty Kudelka, has also danced for artists such as Common, Salt-n-Pepa, Envogue, Busta Rhymes and the Roots. His theater credits include: Twist, directed by Debbie Allen; Babes in Arms, choreographed by Randy Skinner; Cotton Club Parade, directed by Warren Carlyle; Gentlemen Prefer Blondes, directed by John Rando; and Broadway Underground, directed by himself. Grimes has appeared in commercials for Coca-Cola, Subway and MTV.
Grimes, who first made his choreographic debut with Cirque Du Soleil, is known for his ferocious tap dancing and his infectious energy. The New York Times wrote: "Mr. Grimes's solo was a dazzlingly long and brilliantly sustained tour de force."
The Jared Grimes Feel will present a special opportunity to see Grimes in the spotlight with his core passion, tap dancing. Although he can be seen in films, commercials, theater productions or alongside jazz legends, dance fans can get him all for themselves on February 19.
Doors will open at 7 p.m. and the show will begin at 8 p.m. For more information, visit www.dromnyc.com. The performance will be at the DROM, located at 85 Avenue A (between 5th and 6th Streets) in New York City.
Photo courtesy of DROM.