The Joffrey Ballet returns to Los Angeles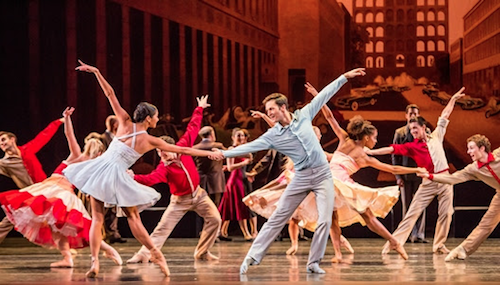 This week, The Joffrey Ballet of Chicago makes its big return to Los Angeles, performing in two separate productions from March 9-25.
First, The Joffrey Ballet presents the West Coast premiere of Romeo & Juliet as choreographed by Krzysztof Pastor. This contemporary rendition of Shakespeare's timeless classic takes place at The Music Center's Dorothy Chandler Pavilion on March 9, 11 and 17. Part of the 15th season of Glorya Kaufman Presents Dance at The Music Center, this critically acclaimed retelling of Shakespeare's iconic tale is set amid the tumult of 20th century Italy, beginning with Mussolini-era 1930s and spanning three decades of political strife. The Joffrey Ballet dancers will wear modern costumes by Tatyana Van Walsum (who also designed the set) and will be accompanied by Sergei Prokofiev's dramatic 1935 score, performed live by a full orchestra.
The performances use a multimedia video backdrop to depict three different political eras of 20th century Italy, mapping the journey through a contemporary lens, as the story flows from one generation to the next.
"The Music Center and The Joffrey Ballet have a long history of successful collaborations, and Romeo & Juliet is no exception," said Rachel Moore, president and CEO of The Music Center. "This stunning adaptation of Romeo & Juliet breathes new life into one of the greatest love stories of our time, while beautifully revealing its modern-day relevance. These performances provide a unique opportunity for both new and seasoned audiences alike to experience this classic masterpiece in an entirely new way."
Secondly, The Joffrey Ballet will perform in LA Opera's Orpheus and Eurydice on March 10, 15, 18, 21, 24 and 25 at The Music Center's Dorothy Chandler Pavilion. In a modern take on a timeless story, this production by living legend John Neumeier follows Orpheus as he descends into the underworld in a courageous effort to reunite with his muse, Eurydice.
Reviewing Orpheus and Eurydice, the Chicago Tribune declared it "an achingly beautiful dream of a show... an inspired intertwining of ballet and opera."
To book tickets to Orpheus and Eurydice, go to www.laopera.org. (Watch the trailer below.) To book tickets to Romeo & Juliet, head to www.musiccenter.org/joffrey.
For more information on The Joffrey Ballet and its programs, visit www.joffrey.org.
Photo: The Joffrey Ballet in Romeo & Juliet. Photo by Cheryl Mann.
---