The 'Nutcracker' of comebacks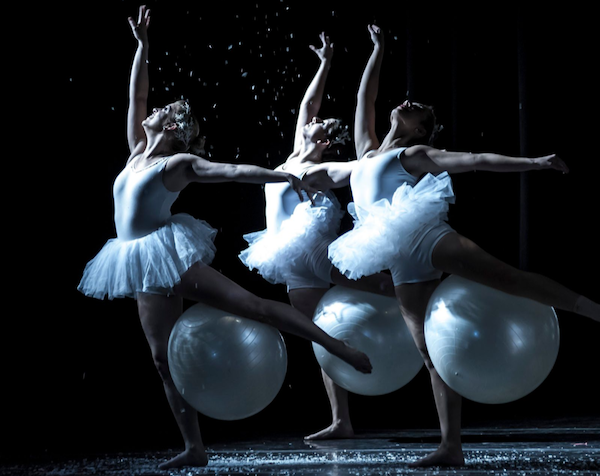 The Nutcracker Suite & Spicy—a rousing, toe-tapping, high-kicking spin on the classical ballet choreographed and directed by Carolyn Paine and performed by CONNetic Dance—is returning for its 9th year this weekend. It will delight audiences from tonight, December 21 through Sunday, December 23, in the Aetna Theater at the Wadsworth Atheneum Museum of Art, located at 29 Atheneum Square North in Hartford, Connecticut.
This year audiences will see Principal Dancer Alex Zarlengo return to his signature role of the Nutcracker. In 2017, Zarlengo ruptured his achilles tendon and went through a year of surgery and physical therapy to return to leaping on the stage. Also joining the cast this year is an adorable canine who will take over the tutu for Lucie, who danced alongside the French Martinis for the past eight seasons. Daisy is a rescue pup who lives with her family in Manchester. Not only are they excited to have her join the show, but they are even more excited to see her prance following her years of surgery and rehabilitation for a ruptured achilles tendon as well!
Also returning to the stage this year following injury is Director Carolyn Paine, who returns to dancing after breaking her ankle last season, and Principal Kayleigh Crocetto, who portrays the lead role of Clara for her eighth season after suffering damage to her hamstring last season as well. It is truly a year to celebrate comebacks and perseverance for the company.
With this production, audiences are in for the usual treats as Suite & Spicy will again feature a diverse and talented cast including Hartford legend Tang Sauce as well as the eye-popping LED costuming in the iconic Snowball scene. The Nutcracker Suite & Spicy is a quirky, innovative production infused with humor and updates to better reflect a contemporary, urban holiday. It includes the dizzying SnowBall (a beautiful snow scene with dancers gliding across the stage on large pearly white exercise balls), the sassy hip-hop Sugar Rum Cherry, the delightfully devilish Club Rat, and of course CONNetic Dance's signature Florettes, who perform a Rockettes-inspired Waltz of the Flowers.
"This production really celebrates diversity," said Paine, a Boston native and graduate of the University of Hartford. "It brings together dancers of all disciplines and backgrounds to retell the classic tale in a relatable contemporary way that truly reflects an urban environment like Hartford. I am honored to have been at the center of this production and to have worked with such a varied cast over the years."
Tickets are available at www.conneticdance.com or by calling 860-251- 9194.