The Royal Ballet presents a mixed triple bill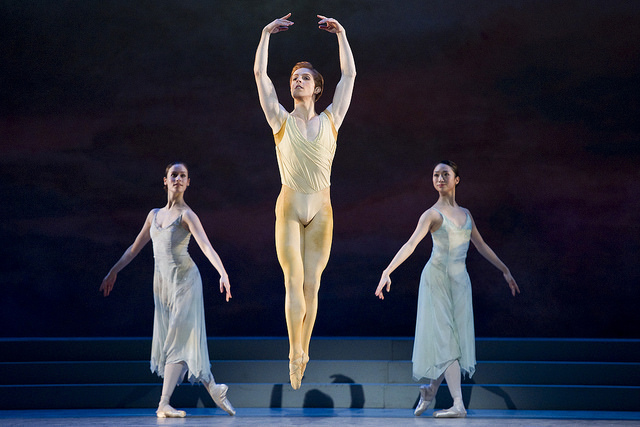 Starting Friday, February 7, Wayne McGregor's new ballet will be presented by The Royal Ballet alongside works by Kenneth MacMillan and Frederick Ashton in a celebration of three defining choreographers.
This mixed programme will be presented by Britain's largest ballet company through Saturday, February 15 at the Royal Opera House, Covent Garden. It will showcase the spectacular range of the company and three of the world's most brilliant ballet choreographers.
The programme begins with Frederick Ashton's Rhapsody, a celebratory work set to the music of Rachmaninoff's exhilarating Rhapsody on a Theme of Paganini. Created in 1980, Rhapsody commends the distinctive techniques of expert dancers Mikhail Baryshnikov and Lesley Collier. The energy and style of the two solo roles beautifully complement the virtuoso piano playing.
Next on the playbill, Royal Ballet Resident Choreographer Wayne McGregor continues to explore the connections between the arts in his keenly anticipated new ballet entitled Tetractys – The Art of Fugue. Set to music by J.S. Bach, the work is brought to the main stage with designs by Tauba Auerbach and lighting designs by Lucy Carter.
Lastly, the programme is brought to a close by Gloria, Kenneth MacMillan's poignant tribute to the fallen of World War I, set to Poulenc's sublime choral music. As soldiers stagger across a barren landscape, they encounter ghostly figures in grey – angels who both comfort them and lead them towards death. Gloria, another searing MacMillan masterpiece, draws inspiration from the choreographer's personal life story. His father fought in World War I and died of pneumonia when Kenneth was only 16.
For more information on The Royal Ballet's upcoming mixed programme, visit www.roh.org.uk. There are some tickets still remaining, but it is recommended to order soon before they sell out.
Photo: Emma Maguire, Akane Takada and Steven McRae in Frederick Ashton's Rhapsody in a 2011 performance by The Royal Ballet. Photo © ROH, by Tristram Kenton.