The School at Jacob's Pillow holds auditions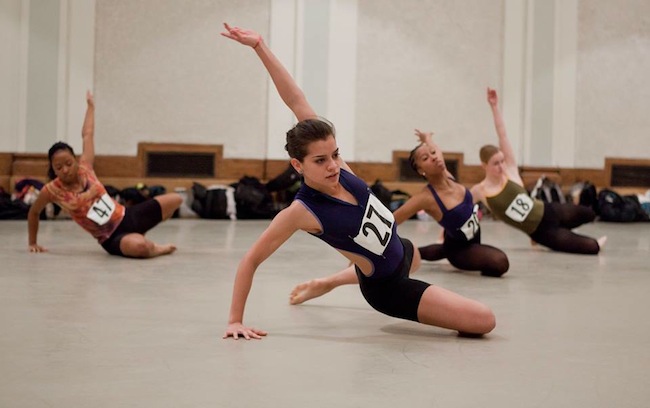 In the summer of 2015, The School at Jacob's Pillow, a world-renowned center for elite dance training in Western Massachusetts, will present Professional Advancement Programs in Ballet, Contemporary, Musical Theatre Dance and a new program titled "Social Dances: Jazz to Hip-Hop." These programs will take place during the 83rd annual Jacob's Pillow Dance Festival, led by a highly-distinguished artist faculty, and offer an incomparable combination of studio, performance and Festival experiences.
In 2015, the Ballet Program is set for June 15-28, the Social Dances Program for June 29–July 12, the Contemporary Program for July 13-August 2 and the Musical Theatre Dance Program for August 3-24.
Auditions for these prestigious programs are scheduled for: January 10-11 at New World School of the Arts in Miami, FL; January 17-18 at New York City Center Studios in New York, NY; February 7-8 at Loyola Marymount University in Los Angeles, CA; February 13-14 at New York City Center Studios again; February 28-29 at Lou Conte Dance Studio at Hubbard Street Dance Chicago in Chicago, IL; and March 21-22 at New York City Center Studios again. A $15 cash fee is required for all audition participants.
At The School at Jacob's Pillow, pre-professional students and early-career professional dancers from around the globe are immersed in an intense professional training environment involving classes, rehearsals and coaching sessions six days a week, and are given rare opportunities to perform weekly for Festival audiences.
The 2015 Program Directors include internationally celebrated ballet legend Anna-Marie Holmes; contemporary dance mentor Milton Myers, who's on faculty at The Ailey School and Juilliard Dance Division; former Broadway performer and current choreographer and director Chet Walker; and New York Dance and Performance ("Bessie") Award-winning choreographer and artistic director Camille A. Brown with artist and scholar E. Moncell Durden. These 2015 Program Directors will be joined by other acclaimed artists, choreographers and artistic directors.
The School at Jacob's Pillow is located in the picturesque Berkshires of Western Massachusetts. Each year, up to 100 dancers out of approximately 3,000 auditioned are invited to take part in the Professional Advancement Programs. Dancers selected are immersed in the unparalleled Festival environment with access to professional performances, artist and scholar talks, exhibits and master classes by Festival artists, plus the opportunity to study in the Archives, one of the field's most treasured dance resources.
"We want dancers to thrive when they depart," says "J.R." Glover, Jacob's Pillow Director of Education. "The experiences offered, inside and out of the studio, are to hone artistry, cultivate career-building relationships and attain that extra edge to work successfully as an artist."
Notable alumni of The School include Royal Danish Ballet Artistic Director Nikolaj Hübbe, So You Think You Can Dance and Emmy Award-winning choreographer Mia Michaels, celebrated choreographer and MacArthur "Genius" Award recipient Meredith Monk, former Director of Choreography of Merce Cunningham Dance Company and a Trustee for the Merce Cunningham Trust Robert Swinston, MTV Video Music Award Winner for Best Choreography Jeffrey Page, Chez Bushwick Founder and choreographer Jonah Bokaer, and acclaimed choreographer Emery LeCrone. In 2014, 43 alumni returned to the Festival as artistic directors, choreographers and performers.
For more information on The School at Jacob's Pillow or 2015 auditions, visit www.jacobspillow.org/education.
Photo: Dancers auditioning in New York City for The School at Jacob's Pillow. Photo by Karli Cadel.