The State Ballet of Rhode Island's Spring Show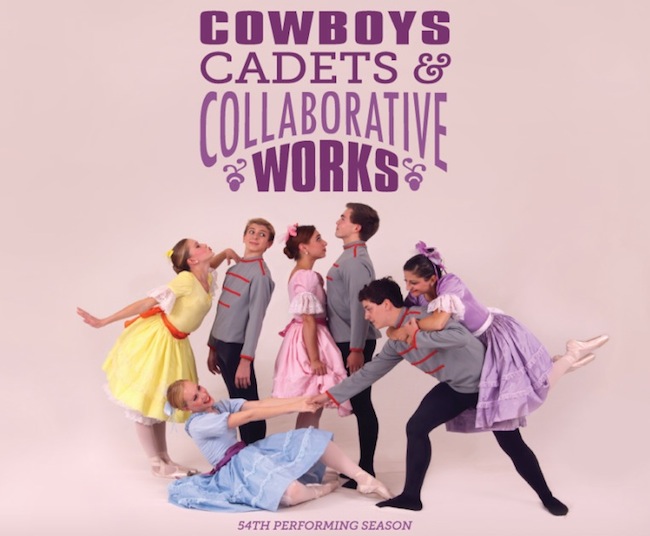 The State Ballet of Rhode Island, the longest-standing classical ballet company in Rhode Island, will present its annual spring performance, entitled Cowboys, Cadets and Collaborative Works, on Friday, March 21 from 10 a.m. to noon.
This performance will be educational, specifically targeted at schoolteachers, home school moms/teachers, students and general audiences. Artistic Director Herci Marsden and staff will guide the audience, explaining the music, the staging, the physical training of the dancers, along with interesting facts about each ballet, composer and choreographer.
The show will present two world premieres and three featured ballets. The first featured ballet is the bright and lively Graduation Ball, a one-act ballet originally choreographed by David Lichine to music composed by Johann Strauss II. The original Ballet Russe at the Theatre Royal in Sydney, Australia first presented it on March 1, 1940. Herci Marsden premiered her version of Graduation Ball in Rhode Island in November 1978. Graduation Ball is set in a formal drawing room of a fashionable finishing school for girls during the 1840s.
The second featured ballet is choreographer Ana Marsden's Ballet West, which premiered in Rhode Island in 2004. The work features music by Aaron Copland, excerpts from "Appalachian Spring," "Rodeo" and "Billy the Kid." It is a one-act ballet piece complete with traditional and ethnic folk dances that will take you on an American journey through the early 1900s.
The third and newest featured ballet is Shana Fox Marceau's Dance of the Firefly, which premiered last May in an outdoor performance at The State Ballet of Rhode Island's 10th Annual Partner with the Arts event. With live musical accompaniment, composer Noreen Inglesi's score comes to life. This choreographic work was voted Motif Magazine's Best Dance Production of 2013.
The first world premiere in the company's spring performance will be Heghnar and Buck, choreographed by Ana Marsden Fox and composed by Noreen Inglesi. It will take audiences into the forest for a glimpse of nature's beautiful sights and sounds.
The second world premiere will be Principal Dancer and Resident Choreographer Mark Marsden's Train. All aboard for this journey back into the late 1940s with a soundtrack of familiar tunes with a classical twist. This piece is sure to connect with audiences of various generations and ballet-lovers alike.
The State Ballet of Rhode Island's Spring Performance will be presented at The Auditorium in Roberts Hall at Rhode Island College in Providence, RI. To reserve your seats, contact The State Ballet by phone at 401-334-2560.
Image courtesy of The State Ballet of Rhode Island.