The Washington Ballet's 'Stars and Stripes'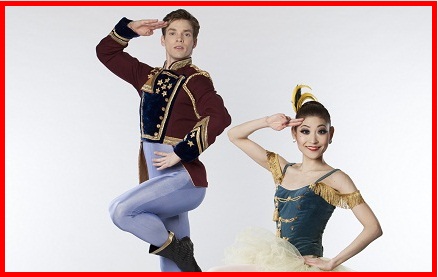 Opening Thursday, February 21, The Washington Ballet's Stars and Stripes Tour-de-Force program will feature classical and contemporary works from choreographers such as George Balanchine and Nacho Duato. The performances will run only one weekend, through Sunday, February 24, at Harman Center for the Arts'
 Sidney Harman Hall.
With its first Tour-de-Force showcase evening of classical and contemporary works, The Washington Ballet seeks to pay tribute to the Presidential inaugural season. Audiences are invited to experience magnificent excerpts of classical ballets, such as Le Corsaire and Don Quixote, as well as contemporary masterpieces.
Set to the marches of John Philip Sousa, the evening's centerpiece is George Balanchine's exuberantly patriotic Stars and Stripes, which was staged on the ballet by Sandra Jennings. Sousa's music is adapted and orchestrated by Hershy Kay.
Cor Perdut, choreographed by Nacho Duato, is a pas de deux inspired by the Catalan version of the song "Bir Demet Ysemen," sung by Maria del Mar Bonet. Set to the syncopated and hypnotic rhythm of the Tunisian music, the dancers bring to life Duato's dynamic, corporal and expressive language with the same anxious fluency transmitted by the voice of Bonet. Music is by M.J. Berberian, with
 costume and lighting design by Duato.
Washington Ballet's version was staged by Eva Lopez Crevillen.
The Washington Ballet will present Stars and Stripes Tour-de-Force for five performances only, including a special kids performance on Saturday, February 23 at 2:30 p.m. For more information or to book tickets, call 202.547.1122
 or visit www.washingtonballet.org. The shows will be at Sidney Harman Hall at The Harman Center for Performing Arts 
at 610 F. Street NW, Washington, DC.
Photo: Jonathan Jordan and Maki Onuki of The Washington Ballet in George Balanchine's Stars and Stripes. Photo by Brianne Bland, courtesy of The Washington Ballet.