The Wooden Floor presents 'Sunrise'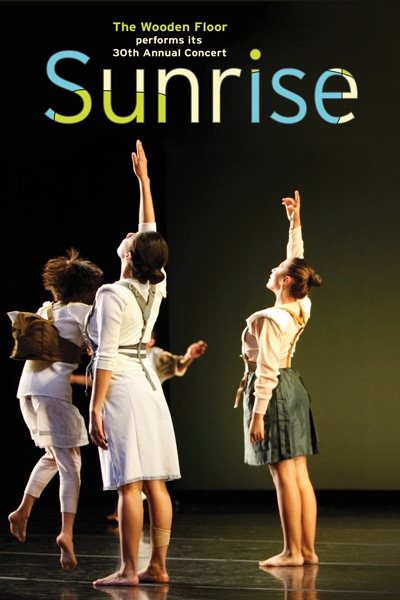 The Wooden Floor presents its 30th Annual Concert, Sunrise, from Thursday, May 30 through Saturday, June 1 at Irvine Barclay Theatre, just south of Los Angeles, CA. The Wooden Floor, a nationally-renowned arts-for-youth organization in Santa Ana, hosts a powerful collaboration between internationally-recognized choreographers and 
under-served local youth, yielding work that is original, inventive and spectacular.
Founded in 1983 by Beth Burns, a sister at the time with the Sisters of St. Joseph order, the organization is now 30 years old and boasts an impressive list of commissioned dance artists, including choreographers John Heginbotham, Susan Rethorst, Seán Curran, Sally Silvers, Scott Wells, Nami Yamamoto and many others. Before 2009 the organization was known as "Saint Joseph Ballet" and today it has been recognized with various awards and accolades.
For Sunrise, three choreographers will present new works, including Ivy Baldwin, Mark Haim and Melanie Ríos Glaser. NYC-based choreographer, performer, teacher and founder of Ivy Baldwin Dance, Ivy Baldwin has already choreographed seven works on The Wooden Floor. For her new work, currently untitled, Baldwin is collaborating closely with her cast, creating a dance that is sculptural and exuberant, regal and lonely, chaotic and contemplative.
In her work, ornate hand and arm dances inspired by Renaissance architecture exist in the same world as underwater slow-motion mirroring, galloping herds, thrashing couples and slumping wanderers. Utilizing the multi-talented cast, Minneapolis-based sound designer Justin Jones is also creating an original score that includes recordings of the cast playing various instruments, singing and creating sound effects with their voices and bodies.
In his fourth work for the company, renowned choreographer Mark Haim is collaborating with a group of 35 students, exploring what is intricacy, both in movement and in time. So far in the process, playing with much detail and synchronicity triggers a more cerebral sensation. Haim creates the means to assemble all this small stuff in a container that carries hope and joy.
Thirdly, a medley of influences results as choreographer and Artistic Director Melanie Ríos Glaser creates movement phrases by responding immediately to snippets of dances made by her favorite choreographers as seen on YouTube. Amidst scenes from action films, stylized wrestling matches and a story about home, the dancers break through imaginary barriers to form unforeseen lines, circles, curves and clusters. With over 100 young dancers in the piece, it is a celebratory, unwieldy romp in honor of The Wooden Floor's 30th anniversary year.
For more information on The Wooden Floor or upcoming performances, visit www.thewoodenfloor.org. Tickets are now on sale for Sunrise, with show times at 8 p.m. nightly and a 2:30 p.m. Saturday Matinee. Irvine Barclay Theatre is located at 
4242 Campus Drive in Irvine, CA.
Photo courtesy of The Wooden Floor.