Thodos Dance Chicago in concert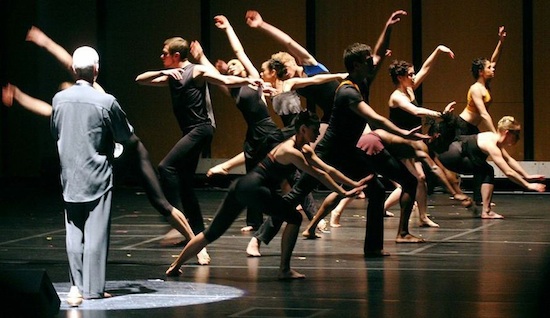 Longtime dance and music collaborators Thodos Dance Chicago, led by Artistic Director Melissa Thodos, and Fulcrum Point New Music Project, led by Artistic Director Stephen Burns, team up once again to present a retrospective evening titled New Music and Dance, presenting four works the ensembles have created collaboratively over the past decade, plus a world premiere. This one-night-only performance takes place on Friday, September 20 at 7:30 p.m.
The New Music and Dance concert features the critically acclaimed Aries choreographed by Thodos for 12 dancers, a piece about the Zodiac set to music by Karlheinz Stockhausen for trumpet, performed by Burns.
Also featured is the trio Eastwind, choreographed by Thodos, set to Israeli-American, Pulitzer Prize-winner Shulamit Ran's composition of the same title performed by flutist Mary Stopler.
Thodos and Fulcrum Point will reprise In a Vacuum, a special archival solo work choreographed by Sybil Shearer, an early 20th century pioneer in modern dance and also a longtime Chicagoan. Toby Nicholson, who was a dancer with Shearer, re-created the choreography for In a Vacuum with the assistance of Melissa Thodos. Shearer's solo is set to Modest Petrovich Mussorgsky's "Goldenberg and Schmuyle" from Pictures at an Exhibition arranged for trumpet and piano, set to be performed by Burns and Fulcrum Point pianist Kuang-Hao Huang.
The relatively new work Sentient, choreographed by Thodos and premiered this past February at the Auditorium Theatre, rounds out the retrospective side of the program. This work for six dancers is set to Fritz Kreisler's virtuosic violin work Praeludium and Allegro and will be performed by Sphinx artist Hannah White.
The highlight of the diverse New Music and Dance program is a world premiere work choreographed by Thodos and set to Nagoya Marimbas by Steve Reich, performed by marimba virtuosi Doug Perkins and Greg Beyer. This new work celebrates the complexity of Reich through intricate kinetic dynamics and layers of crafted choreographic phrasing, culminating in a fluidly intense experience.
Thodos Dance Chicago, which was founded in 1992 by Melissa Thodos, is an ensemble of 12 versatile dance artists with a captivating style that uses a variety of dance forms. The company is becoming increasingly renowned for its American voice in contemporary dance and it has created two critically acclaimed story ballets. In addition to performing works by Thodos and resident artists, the company performs a diverse array of works created by other reputable choreographers, such as Bob Fosse, Ann Reinking, Lar Lubovitch, Shapiro & Smith, Lucas Crandall, Jon Lehrer, Michael Anderson, Zachary Whittenburg, Amy Ernst, Ron De Jesús and Gustavo Ramírez Sansano.
This one-night-only performance of New Music and Dance takes place at the Reva and David Logan Center for the Arts at the University of Chicago, located at 915 E. 60th Street in Chicago. Tickets are $25 general admission, $15 for students and seniors, and are available online. For more information on New Music and Dance, visit www.thodosdancechicago.org.
Photo: Stephen Burns with Thodos Dance Chicago. Photo courtesy of Thodos Dance Chicago.