Tickets on Sale Now for Bolshoi Ballet in Cinema 2019-20 Season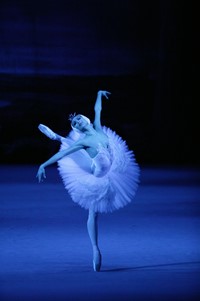 Fathom Events, Pathé Live and BY Experience present the 10th anniversary season of Bolshoi Ballet in Cinema. The series begins October 27 with the live presentation of Raymonda, a treasure of Russian ballet. Fans throughout the U.S. will be able to enjoy the event in nearly 400 movie theaters through Fathom's Digital Broadcast Network (DBN).
Additional live presentations include audience favorite Swan Lake, a new version of the iconic Giselle from choreographer Alexi Ratmansky, and George Balanchine's glittering triptych Jewels.
The encore titles in the series include the perennial holiday favorite, The Nutcracker, a most exotic and lavish production of Le Corsaire, and finally, Shakespeare's beloved classic set to a cinematic score, Romeo and Juliet.
Tickets for the 2019-20 Bolshoi Ballet in Cinema Series can be purchased at www.FathomEvents.com
Image credit: Swan Lake photo by Damir Yusupov Bolshoi Theatre